American Horror Story: Freak Show made its highly anticipated debut with an episode that included a bearded lady, a David Bowie musical number, and an old-fashioned sex tape.
The second episode is titled Massacres and Matinees which airs on October 15, 10:00pm E/P.
The episode synopsis reads: A citywide curfew threatens to shut down the Freak Show. A strongman from Ethel's troubled past arrives at camp. Gloria arranges a terrifying play date for Dandy. The Tattler Twins reveal a talent that could knock Elsa from the spotlight.
Freak Show begins its tale in the quiet, sleepy hamlet of Jupiter, Florida in the year 1952. A troupe of curiosities has just arrived to town, coinciding with the strange emergence of a dark entity that savagely threatens the lives of townsfolk and freaks alike. This is the story of the performers and their desperate journey of survival amidst the dying world of the American carny experience.
In the next episode, John Caroll Lynch's Twisty clown is hired by Frances Conroy's character Gloria Mott to please her petulant son Dandy (Finn Wittrock), which will surely be a spectacular performance to behold.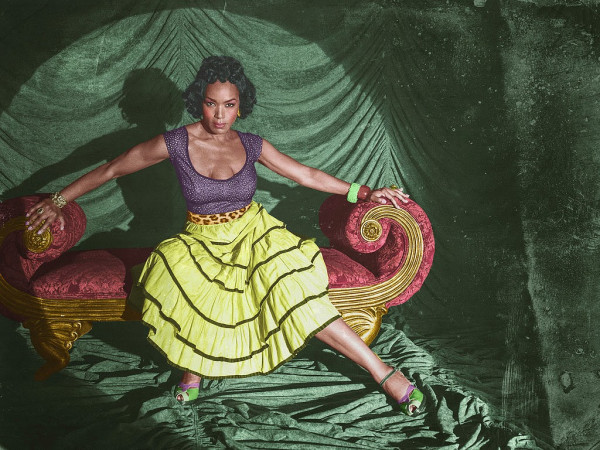 Menawhile, Angela Bassett's three-breasted woman and Michael Chiklis' Strongman will be introduced in the next episode, which should add even more flavour to the already colourful Freak Show.
Angela Bassett's Desiree Dupree, new wife to Michael Chiklis' Del Toledo, is a three-breasted woman. She introduces herself as, "Three titties, proper girl parts and a ding-a-ling. I'm a full-blown hermaphrodite. Put that on your banner," in the promo.
Chiklis plays Dell Toledo, a strongman, barker and straw boss for the troupe, or so it would appear at first.
"You know that I've played some dark and troubled characters in my career, but this is the most deeply emotionally damaged person that I've ever played. This guy is just broken." Chiklis said.
The Massacres and Matinees episode of American Horror Story: Freak Show airs on Wednesday, 15 October, 2014 at 10 PM ET on FX.