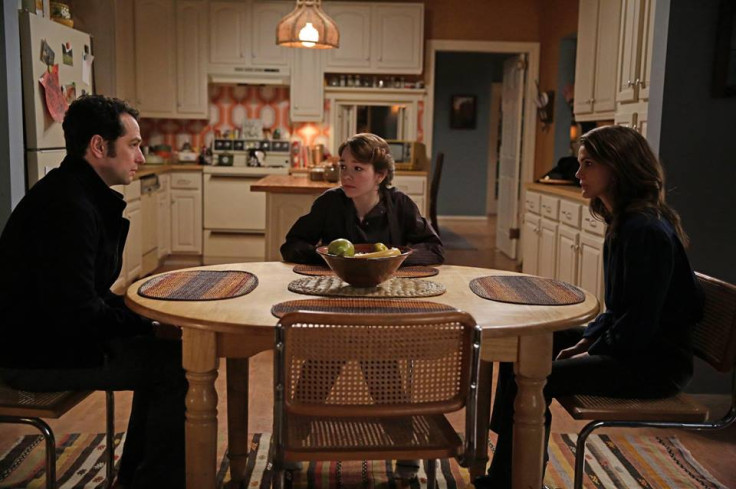 The Americans is just two episodes away from its finale, where Phillip, Elizabeth and Paige will face a big dilemma.
After beating around the bush for the entire season, Paige finally confronts her parents in episode 10 about what they're hiding. Elizabeth and Philip tell her they are Russian spies.
Holly Taylor talks about the big reveal and what is next for her character in the FX drama.
Taylor told The Hollywood Reporter: "In the next few episodes, and even in the next episode, you'll see Paige's emotional journey. You'll get to see how everyone in the family is coping with this new aspect of their life."
She added that her mother Elizabeth wanted Paige to know, but she didn't really think about the consequences of how she would react and how she would treat her parents.
"You'll get to see how it really affects everyone in the family in a large way. There's so many different emotions that Paige feels and she has no one to take them out on because she can't go to anyone with this information right now, and she doesn't really feel like she can trust her parents either. It's not easy to cope with it all, " Taylor explained.
Will Paige join the KGB?
"One of my goals for my character is to become a spy," she teased, and added, "It would be so much fun and I think it'd be cool if that was sort of their family business in a really weird way. I don't know what branch or aspect of the spy world Paige would be a part of.
"There's so many aspects of what Phillip and Elizabeth do, as far as if she would be involved in actual fighting and physical activity, or if she would be apart of a government branch or something. There's so many different possibilities," Holly added.
The Americans executive producers Joel Fields and Joe Weisberg also talk about the shocking new development and Paige's future in the KGB.
Weisberd told Entertainment Weekly, "We've been waiting since the beginning of the show. But at the same time, we never bound ourselves to a particular moment when it would happen. It's a safe bet to say we knew it wouldn't happen in season 1, but would it happen season 2? Season 3? Season 4? For us, we were always going to let the moment find itself when the story dictated."
When asked about Paige's reaction, Fields said, "There's a lot of stuff that we talked about early on, and yet it was evolving the more we found the truth of her relationship with church and faith, and the truth of her relationship with Elizabeth this season, which became more connected than we had even hoped for, in a lot of good ways...I think it's something that has been evolving and will continue to evolve."
Weisberg teased the season finale, but dodged the bullet saying, "First of all, redacted redacted redacted. It'd be hard to tell you without spoiling! But it's a slow-burn!"
Here are the upcoming episode details
Episode 11 is titled One Day In The Life Of Anton Baklanov, which will air on 8 April 2015.
Episode 12 is titled I Am Abassin Zadran, which will air on 15 April 2015.
Episode 13, which will serve as the series finale is titled March 8, 1983, will air on 22 April 2015.