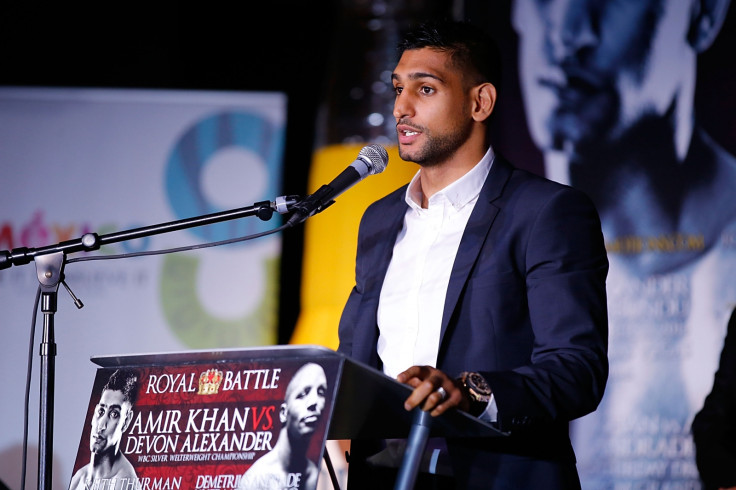 Amir Khan has backed Floyd Mayweather Jr to beat Manny Pacquaio should the two meet in 2015, but believes the powers of both fighters are on the wane.
Khan is once again hoping to force himself into contention for a showdown with five weight division world champion Mayweather by beating Devon Alexander in Las Vegas on Saturday.
The Bolton-born fighter may have to wait in line however amid mounting talk of a showdown between the two welterweight kings, but he believes Mayweather will still be unbeaten when he gets his chance.
"In my opinion Mayweather would win that fight," Khan said, the Daily Telegraph report. "Pacquiao is quite open when he fights and it leaves him open to a lot of shots. As he has grown older, his work rate has dropped a lot, and you can see it in his recent fights.
"Age gets to all fighters and that time is coming for him. You can see that if you go back over Mayweather and Pacquiao's recent fights. I'm not saying they aren't great fighters, because they are, but age is catching them up."
Other notable names in the welterweight division have been quick to weigh in what is expected to be the highest grossing fight in history.
Timothy Bradley, who defeated Pacquiao in 2012 to claim the WBO title only to relinquish it to the same man in their rematch in April, believes the Filipino may be the one to register the first defeat of Mayweather's illustrious career.
"I had been in the ring with Mayweather, I know he is the superior boxer but Manny's going to come all night. He's going to come and bring it," Bradley told Fight Hype.
"I think it will be a great exciting fight, I think it will be great for boxing, great for fans out there. I'm gonna be excited... If the fight happens, I'm gonna be a fan that night."