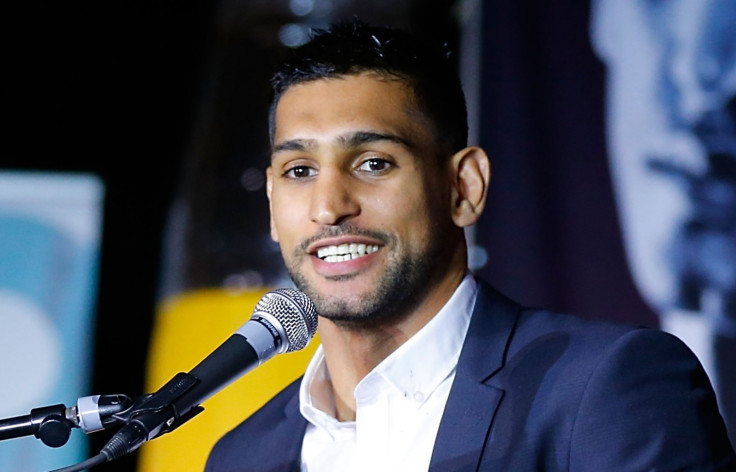 Floyd Mayweather Jr says Amir Khan must earn the right to face him in 2015 by producing an impressive display against Devon Alexander in Las Vegas this weekend.
Khan returns to the ring for the first time since May to face Alexander, while Mayweather is considering his options in 2015 after stating his intention to retire after fulfilling the final two fights on his Showtime Television contract.
The 28 year old believes a striking win over Alexander – who has won 26 of his 28 professionals bouts – will all but secure a meeting with Mayweather next year but the unbeaten American warns Khan must do his "talking in the ring".
"I know Khan has been saying that if he beats Devon Alexander that he deserves a fight with me," the 37 year old said.
"But if I gave a fight to every fighter out there who claimed he deserved one - I would be fighting into my sixties.
"He has been talking big, saying if he wins then he should be talked about in the same breath as me.
"I like the fact the kid has confidence - but I don't take much notice of words like that. I do all my talking in the ring - maybe he should do the same.
"I have not decided on my next fight yet - and nobody's big words is going to affect my decision. All I will say is I will be watching Amir with interest on Saturday."
Though Khan insists he is focused on the weekend fight against Alexander he remains fixated on the weaknesses of Mayweather, who has looked fallible in both of his meetings with Marcos Maidana this year.
"Winning this fight [against Alexander] could lead to a massive fight but I'm not looking past it because I know it's a dangerous fight," he said.
"I've made the mistake before with fights I should have gone in and won. I'm 28 today and I'm still learning and I'm still hungry and I just have to pace myself and take my time.
"I think every fighter in the welterweight division wants that big fight against Floyd and as a hungry fighter you want to fight and beat the best.
"Some styles cause problems for Floyd and some styles are made for him. You never want to leave boxing thinking 'what would have happened if I'd fought someone like Floyd?'."