Amir Khan has spent the last three years looking for a career-defining fight. In Saul 'Canelo' Alvarez – arguably the best pound for pound fighter on the planet now that Floyd Mayweather Jnr and Manny Pacquiao have sailed off into the sunset – he has one.
Khan's path to the summit of boxing has seen him knocked off his perch on more than one occasion. Having broken onto the scene fresh from his Olympic medal success 2005, his swift rise was halted in fight number 19.
For Khan, it came at the most inopportune moment, on his Sky Box Office debut with his rise attracting more attention than ever. A knockout after 54 seconds to the Colombian Breidis Prescott looked disastrous for his prospects, but to Khan's credit, his response was immediate. Against the battled-hardened Marco Antonio Barrera six months later, the Bolton-born fighter's speed saw him slice through the Mexican, stopping the contest inside five rounds.
If that win against Barrera was a reminder of Khan's potential, his coronation came in his very next fight as he claimed the WBA light-welterweight title thanks to a comfortable judge's decision over Andreas Kotelnik in July 2009. Among those he would successfully defend the belt against were past and future opponents of Mayweather in Zab Judah and Marcos Maidana, taking the IBF strap off the former in the process. His star was on the rise again, but another setback was just around the corner.
Khan would lose to Lamont Peterson in Washington DC in December 2011 on a night dominated by controversy that, in the end, served to protect his reputation rather than hinder it. Having chosen to defend his title in the challenger's hometown, the Briton was on the losing end of hugely contentious split decision.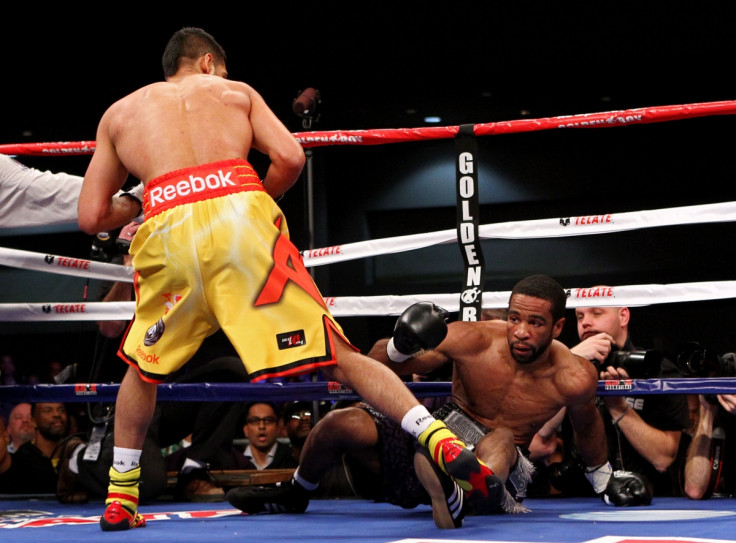 Khan felt he had done enough to win a points decision outright, but was further enraged by the referee Joe Cooper's decision to dock him two points for pushing – a first for Khan – and his decision not to score a second round knockdown. That whole night was a mess, with the usually unflappable Michael Buffer even announcing a judges' score wrong as confusion reigned. Rather than damage Khan's standing, that night in Washington merely fuelled long-standing theories of home advantage, particularly in the US. The presence of a mystery guest at ring side, later identified as IBF associate Mustafa Ameen, speaking to match officials and celebrating with the Peterson camp further fuelled conspiracy theories.
A rematch was eventually set up, only for that to be shelved after Peterson tested positive for a synthetic steroid. Having been labelled as a sore loser in some circles, Khan was vindicated, despite the frustration of having reached peak condition only to have then fight of his life called off two weeks before the big night. Being reinstated as WBA champion was some consolation.
Khan emerged from the Peterson farrago with his reputation intact, but another twist in his career followed when he was brutally stopped by Danny Garcia, a man who remains undefeated to this day. Khan still stresses he was not knocked out by the Philadelphian. Medically speaking, he is right, he remained conscious throughout and was instantly off the mat each time until the fight was stopped. But the way Garcia was unloading, it felt he would fall for good sooner rather than later had the ref not called it. Khan was badly hurt and it showed.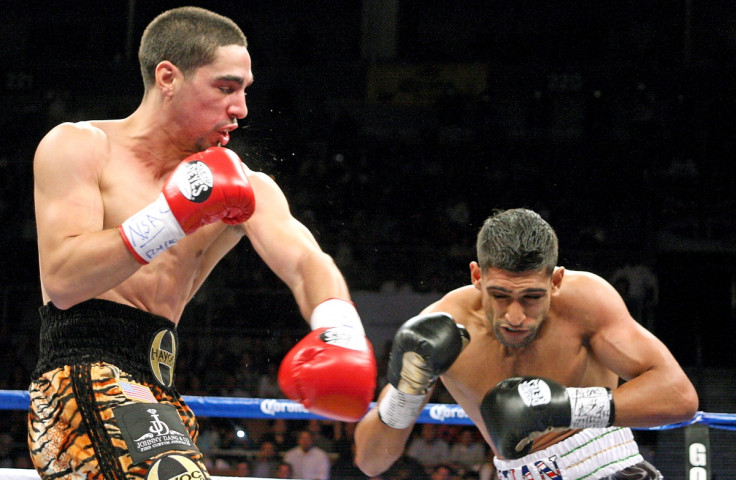 That defeat knocked Khan off course and inevitably, his next fight would not enhance his career, but rather stabilise it. Having ditched Freddie Roach to partner up with new trainer Virgil Hunter, Khan dominated Carlos Molina in December 2012 and restored a modicum of faith in the potential he burst on the scene with. A similarly comprehensive victory over Julio Diaz followed in April 2013, but now Khan was already looking at the biggest challenge in the game; Mayweather. Despite having only just got back on track, Khan campaigned vigorously for a showdown with the welterweight king. Khan and a former opponent of his in Maidana vied for a showdown with Mayweather in May 2014 and despite being the overwhelming winner in an online poll held by the champion himself, the Argentine was given the nod. Khan instead featured on the undercard, debuting at welterweight with a bruising win over Luis Collazo.
His commitment to observing Ramadan ensured he wasn't in the running for Mayweather's next fight the following September – with Maidana again getting the nod. But all the while, Khan was vocal in his desire to mix it up with those at the pinnacle of the sport, racking up polished wins over Devon Alexander and Chris Algieri in the process. Accusing Mayweather of ducking his challenge didn't amount to anything and when the dream fight between Mayweather and Pacquaio started to become reality in 2015, Khan's hopes of muscling in took a firm back seat.
Khan's efforts to throw his name into the mix with the elite names have often been met with scepticism, particularly given the lack of a truly high-profile victory since losing to Garcia. But with Mayweather and Pacquiao out of the picture, Khan has not shirked the biggest challenge left in front of him. With the possible exception of Gennady Golovkin, Canelo is as big as they come and victory in Las Vegas in Sunday will see the Briton take that crown.