Britain's Amir Khan is plotting his route to the summit of the light-welterweight division in 2013 starting against Julio Diaz in Sheffield next month.
On the same night the Bolton-born fighter returns to the ring, current WBA and WBC world champion Danny Garcia faces fellow American Jab Judah in New York, the winner of which will fight the victor from the May contest between Lamont Peterson and big-hitting Argentine Lucas Matthysse.
Khan, who ended a streak of two successive defeats by overcoming Carlos Molina in December, is then expected to take on the eventual winner in a bout before the end of the year as he attempts to reclaim the titles lost to Garcia last July, following a fourth round knock-out.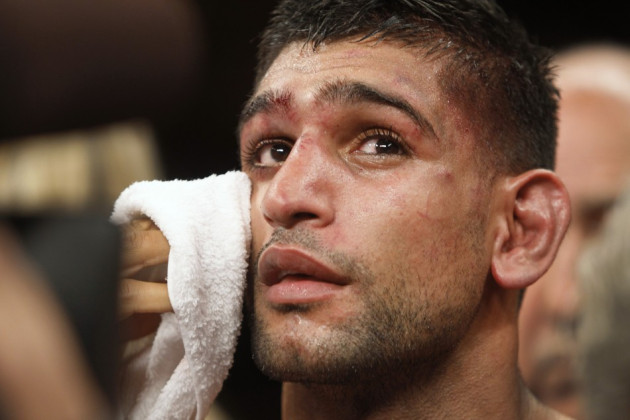 "I think that would be huge," Khan told Sportsmail. "I've got a big fight to come against Julio Diaz which I hope to pass with flying colours.
"But Zab Judah and Danny Garcia will fight on the same night and the winner of that fights the winner of Lamont Peterson and Lucas Matthysse and the winner at the end fights me.
"The guys in the tournament are the top five in the world and the final fight will prove who the best 140lb fighter is and that straightaway is a superfight.
"Things don't always go the way you hope they will but I'm willing to prove I'm the best in the division. I've made mistakes in the past but I'm correcting them and I know I'm ready.
"I want to fight Garcia just to prove that I am the best but I'll just have to go with the flow and see who the best man is.
"I beat Zab Judah, Lamont Peterson got caught taking testosterone when we were meant to have a rematch and with Matthysse, we've always missed each other. I've fought three of the four so I'm in the right position to fight the winner.
"It proves that I'm still seen as one of the best fighters in the division which is a good thing. I'm the guy who brings the most money to the table."
After two high profile defeats in 2012, Khan is on the comeback trail under new trainer Vigil Hunter, returning to fight in England for the first time in two years against Mexican Diaz.
Though the 33 year old is expected to be swatted away by Khan in April at the Motorpoint Arena, the contest is unlikely to showcase convincing evidence that the Olympic silver medallist has learned from the mistakes which saw him outclassed by Peterson and Garcia last year, yet his profile with Golden Boy Promotions suggests his value in the United States will provide him with the world title opportunity he so craves.