The European Union is failing to protect gay, lesbian and transgender people from violent attacks by refusing to treat such attacks as hate crimes, a report has suggested.
A report by Amnesty International criticised several countries in the EU for having "inadequate" hate crime legislation for dealing with attacks on the LGBT community.
The report shows examples where gay and transgender people have been beaten, doused in petrol and even murdered because of their sexual orientation and gender identity. However, because of gaps in legislation across the EU, these crimes were not recorded as hate crimes.
Only a minority of European countries collect comprehensive data on homophobic and transphobic hate crimes. The Organisation for Security and Cooperation in Europe (OSCE) said that 13 EU countries collected some kind of data on homophobic hate crimes, while only five collected data on transphobic hate crimes.
According to the European Union Agency for Fundemental Rights (EUFRA), 80% of cases wre not reported to police - often because of fear of further victimisation.
Marco Perolini, Amnesty International's expert on discrimination in Europe and Central Asia, said: "Hate-motivated violence has a particularly damaging and long-term effect on victims. Yet the EU, as well as many of its members, do not recognise crimes based on the perceived sexual orientation or gender identity as hate crimes in their legislation.
"The double standards convey the idea that some forms of violence deserve less attention and less protection than others.
"This is unacceptable because sexual orientation and gender identity are protected grounds of discrimination in international human rights law."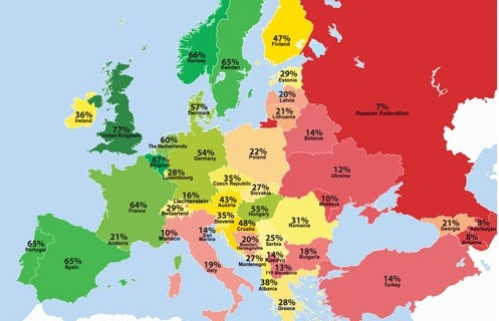 Countries such as Bulgaria, Germany, Italy and Latvia do not comprehensively consider violent crimes based on gender identity or sexual orientation as hate crimes.
In 2012, a trans woman was beaten by several men in a club in Catania in Italy while they shouted "You're a faggot!" at the victim. The transphobic hate motive was not taken into account during the prosecution nor will it be considered when the men are sentenced.
Greece and Croatia do not properly implement or investigating transphobic and homophobic hate crimes, the report continued.
In Greece, a police officer was reported to have asked "What is a homophobic attack?" after a man filed a complaint that he had been repeatedly been kicked and punched in the street after a group of men found out he was gay.
In Croatia, a lesbian was repeatedly kicked in the head by a man after she rejected his sexual advances.
Despite Croatian legislation explicitly defining hate crime as any criminal offence motivated by a personal characteristic including sexual orientation, the alleged homophobic motive behind that attack was not registered by the police and it was treated as a minor offence. The man was fined.
"There were people [in Greece] who told us that they were scared to go out and to show affection with their partner on the street," Perolini said.
Amnesty urgedthe EU to comprehensively tackle all forms of hate crimes.
"There are gaps in legislation in many EU countries, while investigations and prosecutions of crimes with a hate motive are often flawed," it said. "There is little support for victims, who in turn may be unwilling to report the crimes to the police."