The family of a Delaware teenage girl who was killed after a school fight turned deadly has appealed for calm after talk surfaced of others pupils plotting revenge attacks. Community leaders have warned that the tragic death of Amy Joyner-Francis may have sparked a "social media war", with threats of retaliation reportedly posted on Twitter and Facebook.
The school fight, at Wilmington's Howard High School of Technology on 21 April 2016, saw Joyner-Francis repeatedly hit on the head and torso while being filmed by others. The 16-year-old then suffered a 'cardiac incident' and died, the Delaware Department of Justice said.
Three weeks have passed since her death, but the worry of revenge attacks has now prompted her family and community leaders to appeal for calm.
"We do not need another Amy on our hands," said Sherry Dorsey Walker, a Wilmington Councilperson and spokesperson for Joyner-Francis's family.
"For those who are on social media and are claiming they are doing things in retaliation in Amy's name, we are going to ask you to please stop."
Under the hashtag #RIPAmy, social media has become awash with condolences and messages of support for the family of Joyner-Francis. But there have also been more aggressive posts, with some pupils outraged over what they claim are lenient charges brought against suspects. Three schoolgirls have so far been charged with offences relating to the fight.
Trinity Carr, 16, was charged with criminally negligent homicide – punishable by up to eight years in prison – after prosecutors claimed she was the only one to have hit Joyner-Francis. Zion Snow and Chakeira Wright, both also 16, were charged with third-degree criminal conspiracy – punishable by up to 12 months – for allegedly planning the attack.
Youth Pastor for Bethel AME Church urged those grieving to refrain from making threats on social media. She said: "Her friends. Her loved ones. Those who knew her. I challenge you to continue to stand on what you know to continue to spread her legacy."
Rev Vincent P Oliver, pastor of New Calvary Baptist Church, told Fox 29: "Social media is not your friend. The lies, the rumours of social media – they live longer than they should."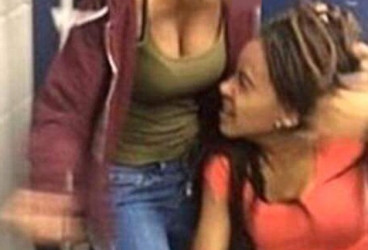 Carr's defence attorney, John Deckers, said on Tuesday (10 May 2016) his client had no way of knowing the school bathroom fight would result in her fellow pupil's death. He described the altercation leading up to the fatality as a "consensual fight".
"This is a painful, confusing and unforeseeable tragedy for all involved," he told the Associated Press. "The altercation was between two teens who knowingly and willingly entered the bathroom for that purpose.
"The possible consequence – that a consensual fight, involving no blunt force injuries, could ever result in death due to an unknown, pre-existing medical condition – was entirely unapparent to either girl."
The video of the attack shows Carr repeatedly striking Joyner-Francis with "what appears to be a closed fist," court documents have said. Carr then leaves as Joyner-Francis attempts to stand up. The victim appears disoriented before she collapses back to the floor, the court documents stated.
A motive for the confrontation has not been given by the authorities. One witness, Kaya Wilson, suggested the fight was over a boy. "She was fighting a girl, and then that's when all these other girls started banking her – like jumping her – and she hit her head on the sink," she said.
Speaking a day after her daughter's death, the victim's father Sonny Francis told FOX29: "I thought schools were a safe place. I think this is a dream and I'm trying to wake up. All I know is my daughter is gone. She was the love of my life and it hurts."