Amy Winehouse's friends and those who simply enjoy her music attended the London premiere of the documentary film about her life entitled Amy, last night (30 June), all paying tribute to her talent and personality ahead of watching the movie.
The cinematic biography details Winehouse's life from her teens and huge success in the music industry to her long struggle battling her addictions to substance abuse ultimately leading to her death, aged 27. The film is based on more than 100 interviews with people who were closely involved with Winehouse's life, and several pieces of archive footage.
Speaking about the film, director Asif Kapadia said: "It's about addiction; it's about the pressure of fame; it's about love; it's about family; it's about friendship; it's about creativity. The film is about just introducing you back to the real person.
"People maybe who came in late will maybe only remember the girl who was not in a good way on stage, or a bit out of control in Camden.
"But there was so much more to her before that. And the film is really showing you that person and understanding where the records came from and celebrating her for what an amazing artist she really was."
Winehouse's first manager, who worked with her when she was just 16-years-old, Nick Shymansky, also gushed about the Back To Black singer, calling her "one of the most amazing people [he] ever knew". He then brought everything back to her work, saying: "Her legacy is that she made incredible music, she moved a lot of people.
"We'll see what her true legacy is in 20 years, but I think she was just a really authentic, original person."
Lauren Gilbert, a close friend of the late singer, reiterated what those before her said, commenting: "Her music speaks for itself, but if you put that aside, her as an individual – which not many people pay attention to – she's an amazing human being, and everyone should know that."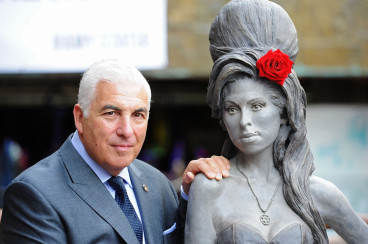 Noticeable by their absence from the premiere at Picturehouse Central, West London, were Winehouse's family who are unhappy with the way she is portrayed in the documentary.
Her father, Mitch previously told Sky News earlier this year that the biopic was "incredibly misleading" in the way that it was edited, claiming that the film-makers had made it look like he could have done more to help his troubled daughter – but opted not to.
Because of these reasons, the family chose to withdraw their support from the project after seeing an early edit of the film in October 2014.
Amy producer James Gay-Rees said that while the film-makers "respect [Mitch's] opinion," with a documentary, "you're not going to have a lot of the stuff in there that some people want [when you have to] compress 10 years of somebody's life into two hours.
"It's just a very complicated story, and the film is a product of lots of research," he finished.
Well-known factual film-maker Louis Theroux commented that when making a documentary "your number one obligation is to tell the truth". He added: "If that ruffles some feathers, then that's the way it is.
"Comments do get edited, and when you make a film or a TV programme, the dream scenario is that everyone's pleased, but that doesn't always happen."