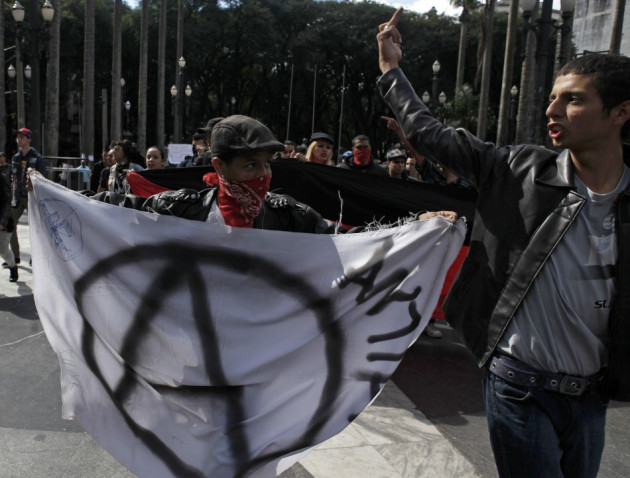 Anarchists are running a campaign of intimidation against immigration officers, including setting fire to vehicles and publishing photographs of them on the internet.
An anarchist group calling itself the Borderless Solidarity Cell (BSC) claimed responsibility for an attack on 21 June in which six vehicles - a prison van, two people carriers and three cars - were set on fire outside a UK Border Agency office in Portishead, near Bristol.
The BSC claim that the people carriers are used for dawn raids on immigrant family groups.
The BSC group also claimed responsibility for attacking two minibuses on 2 June, owned by Tascor, a contractor that transports detainees between immigration detention centres.
The Home Office said it was reviewing security measures "to ensure the safety of our staff is not compromised".
BSC claims to be linked to the Informal Anarchist Federation (FAI), an Italian organisation that has admitted sending parcel bombs to targets in Italy.
The FAI has also sent parcel bombs that exploded at the Swiss and Chilean embassies in Rome during 2010.
The BSC described the attack as a parting shot for the Border Agency before it is abolished and brought back under Home Office control.
In an online statement, the anarchist group said, "We would consider this our leaving gift to the UK Border Agency, due to be renamed and reorganised in the future - except it turns out it'll mainly be 'the same jobs', 'in the same places', 'with the same mission'.
"We know that their same regime of exploitation will continue more adapted and integrated, so likewise our war is perpetually against all forms of categorisation and control that attempt to hinder free movement."
Photographs of immigration officers have appeared on a blog called UKBAstards, which is posted on an Italian-based website for left-wing activists.
The photos may have been taken by activists on mobile phones during raids.
The site also includes two officers' names and pictures as well as personal information taken from Facebook.
"The terms used and the hate is really quite shocking," Lucy Moreton, deputy general secretary of the Immigration Services Union told the Sunday Times.
The union has advised its members to change the privacy settings on their Facebook accounts and not to disclose their names if challenged by the public during raids.