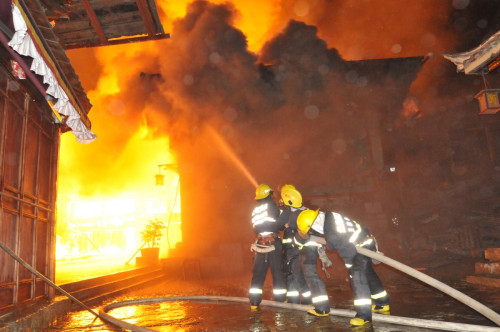 The town of Dukezong in China's Yunnan province has been razed to the ground by a raging fire, causing £10 million of damage.
More than 100 traditional wooden houses went up in flames in the 1,300-year-old Tibetan village, according to Xinhua news agency.
Over 2,000 firefighters, soldiers, police, local officials and volunteers fought the fire and continue to attempt to contain it, 10 hours after it broke out.
The blaze was "basically under control" and contained to the southwest of town, said the Xinhua news agency.
However, strong winds were still spreading on Saturday. Most of the housing in Dukezong is made of timber and the fire spread quickly because of recent dry weather.
Villagers were all evacuated and there were no reports of casualties. The cause of the fire is unknown, with the cost of damage estimated at around £10m, according to Chinese news portal Zhongguo Xinwen Wang.
Pictures on Chinese news websites and social media services such as Weibo showed the fire turning the sky scarlet, leaving smoky ruins and collapsed homes in its wake.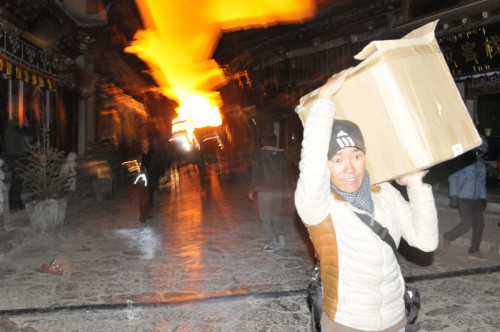 Dukezong means 'town of the Moon' and is around 1,300 years old. It is a well-known tourist attraction and resort with well-preserved ancient streets.
The town has one of the largest and best-preserved Tibetan sanctuaries in China, known for its prayer halls and authentic Tibetan houses.
In a tourism drive, the county formerly known as Zhongdian, officially changed its name to Shangri-La in 2001.
It claims to be the inspiration behind James Hilton's 1933 book Lost Horizon, which was turned into the classic film Lost Horizon in 1937.
Earlier this week another high-profile site of Tibetan culture, the Buddhist Serthar institute in the nearby province of Sichuan, also went up in flames with 10 buildings destroyed.
Jeff Fuchs, a writer and trekking guide who lives in Dukezong, feared his house was destroyed. "Just devastating damage to structures," he said. "My home is finished I think, and because of the wooden structures, the place went up in no time."
Watch the blazing inferno in Shangri-La County