Prosecutors in the trial of Anders Behring Breivik have called for him to serve his time in a mental institution rather than in prison.
The far-right fanatic, who killed 77 people with bomb and gun attacks in Oslo and on the Norwegian island of Utoya, could not have been sane to carry out such horrific crimes, the prosecution claimed in his trial.
Svein Holden told the court: "We request that Breivik is transferred to compulsory psychiatric care."
If judges agree with the prosecutors when they make their decision in July or August, Breivik, 33, would escape a prison sentence for the killings which he has impassively described in meticulous detail over the course of his two-month trial.
The Breivik trial has the capacity to set a meaningful precedent regarding the boundaries of sanity and legal culpability when it comes to major crime.
Breivik has never denied his crimes, which he viewed as a necessary act in order to play his part in a perceived war on multiculturalism.
He launched his trial with an hour-long monologue describing his rationale for the killings, which he insisted he would repeat in a heartbeat. One of his YouTube videos was screened, which moved him to tears.
Throughout the trial, the resolve of the courtroom and its witnesses has been tested by Breivik's unflinching testimony. Many in the courtroom were sobbing as he descibed the Utoya island attack on 22 July, 2011, which saw him ruthlessly gun down dozens of members of the Labour Party's youth wing.
Breivik's erratic behaviour throughout his court appearance, coupled with two assessments of his sanity coming to opposite conclusions, meant that the prosecution's decision on his mental state was impossible to second-guess.
The mass killer complained during the trial that not enough attention was being paid to his suffering, which he attributed to Norway becoming increasingly multicultural.
"This case is about Norway's future, and Europe's future, and these were themes they should have addressed," he told the court. He said it was "a traumatic experience" for him to be stigmatised as an Islamaphobe and right-wing extremist.
He added: "It is sad that the monster of Norwegian court psychiatry has managed to take over this case. It should have been about the victims and their families and about the political basis and causes."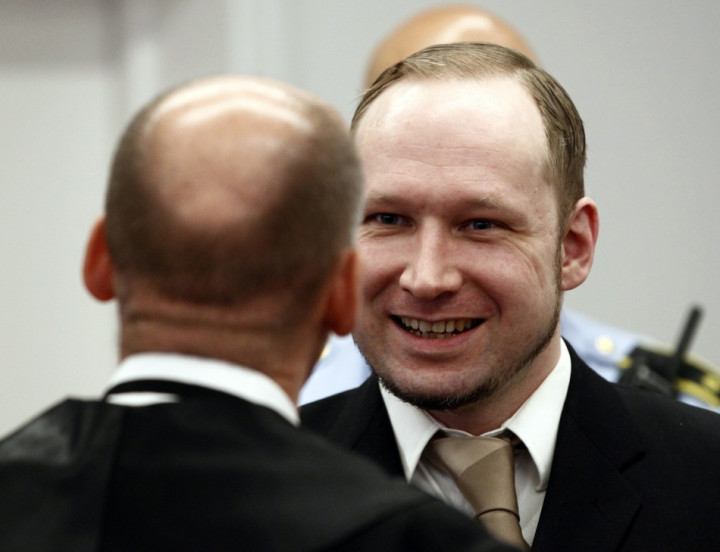 He told the court that he carefully plotted his attacks on specific targets to make the greatest possible impact on the country's political power. He revealed that the resulting body count from his attacks was significantly lower than he had hoped for.
He aimed to kill all 600 people on the island at the time of his attack and hoped to capture and behead former prime minister Gro Harlem Brundtland.
He said: "I am not a child murderer. I believe all political activists who choose to fight for multiculturalism are legitimate targets."
The prosecutors' decision to treat Breivik as insane backs up a psychiatrists' report that came under criticism for a lack of knowledge of far-right terminology and therefore mistakenly attributing his language to schizophrenia.
Breivik maintains that he is a member of an anti-Muslim network that operates throughout Europe, the Knights Templar, although he has not given details of any other members.
He flashed his clenched fist salute, a pose he adopted throughout the opening days of his trial, when the prosecutors announced their decision to press for an insanity verdict. If the five-judge panel rules him sane, he could face a 21-year prison sentence, the maximum under Norwegian law.
The trial continues.