Norwegian mass killer Anders Behring Breivik has told a court he planned to kill more than 600 people on Utoya island and behead former prime minister Gro Harlem Brundtland.
Breivik slaughtered 69 people on the island during a Labour party youth camp on 22 July, 2011, hours after blowing eight people to bits with a bomb in the centre of Oslo.
During the fourth day of his trial he repeated his regrets that he did not kill everyone on the island and said he assumed that most would drown as they fled in terror.
He also revealed that he had hoped to kill former Norwegian prime minister Gro Harlem Bruntland, who had recently visited the island, and film her decapitation.
Breivik, 33, continued to confuse prosecutors with his seemingly warped view of morality, denying the fact that he was a child killer and repeating assertions that his victims were not innocent.
"I am not a child murderer. I believe all political activists who choose to fight for multiculturalism are legitimate targets," he told the Oslo court.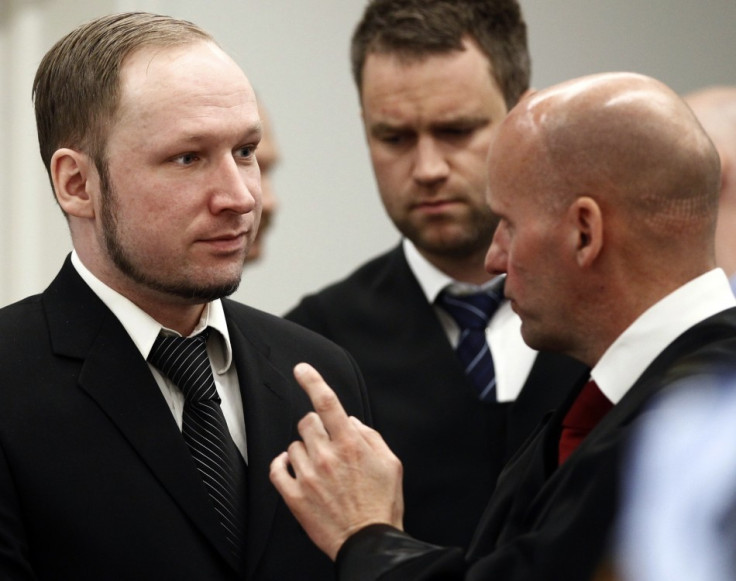 Survivors were shocked and tearful throughout his testimony as he calmly explained how he planned his attacks.
He chose Utoya island from a list of considered targets including the Norwegian royal palace and the offices of liberal Norwegian journalists.
One plan involved bombing Oslo's government district, the Labour party's office and a third target, before opening fire from a motorbike.
Despite denying any regret over the deaths he caused, he criticised the Norwegian government fior making it too difficult to buy bomb making equipment, while he blamed the media and politicians for giving him no option but to "do something awful like this just to convey a message".
"It's easy to press a button and detonate a bomb and it's very difficult to carry out something as barbaric as a firearm-based action," he told the court before claiming he struggled to see the faces of his fleeing victims in order to ascertain their ages.
Trgyve Sorvaag, a freelance journalist tweeting from inside the courtroom, said: "People openly crying here in courtroom 250 after hearing Breivik talking so calmly about his plans for the killings on Utoya."
Breivik's shocking revelations come on his third day of cross examination. The second day saw him declare that he would rather face execution than the Norwegian's maximum prison sentence of 21 years, which he branded "pathetic".
He said: "There are only two just a fair outcomes in this case - acquittal or capital punishment."
Throughout the day Breivik continued to argue with prosecutors over the existence of the Knights Templar, an anti-islamic group he claims to have co-found in the UK in 2002.
He declared himself as an "isolationist", claiming to be anti-Nazi due to national socialism's "blood-stained nature", while claiming he could accept around 2 percent of the population of Norway to be non-indigenous.
A majority vote of three of five judges will be required in the trial, which is aiming to determine Breivik's sanity and therefore his legal culpability, with a verdict expected in mid-July.
Breivik is charged with terrorism and premeditated murder for a bombing in Oslo's government district, killing eight, and a shooting attack at a political youth camp, killing 69.
Although he does not deny the killings, he refuses to admit legal culpability, claiming the court has no authority and asking for an acquital, as he committed the killings in a pre-emptive atttempt to stop a war over multiculturalism in Norway.
If convicted he would face a maximum sentence of 21 years in prison, though sentences can be extended if a criminal is considered a menace to society. If declared insane by the court, he would be committed to psychiatric care. Both sides can appeal the ruling to a higher court.
The trial continues.