Android co-creator Andy Rubin has unveiled the first wave of devices from Essential - a new company looking to apply "real passion and craftsmanship" to smartphone hardware.
Essential released the first official renders of the Essential Phone and an Amazon Echo and Google Home rival, called Essential Home, earlier today (30 May).
The long-teased phone and surprise smart speaker-like device come from a team that reportedly consists of around 40 employees and is made up of alumni from Apple, Google, HTC and other leading players in the smartphone sector.
Here's everything we know so far about the two devices:
Essential Phone
Initially planned for a US-only release, the Essential Phone will retail for $699 (£544) and appropriately runs Android OS. While the specification list is very much in line with the top-end smartphones of 2017 - Qualcomm's Snapdragon 835 processor, 4GB of RAM and a huge 128GB of storage - the innovative design could draw a few eyes away from more established names.
There are hints of the LG G6 and Samsung Galaxy S8 in the Essential Phone's elongated screen and minimal bezel space, but it takes the edge-to-edge ethos a step further by integrating the selfie camera into the display's notification bar.
The rear dual camera, meanwhile, has a similar set-up to Huawei's P10 with one standard 13 megapixel lens complimented by a secondary monochrome sensor. Audio fans may be upset by the lack of a 3.5mm headphone jack, but a USB-C dongle is included for those without wireless headphones.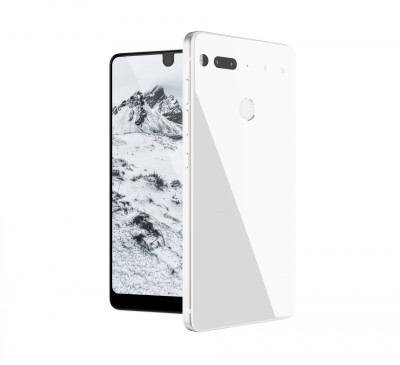 The part-titanium and part-ceramic smartphone is also attempting to revive modular hardware design - a prospect that lost its luster after the LG experimented with peripherals with the G5.
However, rather than removing parts of the device to accommodate modular add-ons, the Essential Phone has a magnetic pin connector dubbed "Click" that transmits data to attachments over a wireless connection. Essential revealed a 360-degree camera and an Essential Phone Dock that utilises this feature.
Judged on the stunning renders and flagship specs, the Essential Phone is certainly an intriguing and attractive prospect from an unknown company with enough pedigree to match its impressive ambition. Essential's bold pitch doesn't stop there though...
Essential Home
On the surface, Essential's Home is the latest addition to the growing smart speaker market that takes the tube-like design of its rivals and shrinks it into a circular pod with a top-mounted screen.
The squashed device also shares some of the functionality of its competitors like the Amazon Echo and Google Home, with its digital assistant tech offering smart home controls, voice-activated music playback, reminders, notifications and the usual gamut of smart speaker features.
What Essential believes separates it from the pack is its intelligence which comes via Essential's own software platform called Ambient OS. Essential's website notes that you can "Ask, tap, or even glance to activate" the Home's AI system.
Details are limited on what Ambient OS is and what it actually does, but the company claims that Home will be a pro-active, but subtle alternative that uses local network services wherever possible, as opposed to the cloud-based service favoured by Google and Amazon. With Apple also rumoured to be entering the nascent intelligent speaker market, it will be interesting to see how Essential's underdog proposition fares against the tech elite.
Essential has not revealed any launch schedule or pricing for Essential Home at the time of writing, although US buyers can reserve an Essential Phone here.