Just recently Google pulled the wraps off of the Android 4.1 Jelly Bean at Google I/O 2012 developer conference in San Francisco. The new OS is expected to roll out in mid-July on a host of devices. However, xda developers have managed to port the Jelly Bean on a host of devices such as Galaxy Nexus, HTC One X, Samsung Galaxy S2, Galaxy S3, Motorola Xoom, Acer Iconia Tab A500, Nexus S and Nexus S 4G devices. The Jelly Bean which comes with major improvements and amazing features claims to be the fastest and smoothest version of Android yet.
Users will be able to look at the hidden Easter eggs by heading to your device's Settings > About Phone > repeatedly tap the screen. After tapping a single Jelly Bean appears on the screen, and when the user keeps his/her finger pressed on that Jelly Bean they can see multi-coloured Jelly Beans floating on the screen. Interestingly, after tossing a few Beans a candy cane has been noticed, according to Android Community. Reports suggest that the candy cane in red and white could be the code name for the next version of Android. But it is unsure whether it will be named Candy Cane or Kandy Cane.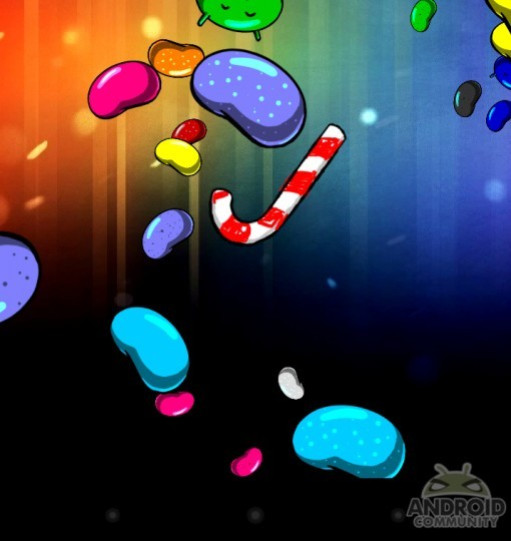 Android 1.0, the first version, was released way back in September 2008. HTC Dream was the first Android device to run the Android 1.0. In 2009, Android 1.1 update was released and initially T-Mobile G1 was the device to run the Android 1.1. The Android 1.0 and Android 1.1 versions were dubbed Astro and Bender but the names were not used for trademark reasons. Since April 2009, every Android version has been codenamed based on a dessert or sweet. It includes Android 1.5 Cupcake, Android 1.6 Donut, Android 2.0/2.1 Eclair, Android 2.2 Froyo, Android 2.3.x Gingerbread, Android 3.0/3.1/3.2 Honeycomb, Android 4.0.x Ice Cream Sandwich and Android 4.1 Jelly Bean.
Speculation is rife that the next version of Android could be named Candy Cane. But doing so could break the naming scheme of the Android versions. After Jelly Bean we could expect the codename starting with "K" which suggests Candy Cane would not be a suitable one. There are chances of the next version being called Kandy Cane, but it is uncertain.
In March The Verge was tipped off by a reliable source that Google would be using the name Key Lime Pie for the Android version that comes after Jelly Bean. The site points out that the same source had tipped off about the Jelly Bean codename in 2011.