Google's latest Android iteration has been confirmed for Motorola's Moto X and Moto G smartphones.
At its I/O 2014 developer conference, Google announced the Android L Developer Preview, a development version of the upcoming Android release. The Developer Preview, available for download from the L Developer Preview site, will enable users to explore features and capabilities of the L release.
Android L
Android L contains support for material design, a comprehensive guide for visual, motion and interaction design across all platforms, devices and apps. Besides, the L update has ART (Android runtime) as a default runtime.
One of the key elements of Google's next major Android update is enhanced notification. Now the lockscreen has the ability to present notifications, and users can choose via Settings whether to allow sensitive notification content to be shown on the lockscreen.
Apart from the features, the announcement missed out on a lot of important details, including what will be the next Android version or, what the Android 'L' stands for.
Android 5.0 for Moto X and Moto G
While Google failed to mention the devices compatible with Android L, a few smartphone manufacturers have revealed their plans for the update.
Motorola Germany has confirmed that the next Android version will be 5.0. Besides, a post on its Facebook account suggests (which has been removed) that Android 5.0 will be coming to Moto X and Moto G this autumn.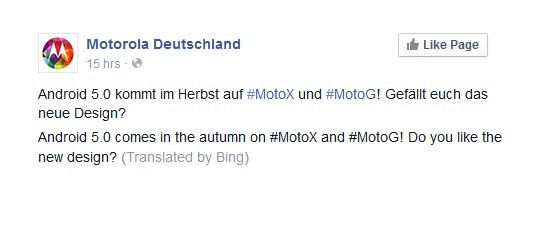 The Android L update, as Android Authority notes, is expected to arrive for the Nexus series devices this Fall. This again indicates that updates for Motorola's device will be available around the same time.
UPDATE
It now turned out that Motorola Germany Facebook page was not legit, according to Phandroid. Besides, Motorola has issued an official statement.
Unfortunately, we have found that a Facebook profile under the name "Motorola Germany" with the following URL facebook.com/MotoDACH/ was created. We would like to point out that this is not an official Motorola site and expressly distance ourselves from said content. All relevant information about Motorola can be found only here on this page.
HTC One M7 and One M8
HTC is the first to confirm the Android L update for its flagship smartphones, which will arrive within 90 days of receiving the final software from Google.
"HTC is excited about the new features in the Android L release and we can't wait to share them with our customers. We are committed to updating our flagship HTC One family as fast as possible as part of our HTC Advantage program. We will begin rolling out updates to the HTC One (M8) and HTC One (M7) worldwide within 90 days of receiving final software from Google, followed shortly thereafter by other One family members and select devices."