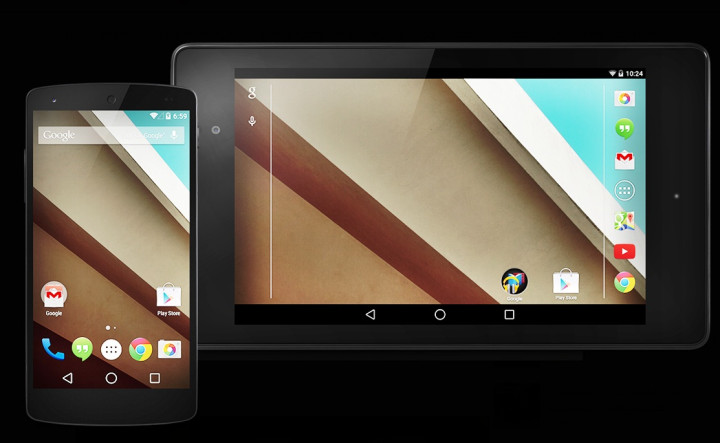 In what comes as a major news, one more new build from Android Lemon Meringue Pie (LMP) has been spotted online.
The Chromium issue tracker has been a source for leaked Android builds and this time again, the latest build with version number LRW73D has been caught via the same source.
Unlike the previous build, LRW50D, which was spotted running the Nexus 7 2013 model, the LRW73D build is on Nexus 5, codenamed hammerhead.
The LRW73D build has been listed under an issue that reads, "Take a tour" slides displayed with corrupted screens. The issue previously carried the "Google Restricted View" label, indicating that the information it contains should be restricted to Google developers only. But it did not and the label was removed later, reports Myce.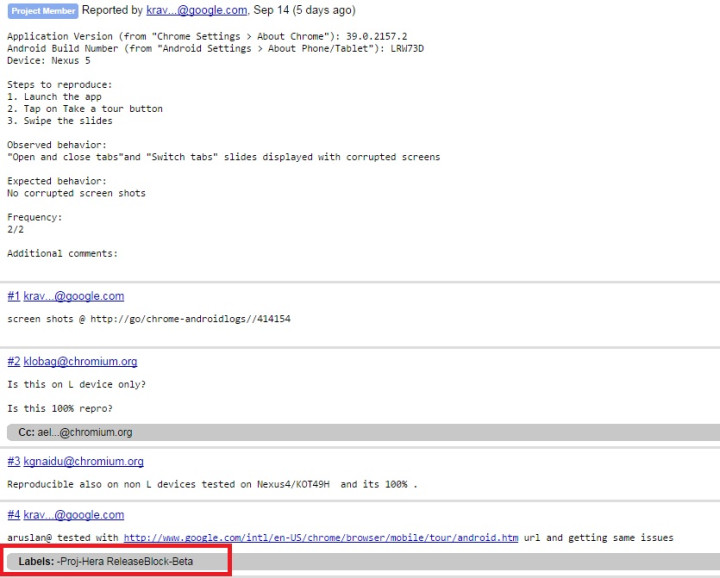 The issue confirms the existence of Google's long rumoured 'Project Hera'. Coming back to the details of LRW73D, the build is about a week old.
What does LRW73D represent? The first letter of the build,' L' suggests the code name of the family, which is lemon Meringue Pie. The second letter is the branch code, allowing Google to identify the exact code branch the build was made from. The next letter and the two digit number, W73, represents a date code. The letter 'W' stands for Q3 2014, while the two digit letter counts days within the quarter and therefore W73 is 11 September, 2014.
The last letter identifies individual versions related to the same date code, which means 'D' is the fourth version of that day.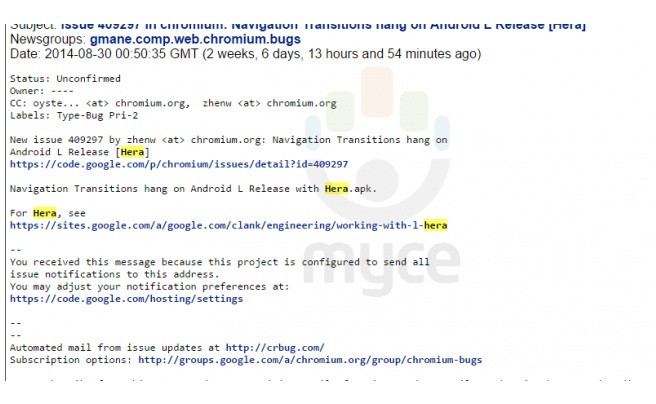 As for the Project Hera, the above screenshot shows the issue was labelled with 'Project-Hera,' which has been removed. Currently there are not many issues related to Project Hera in the Chromium tracker, but the screenshot does suggest Project Hera is in work. The project is expected to allow integration between search, Chrome and mobile devices.