Android Tablets to Outsell iPad This Year
Android tablets will outsell Apple's iPad range this year as consumer demand for smaller, cheaper tablets of eight inches or less continues to grow.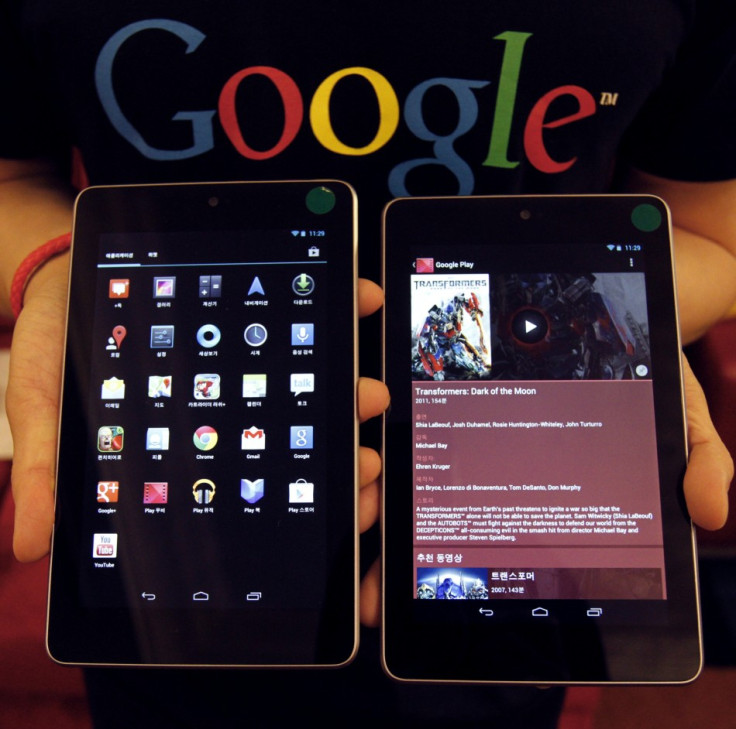 "One in every two tablets shipped this quarter was below eight inches in screen size. And in terms of shipments, we expect smaller tablets to continue growing in 2013 and beyond," said Jitesh Ubrani, research analyst for IDC's Tablet Tracker.
"Vendors are moving quickly to compete in this space as consumers realise that these small devices are often more ideal than larger tablets for their daily consumption habits."
With a wide and growing range of sizes and prices, the Android tablet market is forecast to reach a peak of 48.8 percent of the global tablet market this year, compared to 41.5 percent previously estimated by the IDC.
The International Data Corporation (IDC) has had to increase its 2013 forecast for worldwide tablet shipments to 190.9 million units, up from its previous forecast of 172.5 million
Extrapolating this forecast forward over the next four years gives an estimate on worldwide tablet shipments in 2017 to be in excess of 350 million.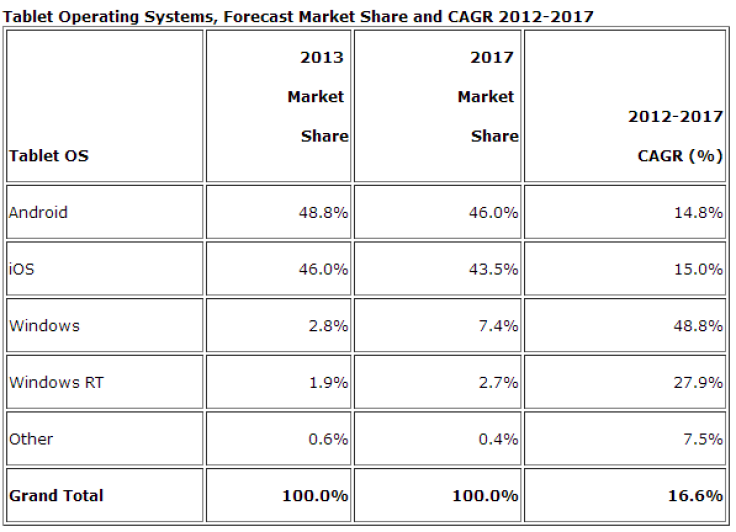 This will put pressure on Apple and its generally more expensive iPad range, which IDC expects to account for 46 percent of the market in 2013, down from 51 percent last year.
Just a year ago IDC expected to see Android overtake Apple in 2015, but cheap tablets like the Google Nexus 7 have helped to make this shift in control happen more quickly.
In the long term, the research firm estimates both Apple and Android will lose some market share to Windows 8 tablets, which will account for 7.4 percent of tablet shipments by 2017, more than double their estimated share for 2013.
Microsoft has made a poor start because of its decision to offer two tablet operating systems - Windows 8 and Windows RT.
"Microsoft's decision to push two different tablet operating systems...has yielded poor results in the market so far," IDC's tablet research director Tom Mainelli said. "Consumers aren't buying Windows RT's value proposition, and long term we think Microsoft and its partners would be better served by focusing their attention on improving Windows 8.
"Such a focus could drive better share growth in the tablet category down the road."
Ereader's permanent decline
A flood of cheap, small tablets has forced the IDC to revise its outlook on ereader sales, reducing its forecast for the category by an average of 14 percent between 2013 and 2016.
The company said: "IDC believes ereader shipments peaked in 2011 at 26.4 million units. After declining to 18.2 million units in 2012, the category is expected to grow only modestly in 2013 and 2014, before it begins a gradual and permanent decline beginning in 2015."
© Copyright IBTimes 2023. All rights reserved.