Andy Carroll's return to Newcastle United would be rejoiced by all Toon supporters, according to club legend Alan Shearer.
Carroll has been heavily linked with a return to the Sports Direct Arena, 18 months after leaving for Liverpool for £35m.
The England international scored nine goals last season for The Reds, and Shearer says should Carroll re-sign for Newcastle this summer, he would be welcomed with open arms by the Magpies support.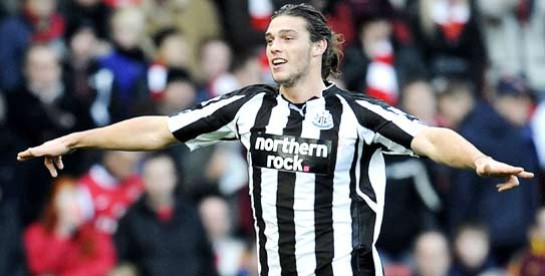 "Andy is an England centre-forward and I wouldn't say he has been a flop at Liverpool by any means," Shearer said.
"Yes, it took him a bit of time to settle there but he finished the season strongly and considering he only started one game at the Euros, I thought he did well.
"I can fully understand why Newcastle are in for him and I think it would be a great move.
"When he was there before he benefited from the fact that the team was always working to get him the ball - and he thrived on that. That hasn't always been the case at Liverpool and perhaps at times he suffered.
"There is an old saying that you should never go back but, in Andy's case, I don't think it would be a mistake at all. He was hero-worshipped by the crowd first time around and they would warm to him again.
"Andy loved playing there and whatever the fans felt about him leaving to join Liverpool, I'm sure he would win them over quickly."
After scoring just twice in the opening six months of his career at Anfield, Carroll ended his full season on Merseyside with a flourish, scoring the winner in the FA Cup semi-final, and then a goal in the final to help earn a spot in Roy Hodgson's England squad.
He started England's second game against Sweden, scoring the opener in a 3-2 win, however the appointment of Brendan Rodgers to replace Kenny Dalglish has cast doubt over his long-term future with his club.
Rodgers' footballing philosophy, which concentrates on keeping the ball on the ground, conflicts with Carroll's attributes, and the Northern Irishman, who has already signed striker Fabio Borini from Roma, has confirmed he is considering the 23 year old's future.
Newcastle meanwhile, looking to build on a fifth place finish in the Premier League last term, are far from bereft of attacking options, with Demba Ba, Papiss Cisse and brothers Shola and Sammy Ameobi in their ranks.
However, Shearer believes that apart from the north east, there are few destinations available to Carroll this summer.
"Brendan Rodgers wants to build his own team and he is entitled to do that," he added.
"Andy wasn't his signing and it's the manager's call whether he wants to incorporate him into his own system or not.
"The difficulty for Andy is that Liverpool is a top, top club and it will be hard for him to go.
"Whatever the problems the club has had, it is still one of the big names in world football with great history and tradition.
"Apart from the likes of Manchester United and now possibly Manchester City, there aren't many bigger in England."