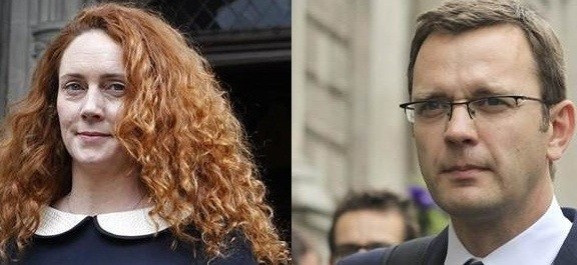 Rebekah Brooks and Andy Coulson, the two principal defendants in the News of the World phone hacking trial, had a secret affair lasting for six years, it has emerged in court.
Brooks wrote an emotional letter to Coulson in early 2004 when he was trying to end the tryst, in which she laid bare her feelings.
In a letter described in the Old Bailey courtroom during the pair's trial for intercepting communications, Brooks told Coulson: "You are my very best friend... I tell you everything... I confide in you, I love you, I care about you."
The pair had a sexual relationship between 1998 and 2004. Both were married at the time.
Brooks continued her affair with Coulson for two years after marrying former EastEnders actor Ross Kemp in 2002. They divorced in 2009. In the same year, she married Charlie Brooks - who is appearing alongside her in court on a charge of perverting the course of justice.
Coulson married Eloise Patrick in 2000 and continued seeing Brooks behind his wife's back for four more years. Coulson and Patrick have two children.
The lengthy affair between them was revealed by prosecution counsel Andrew Edis QC to show how close they were and that they trusted each other, he told the jury.
Edis said: "What Mr Coulson knew, Mrs Brooks knew too."
READ:
Rebekah Brooks' Passionate Love Letter to Andy Coulson whilst Married to Ross Kemp [FULL TEXT]