Britain's Liam Broady was unable to win his first junior grand slam title after losing in three sets to Fiilip Peiwo of Canada in the US Open boy's singles final
Broady, who was hoping to follow in the footsteps of Andy Murray who won the title in New York eight years ago and will compete in Monday's final against Novak Djokovic, had already lost in the 2011 Wimbledon final when he was beaten by Australian Luke Saville.
The 18-year-old had witnessed fellow Brit Oll Golding win the title at Flushing Meadows last year, but he was unable to replicate this success as he eventually succumbed to a 6-2 2-7 7-5 loss in two hours and 25 minutes.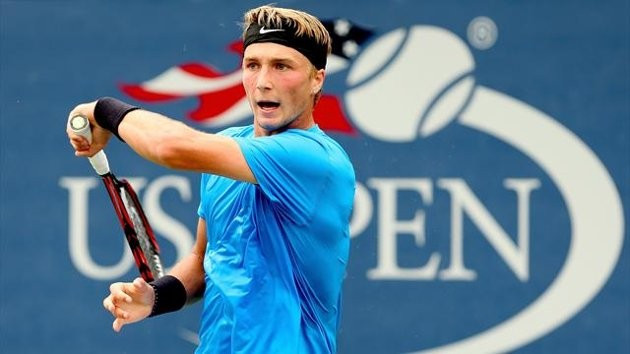 However, the match capped off a superb summer for Peiwo who was crowned the champion at SW19 just a few months ago.
The Canadian looked set to secure a relatively easy victory when he secured an early break in the second set, but Broady showed real resolve as he battled back to force a decider.
The Brit struggled with his serve throughout, making 14 double faults in the match, and was finally broken in the 11th game of the third set as Peiwo then held his serve to claim the title.
Broady will now attempt to make the difficult transition to the to the senior tour where he will hope to emulate the success of Murray.
"I'm going to play in Futures level events and hopefully I will be back here before too long playing in the qualifying for the main event, but I know it's going to be tough," Broady told the Daily Mail.
"I only changed my serving technique after Wimbledon and I've changed my forehand as well so it hasn't been easy. But I came here wanting to win the tournament. When I got to the Wimbledon final I was just happy to be there.
"I got myself in a rut after that and wasn't putting in enough hard work, but I'm doing that now."