Hundreds of Haitian immigrants marched on New York on Friday to against comments allegedly made by President Trump in which he referred to their homeland as a "s**thole".
Flag-waving crowds swelled through Brooklyn and Lower Manhattan on the morning of 19 January. Many carried billboards with slogans denigrating the 45th President, who has denied using the profanity to describe Haiti, El Salvador and the continent of Africa.
"We have a President in power who knows no history and seems to have no education, who just disrespects any and everybody in the world," Marie Timothee, 28, a social worker born in Haiti and raised in Brooklyn, told New York Daily News.
Fellow Haitian Jacqueline Francois told CBS that the president was ignorant of her peoples and culture, saying: "We want an apology from Trump."
On 11 January Trump was in the Oval Office meeting with lawmakers petitioning him to reintroduce legal protections for immigrants from Haiti, El Salvador and Africa.
"Why are we having all these people from s***hole countries come here?" he allegedly said.
"We should bring in more people from places like Norway," he added. The meeting came a day after he met with Norway's prime minister.
The comments were swiftly leaked to the press causing global uproar and rebuke from political figures at home and abroad.
The following day the president was forced to deny that he was a racist after heading back to Washington from Florida to deal with the fallout.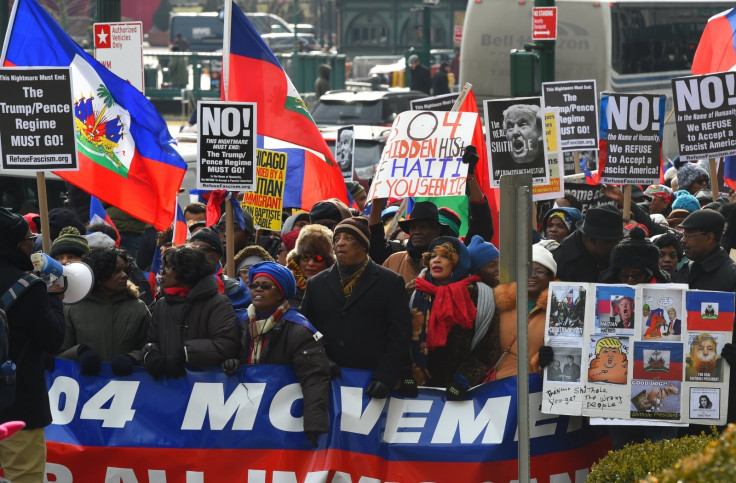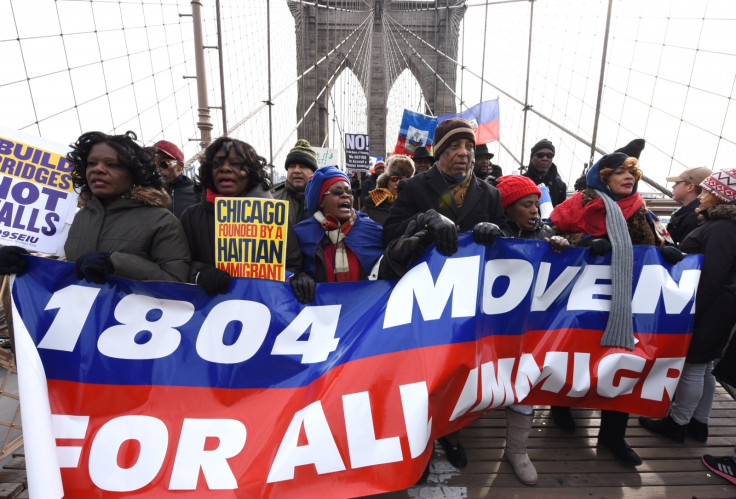 The White House has not officially denied that Trump said "s**thole," although Trump has challenged the veracity of some depictions of the meeting with senators in the Oval Office.
Regardless of what was really said, the damage had already been done. Hilary Clinton was among those to slam him for his "ignorant, racist" views.
But nowhere was the pain more felt than among the US's Haitian, Salvadoran and African communities. Protester Sully Guillaume-Sam, 49, a priest at St. Thomas Episcopal Church, said: "I am here with my fellow Haitians, and also our fellow Africans, to tell Trump he's wrong the way he thinks about us.
"We bring a lot to this country, and he needs to be fair to us. He needs to be a leader with heart, not the kind of racist leader he has been showing us he is," he added.