Turkey's Prime Minister Ahmet Davutoglu has warned nationalist demonstrators to remain calm and respect the law after several days of protests which were marred by violence and vandalism in cities across the country. Offices belonging to pro-Kurd People's Democratic Party (HDP) were targeted by arsonists and vandals threw stones at the windows of Hurriyet newspaper.
The violence against the HDP came after the Kurdistan Workers Party killed dozens of Turkish troops. The HDP is widely perceived as being the political wing of the PKK, though the party denies the claim. The HDP headquarters and a regional office in Alanya were partially destroyed by arson.
The US Embassy in Ankara warned protesters not to target ethnic minorities or the media. In a Tweet the Embassy said: "We urge Turkish citizens to adhere to democratic ideals by supporting free speech and engaging only in peaceful protests."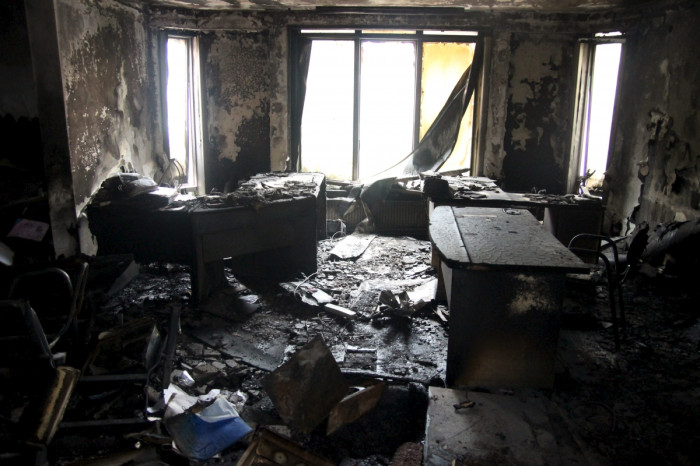 Hurriyet has been targeted over claims by President Recep Tayyip Erdogan it misrepresented his comments in a tweet. The tweet was later deleted, but Hurriyet has reported having its windows smashed twice in three nights. Prime Minister Davutoglu said: "No-one should put themselves above the law," adding, "We will not allow brothers to fight each other."
Turkey is under immense pressure from all sides, with the bloody civil war in Syria, Isis within reach of the border, refugees fleeing the conflict either in vast camps or passing through as they head to Europe, and a state of virtual civil war with Kurds in the southeast.
Turkey is also facing yet more criticism from the West over the country's poor record of press freedom. Activists have reported access to Twitter is being restricted - blocking Twitter has often been used by the authorities to suppress free speech. It was also reported today (9 September) that Dutch journalist Frederike Geerdink, who was arrested in January on 'terrorism propaganda' charges, is to be deported.