Ant and Dec are this week's Official Number 1 single in the UK, according to the latest Official Charts Company sales data.
On Saturday 23 March, the Geordie duo were joined on their ITV show, Saturday Night Takeaway by Blue, Atomic Kitten and 5ive.
During the show, they were teased into resurrecting their PJ and Duncan alter egos for a rendition of their 1990s hit single Let's Get Ready To Rhumble.
Thousands of viewers immediately downloaded the track and the Official Charts Company confirmed that in 72 hours Let's Get Ready To Rhumble sold nearly 46,000 copies. That's 35 percent of what it had previously sold in its entire 19-year existence.
The duo's 1994 Number 9 hit, Let's Get Ready To Rhumble, is currently outselling its closest competitors, P!nk and Nate Ruess's Just Give Me A Reason (at number 2) and reigning chart princesses The Saturdays' What About Us, featuring Sean Paul, (number 3), by more than 10,000 copies.
Two decades after the duo released the song, and at the age of 37, the pair will score their first-ever official number 1 hit.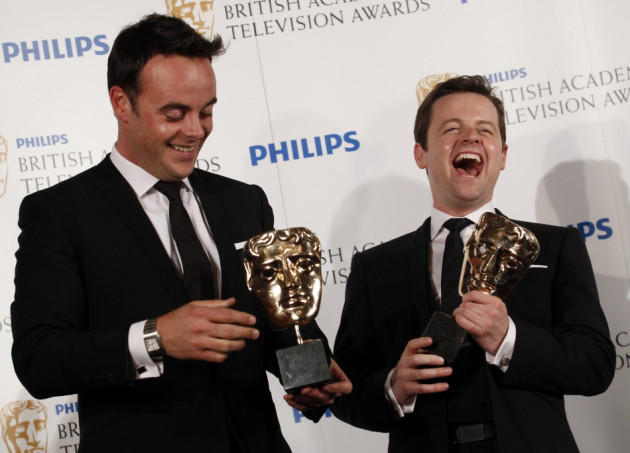 Before becoming TV presenters, Anthony McPartlin and Declan Donnelly found fame in the late 1980s in the Newcastle-based BBC drama Byker Grove, in which they played characters PJ and Duncan. The pair adopted these monikers for their subsequent pop career, which resulted in 14 Top 40 singles.
"Over the past few years, the download of Let's Get Ready To Rhumble has been steadily selling around 100 copies a week," says the Official Charts Company's managing director Martin Talbot. "It is quite amazing how one TV performance can send those sales soaring."
Speaking to Chris Evans on his Radio 2 breakfast show, Ant revealed that he and Dec will donate all the profits from the single to Childline, a children's charity of which they are patrons.
"Let's Get Ready To Rhumble kinda changed everything for us," he said. "I never thought we'd be performing it 19 years later on a Saturday night TV show! People are still buying the track, so we've just decided that any money we make out of it will be put towards Childline."
The TV presenters admit they didn't spend months rehearsing. "We did one rehearsal," Dec says. "But when we saw how good the other acts were, we got competitive and decided to up the rehearsals and ask for more dancers and pyrotechnics."
Watch the original video for Let's Get Ready To Rhumble below. Dark glasses advised.