Many were under the impression that Ant-Man was going to be Marvel's first disaster since Iron Man's huge success back in 2008 turned it into the powerhouse it is today. The studio has become somewhat of an institution when it comes to superhero blockbusters and has rarely put a foot wrong in its adaptations.
That prestige, accompanied by its incredibly dedicated (and often fairly critical) fanbase, had people doubting as to whether introducing a fresh new character into the mix, when we're already so connected to a bunch of already existing ones, was a smart move, but as it turns out the negative thoughts were completely unjust; it's actually a wonderful breath of fresh air.
Reformed thief Scott Lang (Paul Rudd) wants nothing more than to win back the respect of his daughter Cassie, so when brilliant scientist Hank Pym (Michael Douglas) presents him with an opportunity that will make him "the hero she already thinks he is", he hesitantly accepts. The task is to don a specially made suit that can shrink him down to the size of an insect in order to put a stop to Pym's former protégé, now rival, Darren Cross (Corey Stoll) from getting his hands on the same, potentially Earth-threatening, technology.
The film plays out very much like a heist movie, which makes for a well-paced plot, building up to an exciting third act. It manages to mix the suaveness of movies like Ocean's Eleven and classic X-Men nerdiness in its presentation, making it feel like a indulgently cheesy comic book movie and not simply an action-packed explosive spectacle. In layman's terms, it's not afraid to go "classic superhero". There's no overly dramatic swelling theme every time the good guy appears on screen here, yet it retains that level of excitement throughout.
Considering that the story was almost entirely written by Shaun Of The Dead creator Edgar Wright and that comedy movie veteran Paul Rudd is leading the movie, it's no real shocker that the film is funny. What is somewhat surprising is just how hilarious it actually is, even becoming a challenger to last year's laugh-fest Guardians Of The Galaxy in terms of impressive comedic chops.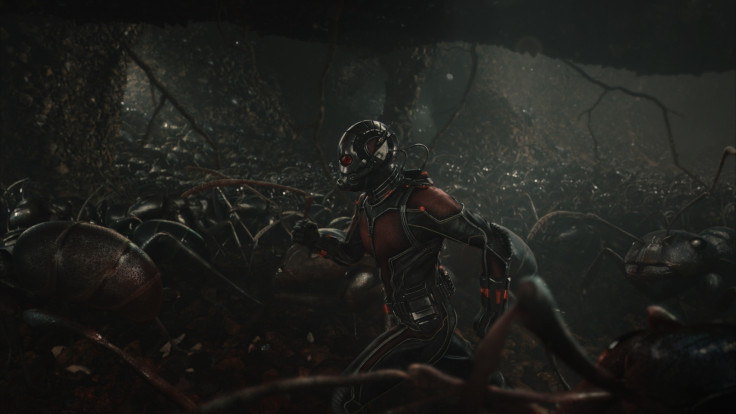 Despite ditching the film over a year ago, handing over the position of director to Peyton Reed, Wright's presence within the movie is still very apparent, most notably in its humour and all of the brilliantly comical facial expressions and quippy one-liners delivered from each and every cast member throughout the picture. Traits that cinema-goers are more used to seeing in a Simon Pegg movie rather than a Marvel one, but Rudd in particular pulls it off with notable ease.
That's not to say his supports aren't just as impressive. Michael Peña steals almost every scene that he appears in as Luis, the inexplicably optimistic right-hand man from Chicago, who talks a little too much and never quite gets to the point when you need him to. "Ya feel me, dog?"
Some of the movie's best laughs don't even stem from a particular character or actor in fact, but in the physicality of some of the scenes and the way in which the film-makers really use the times Ant-Man is in his shrunken state to bag a laugh. While these gems are scattered throughout the whole movie, they flourish when we reach the final battle between good guy and bad guy in moments that see a Thomas The Tank Engine toy enlarge to the size of a real train and the ruthless Cross being unexpectedly whacked into a bug zapper after a particularly thrilling fight scene.
But it isn't just the funny moments where the micro-scenes excel. It's questionable as to whether there has been a movie that before Ant-Man that has really benefited from the platform of 3D the way this film does, as Lang's terror when he's tiny is emphasised with shots given an extraordinary amount of depth and detail.
Not as grandiose in terms of its scale and story as Marvel's latest movies surrounding the Avengers, it spends more time on well-executed combat scenes instead of ambitious and allows for a much tighter, simpler plot that proves a blessing in disguise, particularly when introducing a whole new world of characters to superhero movie fans.
Something that stands out about Ant-Man is that it has no qualms in making its auxiliary characters just as important, if not more so, than its central hero. Particularly towards the end of the film, you can't help but feel like they're purposefully pushing their stories to make headway on potential sequels in the franchise as they learn more about their pasts and where their futures might lead. Which could seem a little presumptuous, but given that their focus is set on the hugely intriguing Hope van Dyne (Evangeline Lilly) and her father Dr. Pym, it is completely understandable.
In fact, the film delves much further into the Pym's backstories than it does Lang's and, by employing paralleled storylines between Ant-Man and his daughter and Pym's complex relationship with his own, it draws even closer attention to those two wildly interesting, secondary characters.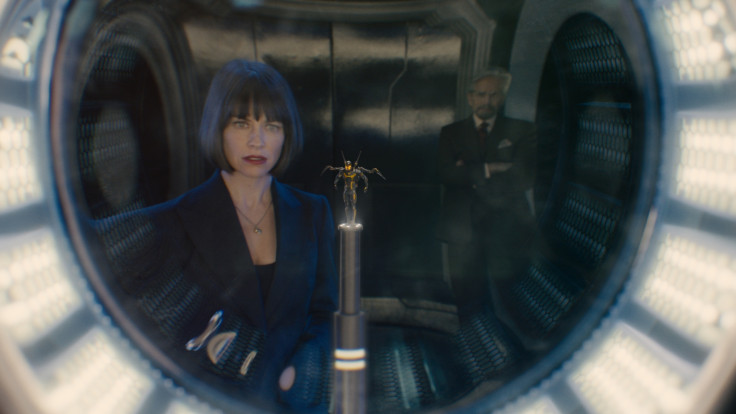 Even towards the beginnings of their superhero journeys, the likes of other Marvel characters such as Black Widow, Hulk and Iron Man were never just normal people. One was a highly trained Russian spy, one an incredibly intelligent scientist and the other? Well, a genius, billionaire, playboy and philanthropist, just to give him a few unique labels. Let's not get started on Thor...
Scott Lang is different. Yes, he's a skilled burglar with street smarts and a amusingly sharp tongue but he's also a goofball and not really destined to be a hero, making him arguably the realest character we've seen in the Marvel Cinematic Universe for a while. It's a refreshing change. Throughout Ant-Man, we see Lang clumsily train, leading up to his mission of defeating his enemy, whereas in juxtaposition, we've never even seen Captain America warm up with a light stretch before obliterating five baddies in one fell swoop. It's this human quality to Lang that makes you root for him to come out on top from the very beginning and it endears you to him the more he tries to better himself as a hero.
At one point Lang even says himself "I think we should get the Avengers," a line so cleverly timed within the movie that you surprisingly find yourself thinking 'no, we don't want that right now – what do you have to offer?' instead of 'yeah, go get them, that would be cool.' We see what you're doing there, Marvel!
Hardcore Avengers fans won't be disappointed however, as there are plenty of humourous nods to Earth's Mightiest Heroes (and even a fantastic scene-long cameo from one of the gang), leading up to Lang's introduction to the team in the upcoming Captain America: Civil War. So while Ant-Man is separate (for the time being), it's nice to have that familiar territory touched upon every once in a while. It feels like you're in on the joke – even if there isn't one being made.
Ant-Man marks the next evolution in Marvel's five-year-long cinema release schedule and paves the way for upcoming pictures surrounding some of the brand's lesser-known heroes. Doctor Strange and Black Panther will be the next new arrivals to make their way into the fold and judging by the success of this movie, the shift into newer territory seems to have come at just the right time –despite us never even realising we needed it until now.