Anthony Weiner sext sent with 4-year-old son sparks probe by NY children's services, say reports
The ex-Congressman has called his child a 'chick magnet' a source told the New York Post.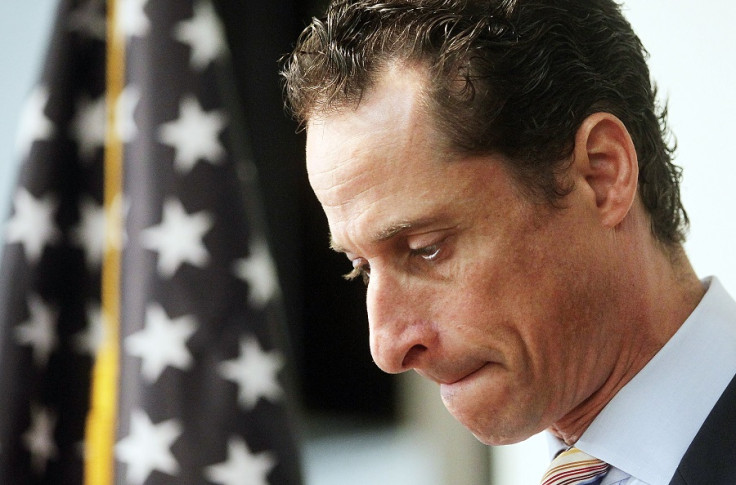 New York City's child protective services agency has launched an investigation into a "sext" sent by beleaguered ex-congressman Anthony Weiner that allegedly included his four-year-old son in a picture.
Weiner's third publicised batch of embarrassing sexts to love interests over five years finally ended his marriage to top Hillary Clinton aide Huma Abedin.
"Anthony and I remain devoted to doing what is best for our son, who is the light of our life," Abedin said when she announced their split.
Abedin loyally stayed by Weiner's side on two previous occasions after sexts were made public. Wiener, 51, resigned from Congress in 2011 after the first sexting scandal and claimed to have undergone rehab for the problem.
A new batch of Weiner photos emerged under the sexting name Carlos Danger while he was running for New York City mayor in 2013.
Now, it has emerged, Weiner texted a sexually suggestive crotch shot of himself wearing white boxers as he lay in bed next to the couple's son, Jordan.
Stop looking at my crotch," Weiner chortled in his text to a love interest across the country. "Whatever. You did it on purpose," replied the woman.
Officials from the Administration for Children's Services turned up at the couple's Manhattan apartment, a source told the New York Post.
Such visits are usually conducted to ensure that a child has a room to sleep in and food, the source added. Weiner has said he had not been visited nor interviewed by anyone in the agency. The agency said it never confirms investigations to protect children and their privacy. But state Senator Ruben Diaz told the New York Daily News that such a probe had been launched.
"Congratulations to [ACS] Commissioner Gladys Carrion for listening to the call for an investigation and for following through," Diaz added. "I was afraid that [with] the power and the connections of Anthony Weiner and Huma Abedin that this conduct could have gone unaddressed."
Weiner, the Post reported, has referred to his son as a "chick magnet." Weiner's electronic chats with the latest woman began in early 2015 and stopped just weeks ago, the woman told the Post. Though she said Weiner repeatedly invited her to visit him in New York City, "we never met", she added.
Donald Trump, who has referred to Weiner as a "pervert," insisted that it was "negligent" for opponent Hillary Clinton to allow Weiner such "close proximity" to classified information, apparently simply because he was married to Abedin while she worked for former secretary of state Clinton.
© Copyright IBTimes 2023. All rights reserved.