Kremlin critic Alexei Navalny has taken on a visibly different skin tone after being confronted by an unknown assailant who hurled a liquid at him, temporarily turning his face, teeth and hands green.
The attack is believed to have happened when the Russian opposition leader was shaking hands with a man in Barnaul. Navalny was in the Siberian city as part of his campaign to stand in Russia's 2018 presidential elections.
A video captured the incident where a man comes up to Navalny and flings the liquid — believed to be an antiseptic called Zelyonka — in his face.
The assailant, dressed in a black coat, then quickly ran away, according to the Associated Press.
"It burnt a lot, and I had a horrible thought that it was acid," Navalny said in a blog post shortly after the incident.
To his relief, he joked, he has been left unharmed but looking like "either Avatar, or the Mask, or Shrek."
"This is a strange presumption on the Kremlin's part: if they pour zelyonka over me, I will stop campaigning and organising rallies," he added. "Maybe they thought I would stop recording video's with a green face. But I'll do more, because more people will watch," he said in a video statement.
The green antiseptic sprayed on to Navalny is commonly used in Russia. It is non-toxic but is difficult to wash off and remains on skin for days.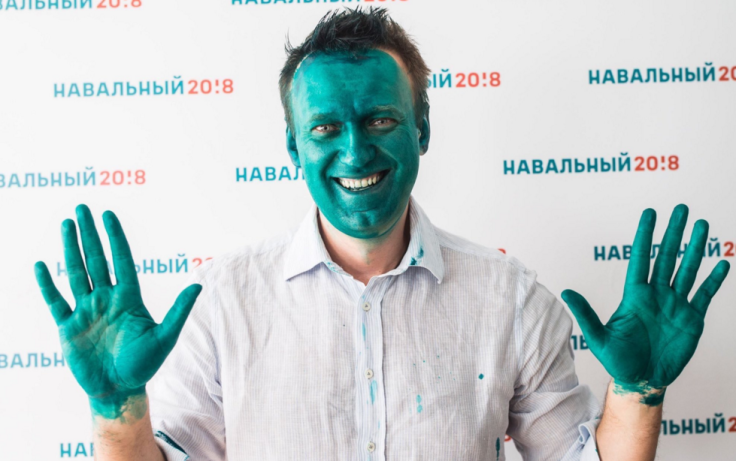 Navalny is not able to stand for election due to a criminal conviction for fraud. He was jailed in July 2013 for embezzlement in Kirov city. But many of his backers claim the charges levelled against him were politically motivated.
The 40-year-old came to international prominence in 2011, when he told people to vote for anyone but Putin's United Russia, which he criticised as the "party of crooks and thieves".
The Putin critic has also accused Dmitry Medvedev, Russia's prime minister of corruption, according to the Telegraph. Medvedev is alleged to have used charities run by his associates to cloak his control of assets including mansions and yachts worth millions of pounds.
The claims were made in a report by the Anti Corruption Foundation, a group led by Navalny.