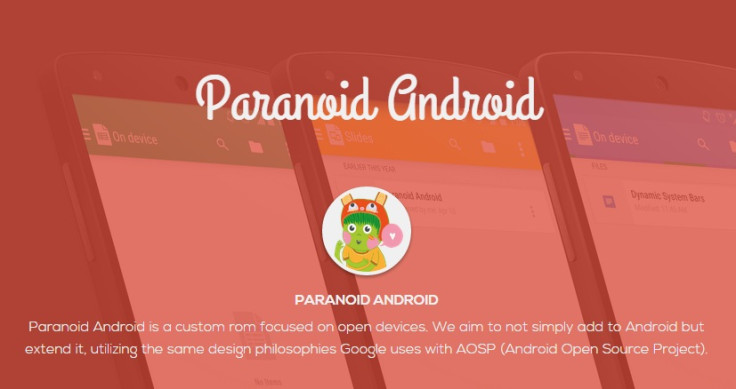 Nexus device owners are in for some good news. The popular AOSP-based Paranoid Android 5.1 ROM has been released for Nexus 4, Nexus 5, Nexus 6, Nexus 7 (2012 and 2013) and Nexus 9.
The development process for Paranoid Android has slowed in recent times as several developers have been roped in to work on OxygenOS for OnePlus. This could seriously affect all future releases of ParanoidAndroid ROM, reports Android Police.
Nevertheless, the entire Nexus lineup of devices barring the Nexus 10 can now be updated to Android 5.1 Lollipop via Paranoid Android custom ROM, using the direct download links provided below:
Nexus 4 (Mako)
Nexus 5 (Hammerhead)
Nexus 6 (Shamu)
Nexus 7 2012 Wi-Fi (Grouper)
Nexus 7 2013 Wi-Fi (Flo)
Nexus 7 2013 LTE (Deb)
Nexus 9 (Flounder)
Nexus 10 (coming soon)
The Nexus 10 has been left out of the supported list as the developer team could not get hold of a device for testing, it is believed.
Here is what the PA developer team had to say about the change in the ROM's release schedule on its official blog:
The developer team has thrown an open invitation for interested geeks who would like to join hands and contribute to further development of Paranoid Android ROMs in the future: