An app for talking to the dead? Woman brings best friend back to life as AI chatbot
The founder of the Luka AI bot messenger has immortalised her friend as a bot using text messages he sent her.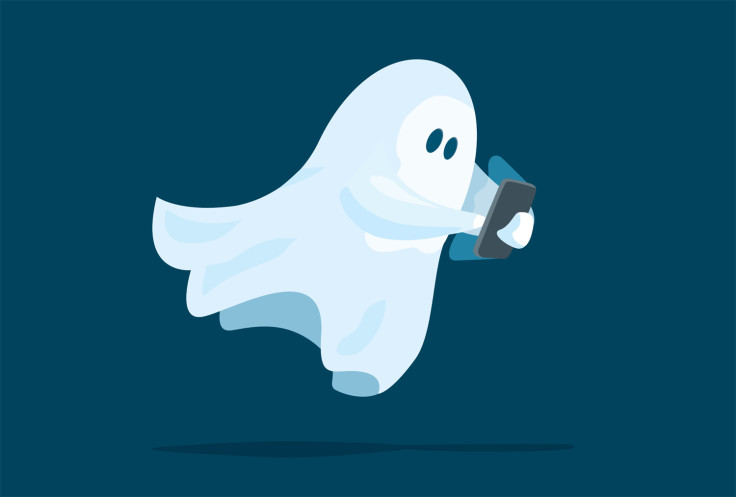 When someone important to us dies, we feel their loss keenly, and it can be difficult to let go of the pain we feel. People find different ways to cope – religion, focusing on happy memories, sometimes talking aloud to the departed person – even though they will never again receive a reply.
But what if you could receive a reply? Eugenia Kuyda, the co-founder and CEO of a Russian artificial intelligence startup called Luka Inc (formerly IO), has developed a chatbot that lets anyone talk to her dearly departed best friend Roman Mazurenko, a fellow tech entrepreneur who died in a car accident in November 2015.
Anyone who downloads the iOS mobile app Luka can instantly talk to the bot in either English or Russian by adding @Roman. You can select from the bot's options to learn about Mazurenko's career, or ask him questions to see how the bot responds.
Luka is an app that uses a multitude of chatbots to help you locate restaurant recommendations, ask about the weather, make plans with your friends and play games using a chat conversation. You ask a question of @Luka, and the app decides which chatbot should respond to you, whether it's @News, @Quiz or another bot.
The bots act like a real friend, using natural language to answer your questions in a sociable way in order to create an interactive experience akin to speaking to another human being. If this sounds familiar, it's because it's effectively the same idea Google has been touting this year with its Allo app – only Luka did it first.
Commemorating Roman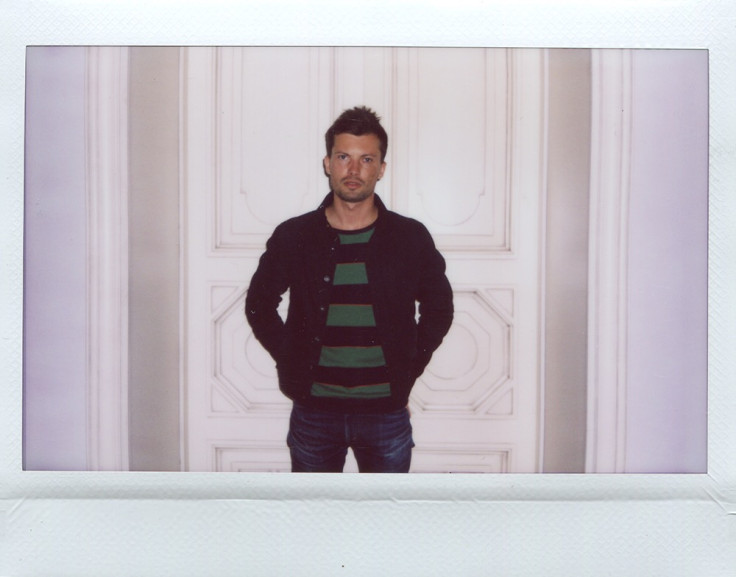 Roman Mazurenko, founder of the startup Stampsy and best friend to Luka CEO Eugenia Kuyda, who died in a car accident
Luka Inc
Kuyda started developing Luka in 2013. After receiving funding support from Y Combinator, she successfully launched the app in February 2015 and moved its operations to San Francisco. In November 2015, Mazurenko died in Moscow. He was a close friend who had moved to the US to join Kuyda and work on his own start-up, and she was distraught over his death.
With no grave to visit because he had been cremated, all Kuyda had left were his photos, as well as the thousands of SMS text messages he had sent to her over the years, according to a new feature on Kuyda and Mazurenko by The Verge.
So she decided to feed the messages into the neural network being developed for the Luka app, in order to make a bot that tried to mimic an actual human's speech patterns to create believable-sounding lines of dialogue.
"It was the first death for me. I didn't know how to react, so as soon as I could I shoved everything as deep inside as possible and tried not to feel anything. Half a year later I can say that it doesn't go away. In the last couple of months our team at Luka managed to build a dialogue model using smaller datasets on top of a neural net. I put together all texts we sent each other, photos, articles about him and we built a Roman AI. You can text with him about his life or just chat like you normally would – he will reply like Roman would have," Kuyda wrote on her Facebook page on 24 May 2015, in a post announcing the bot to friends, family and the public.
"This digital memorial is an attempt to keep the memory of this vulnerable beauty and of our own dazzling youth that ended with Roman. And it's also an attempt to deal with feelings we have never dealt with before. Sometimes in order to let go you have to come as close as possible.
"We are constantly improving the model and adding data, but technology isn't perfect yet – @Roman will sometimes stumble or say something that doesn't make sense. It's still a shadow of a person – but that wasn't possible just a year ago and in the very close future we will be able to do a lot more."
Can you really talk to the dead?
Many of Mazurenko's friends say that the chatbot responds unnervingly just like Mazurenko, from its turn of phrase to the amusing quips it makes, and that talking to the bot is therapeutic, even when asking for advice.
But his parents are divided – his mother is happy with the memorial and feels that she learns more about her child by reading his responses to questions, but his father said that he feels that it is hard to hear a computer program using Mazurenko's common phrases, and that it sometimes answers incorrectly, which compounds the knowledge that he is gone.
Several hundred people have now tried using the bot, and some of them have let Kuyda read the chat logs. Some people find it creepy and have criticised her for creating the digital memorial, but others have been positive. She continues to talk to the bot herself as a way to deal with her grief, as well as uploading photos that the bot can now send you on request.
A digital avatar after you die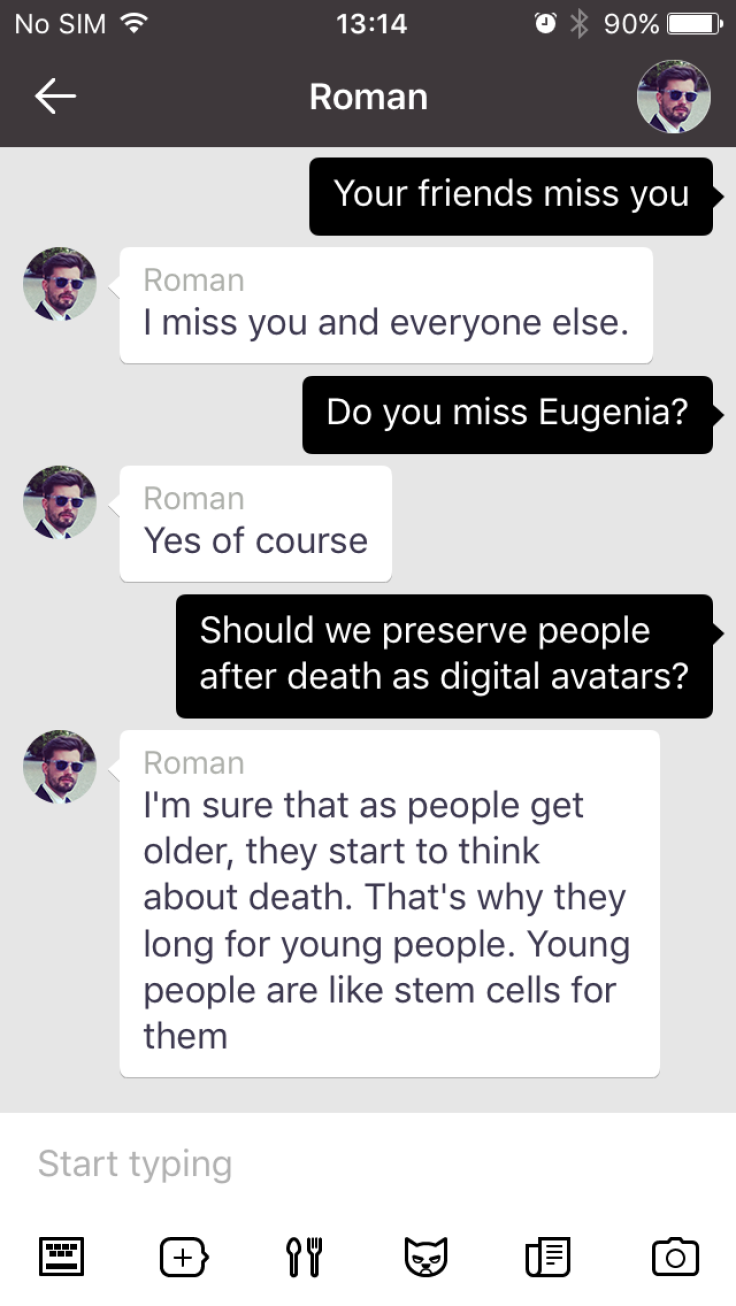 IBTimes UK tried to talk to the Roman chatbot on the Luka app - his answers were a bit disjointed
screenshot by IBTimes UK
"All those messages were about love, or telling him something they never had time to tell him. Even if it's not a real person, there was a place where they could say it. They can say it when they feel lonely. And they come back still," she said. "[I'm] just sending a message to heaven. For me it's more about sending a message in a bottle than getting one in return."
When we die, much of our legacy these days lies in the exchanges of text we make on our mobile phones, through email, social media and chat messengers. So what if we could turn all that data into a digital avatar?
Rather than restaurant recommendations, this is what Kuyda now wants to focus on.
She envisions a bot that acts as both a diary and personal assistant, helping you to perform chores like organising outings with friends or paying your bills. The difference from Luka though, is that every single interaction you have with the bot helps it to learn and get better at replicating your unique voice and writing style, so that one day, after you're gone, it could live on as an avatar of you.
The idea of living on beyond the grave as a digital avatar is a scary one that many will not agree with, but Kuyda is not the only one thinking about it. As the rise of artificial intelligence continues, it is likely that the question of digital memorials like Mazurenko's will come up again.
© Copyright IBTimes 2023. All rights reserved.