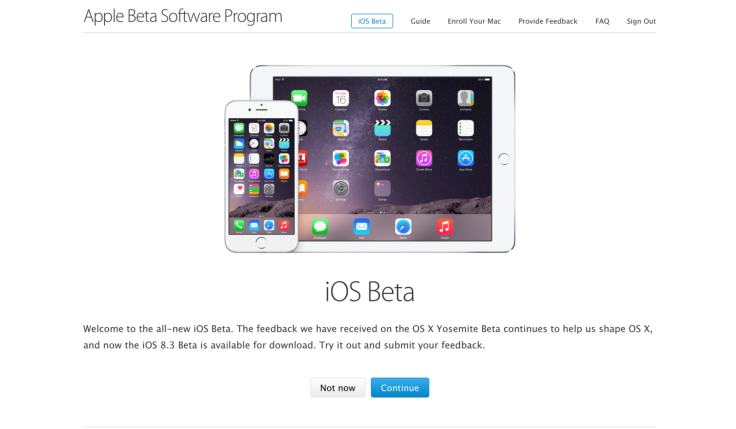 Apple has begun sending email invitations to certain customers to take part in a new beta testing program for its iPhone and iPad software. The iOS Beta Program was launched on 12 March and will see members of Apple's OS X Beta Program being invited to take part and test out unfinished updates to Apple's software before its final versions are released to the wider public.
The new program is not technically open to the public as only those already enrolled will get an invite to take part.
Those invited to take part will be able to download iOS 8.3 which is currently being tested by developers. Coinciding with the emails invites being sent out, Apple pushed the latest version of iOS 8.3 to developers, which is likely the same version that invitees will have access to.
iOS 8.3 was initially released to developers in early February and will bring several enhancements to the software including an upgraded emoji keyboard, a new voice for Siri, and easier logins for Google services.
iOS 9
Last year Apple launched the OS X Beta Seed Program to give members of the public early access to unfinished versions of desktop software.
Apple has updated its website to reflect the new wider testing approach with the OS X Beta Seed Program renamed the Apple Beta Software Program and making specific reference to the iOS Beta.
Apple released iOS 8.2 earlier this week as part of its Apple Watch launch, adding support for the company's first ever wearable device.
The OS X Beta Seed Program was limited to one million users and it is expected that similar limitations will be applied to the iOS testing phase. It is unclear if the invite-only program will be expanded to include more iPhone and iPad users in the future.
Apple will launch iOS 9, which is codenamed Monarch, at its Worldwide Developers Conference (WWDC) in early June with the major software update expected to focus mainly on performance and battery life improvements rather than adding a slew of new features or a major redesign.
One of the big issues users had with iOS 8 was the number of bugs the software was released with (including major issues with Wi-Fi and Bluetooth as well as battery drain) and this public beta is likely a reaction to that negative impression of Apple's software.