A new biography of the iconic Apple co-founder Steve Jobs reveals that current CEO Tim Cook offered him a liver transplant, that Jobs considered buying Yahoo, and that he was never interested in building a television at Apple.
The latest biography of the Apple co-founder is called Becoming Steve Jobs: The Evolution of a Reckless Upstart into a Visionary Leader and is written by veteran reporters Brent Schlender and Rick Tetzeli. It is published on 24 March, but ahead of its release a sizeable chunk of the book was available to preview on Amazon's Look Inside the Book feature.
While the preview has now disappeared, a number of people read it and documented some of the most interesting revelations.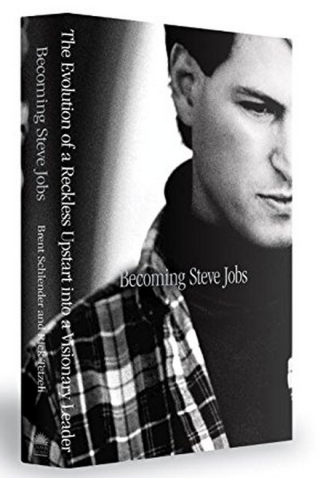 According to Luke Dormehl at Cult of Mac, the current Apple CEO Tim Cook discovered he had the same rare blood type as the Apple co-founder and so offered him a portion of his own liver.
Cook underwent a battery of tests to investigate if his liver was compatible and finding out it was, he made the generous offer to Jobs only for the enigmatic CEO to turn him down.
"Somebody that's selfish doesn't reply like that," Cook says.
Low regard for Isaacson's biography
The selfish remark is a reference to the last major biography of the Apple co-founder written by Walter Isaacson - called simply Steve Jobs - which is a major bone of contention for Cook and Apple's head of design Jony Ive.
Ive recently revealed his thoughts on Isaacson's book in a lengthy profile in the New Yorker, where he said his "regard couldn't be any lower" for the book.
In the new biography, Cook gives his opinion which is similarly scathing:
I thought the Isaacson book did [Jobs] a tremendous disservice. It was just a rehash of a bunch of stuff that had already been written, and focused on small parts of his personality. You get the feeling that [Jobs was] a greedy, selfish egomaniac. It didn't capture the person. The person I read about there is somebody I would never have wanted to work with over all this time. Life's too short.
While Isaacson's speciality is writing biographies (he also wrote memoirs of Benjamin Franklin, Albert Einstein, and Henry Kissinger), the authors of the new book have been deeply involved in covering Apple and Jobs in particular for many decades.
Unprecedented access
Schlender covered Steve Jobs for the Wall Street Journal and Fortune for nearly 25 years while Tetzeli is executive editor of Fast Company and has covered technology for two decades.
The pair were granted unprecedented levels of access to major figures within Apple including interviews with Tim Cook, Jony Ive, Eddy Cue, Pixar's John Lasseter, Disney CEO Bob Iger, and Jobs' widow, Laurene Powell Jobs.
The book claims to "humanise the man and explain, rather than simply describe, his behaviour."
The preview of the book also reveals for the first time that Jobs was actively looking at purchasing Yahoo, something which has been rumoured many times before. The move would have given Apple a foothold in the search market and it was with Disney boss Bob Iger that Jobs discussed the potential move.
"I just don't like television"
Another titbit of information revealed in the preview goes against one of the major revelations of Isaacson's book where he claimed Jobs said "I have finally cracked it" about creating an Apple television.
In the new biography Jony Ive reveals details of his first meeting with Jobs in the late 1990s after the co-founder returned to the company. At that meeting Jobs told Ive: "I just don't like television. Apple will never make a TV again."
Ive and Jobs were kindred spirits in their outlook on design and the Apple design chief talks more about this in the book:
He and I could talk philosophically about aspects of design in ways we couldn't with other people. I would get self-conscious if I had to talk in such philosophical terms before a group of engineers, who are brilliantly creative, but when you go on and on about the integrity and meaning of what they are building, well, that's just not their focus. There were times when Steve and I would talk about these things and I could see in people's eyes that they were thinking, Oh, there they go again.