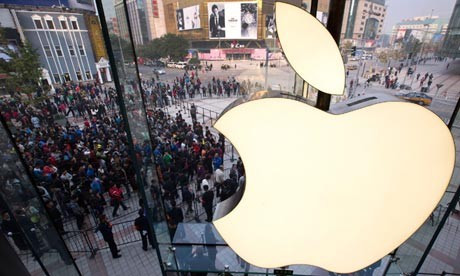 Suppliers of technology giant Apple were involved in more than 100 cases of employing child workers over the past year, the company has revealed in its Supplier Responsibility report for 2013.
One Chinese supplier employed 74 children under the age of 16, while another ten facilities also used child labour, the company said.
In all, 106 cases were identified of underage labour being employed at Apple suppliers in 2012, involving 70 out of nearly 400 suppliers. Many of the children were recruited using forged identity papers, said Apple.
Its report follows a series of suicides among workers protesting at conditions at Foxconn, the Taiwanese company that assembles iPad and iPhone products, and lethal explosions at other plants.
A catalogue of further offences were uncovered during the company's annual "supplier responsibility" report. These ranged from staff being forced to undergo mandatory pregnancy tests, to bonded workers having their wages confiscated to pay off debts to the agencies that recruited them.
Apple also found cases of juveniles being used to lift heavy goods, workers having their wages docked as a punishment and one factory dumping waste oil in the toilets.
Chinese supplier Guangdong Real Faith Pingzhou Electronics, a manufacturer of circuit board components, was axed by Apple after 74 children under the age of 16 were discovered to have worked on its production lines.
Apple said the children had been "knowingly" supplied by Shenzhen Quanshun Human Resources, a major recruitment agency in the region. Shenzhen Quanshun had conspired with families to forge identification documents, said Apple.
"We also alerted the provincial governments to the actions of Quanshun. The agency had its business licence suspended and was fined. The children were returned to their families, and PZ was required to pay expenses to facilitate their
successful return," Apple said in the report.
Apple's chief executive, Tim Cook, who was previously responsible for Apple's supply chain, has been under heavy pressure following the suicides at Foxconn. A brawl involving 2,000 workers forced Foxconn to close a plant in northern China in September 2012.
Cook has described the use of underage labour as "abhorrent", and said it was "extremely rare in our supply chain". He has hired an independent auditor, the Fair Labor Association, to stamp out bad practice.
But eradicating the problem could take some time, said Jeff Williams, Apple's senior vice president of operations. "Underage labour is a subject no company wants to be associated with, so as a result I don't believe it gets the attention it deserves, and it doesn't get fixed like it should," he said.
Apple also ordered its suppliers to reimburse excessive recruitment fees - anything higher than one month's wages - and said £4m was handed back to contract workers in 2012.
Bonded labour was discovered at eight factories, while mandatory pregnancy testing was found at 34 sites. At four facilities, payroll records were falsified to hide information from auditors, and at one, a supplier was found intentionally dumping waste oil "into the restroom receptacle".
"Our approach to underage labour is clear: We don't tolerate it, and we're working to eradicate it from our industry," Apple said in its report. "When we discover suppliers with underage workers or find out about historical cases, we demand immediate corrective action."
Apple said it took measures to protect whistleblowers, and that its auditors made 8,000 calls last year to interviewed workers who may have suffered intimidation.