Apple is looking to hire a developer who can create applications which use virtual reality, augmented reality and 3D graphics.
A job listing on the iPhone-maker's website says the successful candidate will "create high performance apps that integrate with virtual reality systems for prototyping and user testing," indicating Apple is keen to explore the possibility of VR.
The job is full time - 40 hours per week - and is based in Santa Clara Valley, California, but little else is known about Apple's plans for what the new employee will be working on. The company could be looking to integrate its iOS products with third party hardware like the Oculus Rift, or even build its own.
Last year, a patent filed by Apple detailed a virtual reality headset similar to the Facebook-owned Oculus Rift. The gadget is described by Apple as a "goggle system for providing a personal media viewing experience," although virtual reality or augmentation was not mentioned.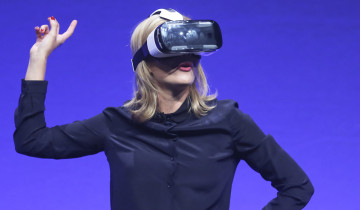 But if Apple does invest further in VR, it won't have the nascent market to itself. Samsung is expected to start selling its Gear VR headset before the end of the year. The £150 device is built using technology developed by Oculus and works in conjunction with Samsung's Galaxy Note 4, which slots inside and acts as the display, which is then beamed in 3D into the users eyes through two lenses.
Google is also experimenting in the VR space, having given away the Cardboard experimental prototype to developers at its annual I/O conference earlier this year.
Aside from gaming and watching 3D content, virtual reality headsets have many other wide-reaching uses. For example, Samsung is in negotiations with Virgin Atlantic to offer Gear VR as a training tool for keeping pilots' knowledge of various aircraft cockpits up to date.
Samsung is also in talks with several car manufacturers, with the aim of providing customers with a virtual representation of what their future car could look like, without having a car of their chosen colour in the showroom.