Former Sega CEO Mike Hayes believes virtual reality [VR] will bring about one of the biggest changes to the video game industry since the advent of the smartphone.
Hayes, who was CEO of Sega Europe and America between 2009 and 2012 and now leads the digital and e-commerce division of Mercia Fund Management investment group, made the comments during an interview with IBTimes UK.
Asked about how important it is that the UK video game industry embraces virtual reality, Hayes said: "It's absolutely fundamental. I think VR is one of the most important things for the gaming industry since smartphones came into play.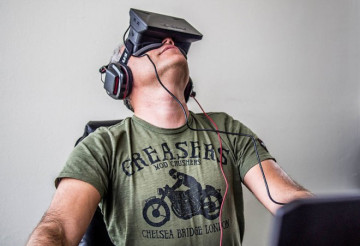 "We know smartphones created a seismic change in how the industry is run, is developed, publishes and so forth. VR is the next piece in video games' never-ending journey to find how they can use technology to entertain people."
The virtual reality revolution has been in the making for some time. In 2012 company Oculus VR was founded and began development on a virtual reality headset called the Oculus Rift. Earlier this year the company was purchased by Facebook for $2 billion (£1.24bn).
Now the tech industry is seeing the potential for VR beyond video games, with applications being developed for the fields of medicine, defence and education. The Oculus Rift has been joined by rival headset Project Morpheus, being developed at Sony, and the Samsung Gear VR, developed in conjunction with Oculus.
"The thing about the British games industry," Hayes continued, "is that they have always been at the forefront of new technologies. We have some of the best games engineers in the world and VR is something I think we can embrace successfully.
"I tend to think that the game industry pioneers... Gaming in the next two or three years will set this market up, grow it to this $5bn or $6bn dollar part of the overall gaming market, but then those applications will spin out in less sophisticated but more important ways, that use the tech in new areas."
You can read the full IBTimes UK interview with Mike Hayes here.