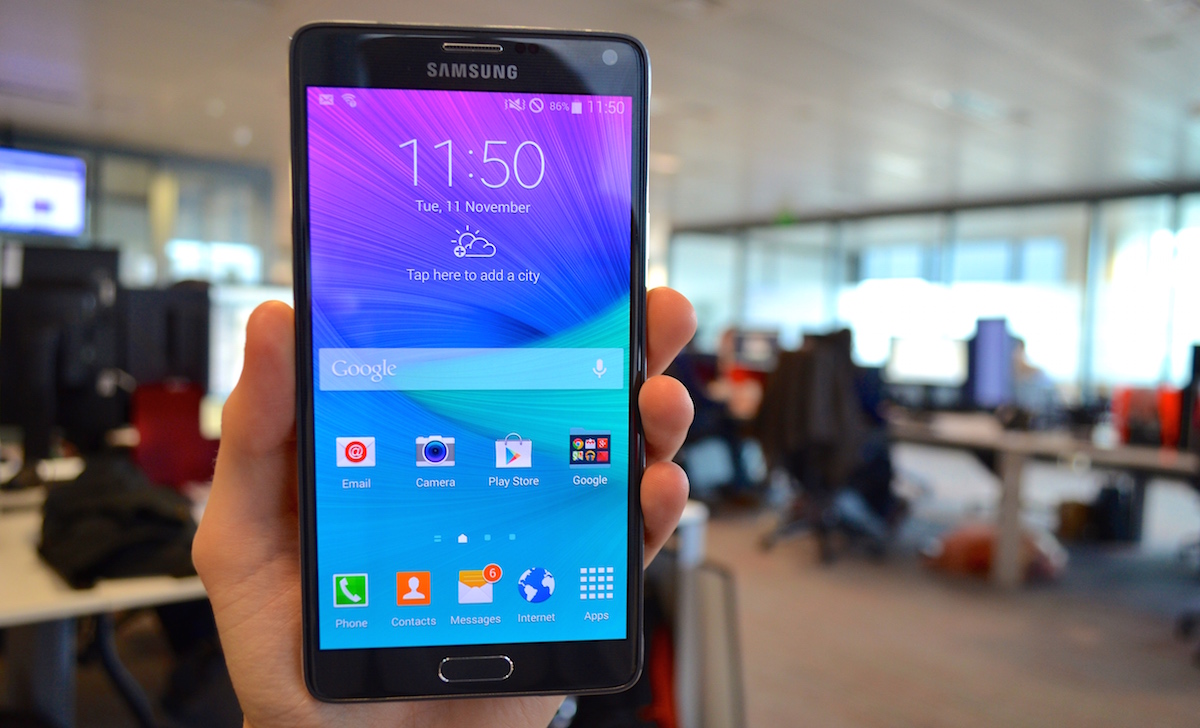 Samsung Galaxy Note 4 Key Features:
5.7in display with 1440 x 2560 resolution.
Android 4.4 KitKat.
16-megapixel rear camera with stabilisation.
S Pen stylus.
Price as reviewed: £629.
Samsung Galaxy Note 4 Review
Samsung doesn't have much to thank Apple for, but it should consider sending a fruit basket to Cupertino in return for the iPhone 6 Plus being little more than an iPhone 6 photocopied at 120%.
The 6 Plus has proven to naysayers that big phones are here to stay - thus thrusting what was a niche phablet market into the mainstream.
However, when lined up next to the Samsung Galaxy Note 4, Apple's attempt also shows that when it comes to phablets, Samsung's experience is paying dividends.
We may have recently branded the 9/10 iPhone 6 Plus as "easily the best phablet on the market" but here I'll explain why with the arrival of the Note 4, that may no longer be the case.
Samsung Galaxy Note 4: Design
Design and build quality were the thorn in Samsung's side for far too long. Ever since the Galaxy S3 in 2012, the company had failed to innovate and instead stuck to producing phones made of cheap, glossy plastic and fake metal.
Not so with the Galaxy Note 4. Borrowing from the equally new Galaxy Alpha, the fourth generation Note has a metal frame with shiny chamfered edges and top-end build quality.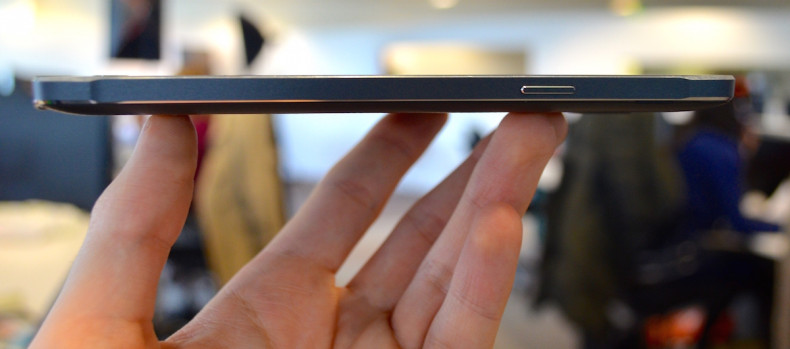 Unlike every previous Note, this one has a look and feel to match its £629 asking price. It also felt more secure in my hand than the super-slippery iPhone, thanks to those square edges.
The Note 4 is a phone to be carried everywhere you go and to be used - to be written on especially - at every opportunity, so ergonomics are of utmost importance. With the iPhone 6 Plus I spent an entire fortnight terrified of dropping it.
The back of the Samsung, despite being plastic, isn't bad at all. Ditching the fake stitching of last year's model was a good move and the back of my review sample looks and feels very close to leather. Colour options are white, black, gold, and pink.
Waterproofing is missing here, but otherwise the Note 4's design is hard to fault.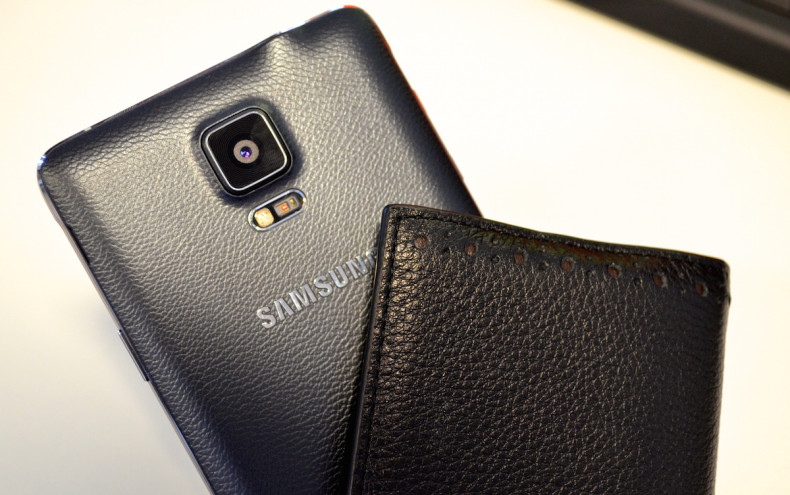 Samsung Galaxy Note 4: Screen
If spec sheets made the world go round, Samsung would claim a dominant victory over Apple in this bout.
Its 5.7in display has a Quad-HD resolution of 1440 x 2560 and a 515ppi (pixels per inch) density, making it slightly larger and much sharper than the 5.5in, 401ppi iPhone 6 Plus; but in reality it's impossible to see individual pixels on either handset.
As for quality and colour, Samsung's recent Super AMOLED panels, such as this one, have all but eradicated earlier models' tendency to over-saturate colours. It isn't quite as accurate as the warmer colours produced by the iPhone, but it's still an excellent screen.
Samsung Galaxy Note 4: Software and Performance
Here we have Android 4.4 KitKat with Samsung's TouchWiz user interface over the top. Samsung has worked hard in the last 12 months to simplify TouchWiz, stripping away some gimmicks and hiding others away in sub menus. The result is a much improved experience over that which made previous Galaxy S and Note phones feel cluttered.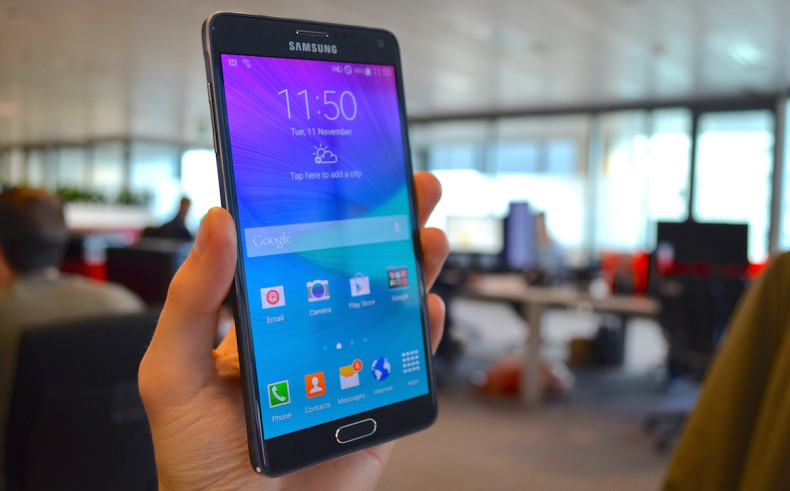 Unique to the Note 4 is a voice recording app which uses multiple microphones to record and isolate several voices speaking in the same conversation. For example, you're listening to a recorded meeting and want to mute one person when two speak at once - the app lets you do that, and it's surprisingly effective.
It also makes a journalist's life easier thanks to an interview mode, which listens directly ahead and behind the phone, boosting the volume of the interviewee while blocking out other voices and ambient noise.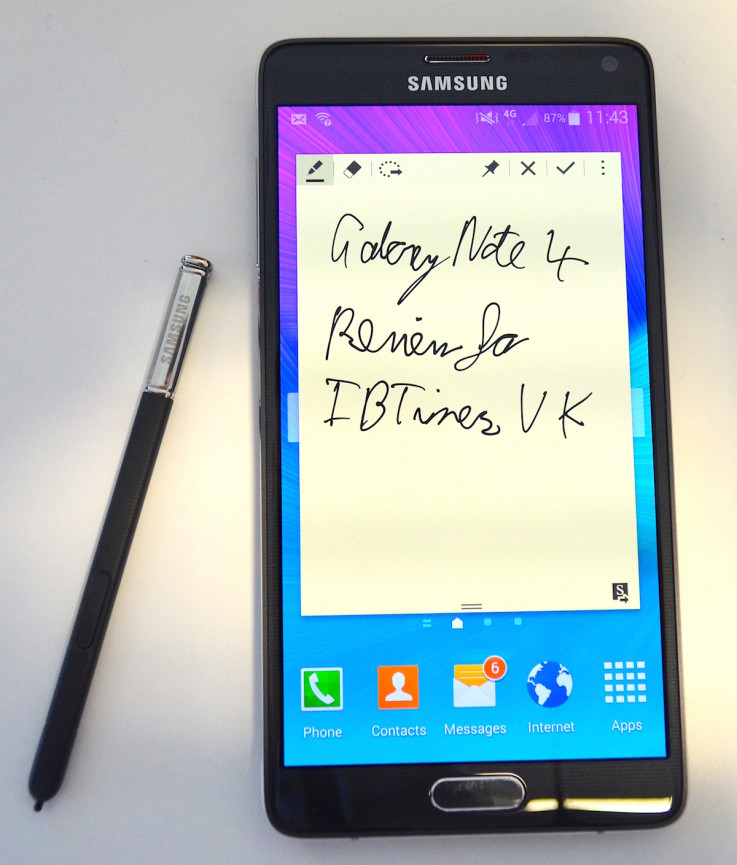 Samsung Galaxy Note 4 Review
IBTimes UK
S Health gets a boost on the Note 4, as it now has additional sensors to measure your blood oxygen level and how much UV light you are being exposed to, along with your heart rate, daily activity and exercise.
Samsung hasn't said when any of its phones will be updated to Android 5.0 (Lollipop), but we expect the Note 4 to be one of the first to get the new software when it finally arrives.
Powering the Note 4 is a 2.7GHz processor with 3GB of RAM, giving it the performance you'd expect from a phone with a £600+ price tag. What this means is the Samsung performs flawlessly, and after more than a week of use I didn't have a single problem.
Storage is 32GB, plus the option of adding up to 128GB more via a microSD card slot.
Big phones are blessed with big batteries, and here the Note 4 doesn't disappoint. Its 3,220mAh cell (10% larger than the iPhone 6 Plus) is good for two full days of average use - and for those who need more, it's removable and Samsung sells spares.
Samsung Galaxy Note 4: S Pen
What sets the Note 4 apart from other phablets is the S pen stylus. Tucked into the lower-right corner, the plastic stylus' nib can detect 2,048 levels of pressure (double that of the Note 3) and it has a whole host of uses. You can jot down notes, sketch, annotate photos, take screenshots, copy and paste multiple pieces of text at once, and more.
Using a stylus on your phone may look and feel like an early episode of Tomorrow's World, but stick with it, ignore the bemused glances from fellow commuters, and you'll soon love it.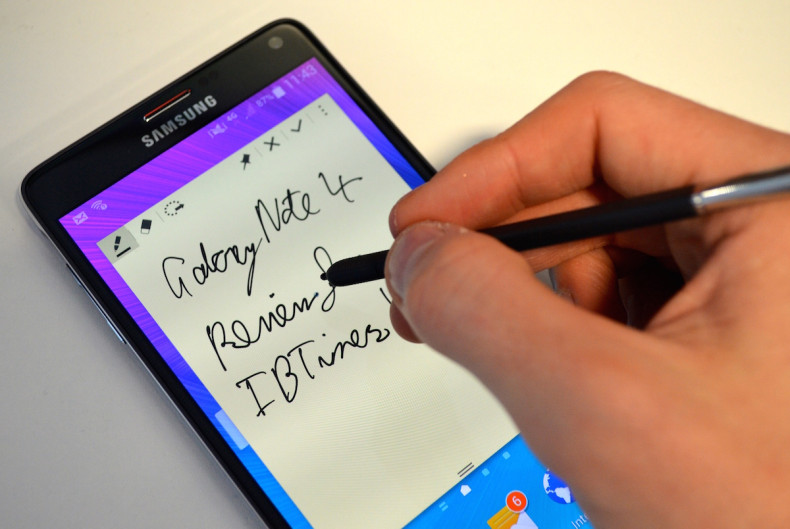 Samsung Galaxy Note 4: Camera
The 16-megapixel (MP) rear camera is one of the best in the business thanks to optical image stabilisation, which keeps the lens steady and allows more light to hit the sensor, boosting photos taken in low light without resorting to the flash.
Samsung's efforts to simplify the user experience are most obvious in the camera app, which displays just seven shooting modes up front, with more settings hidden deeper for those who want them. Unique quirks include taking a photo with the 3.7MP front camera by saying 'cheese', or by tapping the rear-mounted heart rate monitor.
Samsung Galaxy Note 4: Verdict
If a big-screen phone isn't for you, then nothing I say here will convince you otherwise. But if you are in the market for a phablet, the Samsung Galaxy Note 4 is one of the very best.
Where Apple did very little to differentiate the iPhone 6 Plus from the regular 6, Samsung has made the Galaxy Alpha and Note 4 two very different products. Samsung understands the market better than anyone else and has delivered the most impressive phablet yet. It's even wearing a smart new suit.
Much improved design and build quality, plus a pixel-packed display, genuinely useful stylus, two-day battery life and all the power you'll need add up to deliver a truly impressive handset.
The Galaxy Note 4 used in this review was provided by the Three network.
Samsung Galaxy Note 4 Review Scores:
Screen: 9/10 - All the pixels you'll ever need, but cool blue tint still noticeable.
Camera: 9/10 - Simplified software and optical image stabilisation make this camera one of the best.
Software: 8/10 - TouchWiz still not perfect, but gets better with every update.
Design: 9/10 - Finally, Samsung has ditched plastic for metal, with great results.
Build Quality: 9/10 - Strong and stiff, with excellent ergonomics.
Overall: 9/10 - Samsung has listened to the critics and upped its game to produce the best phablet on sale today.
The Good:
New metal design.
Quad-HD screen resolution.
S Pen stylus.
The Bad:
Will be too large for some.
Expensive.
Isn't waterproof.