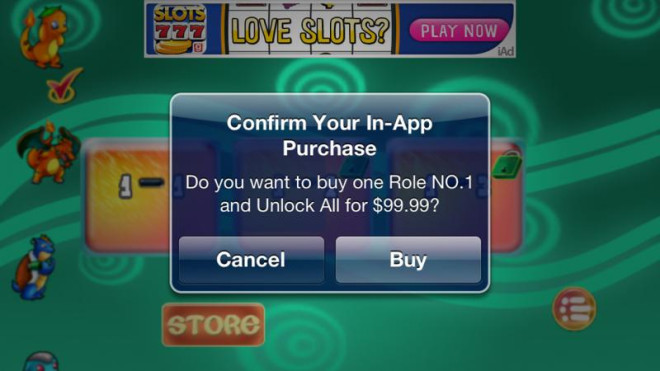 Free-to-play mobile phone games built on microtransactions may no longer be able to call themselves free if the European Commission has anything to do with it.
The Commission is currently discussing the issue with numerous parties including Google, Apple and the Office of Fair Trading.
Rules to prevent "direct" extortions that ask children to spend their parents' money and tighter controls on how in-app purchases are made will be top of the agenda.
In a statement EU justice commissioner Viviane Reding said: "For the sector to deliver on its potential consumers must have confidence in new products. Misleading consumers is clearly the wrong business model and also goes against the spirit of EU rules on consumer protection."
Estimates released by the commission state that the European app business will be worth €63 billion (£51.5 billion) in the next five years. The commission also cites data from Bitkom saying in-app purchases in Germany alone doubled between 2012 and 2013 to hit €240 million (£197m).
Bitkom also says that more than a million of the customers within that time period were aged between 10 and 19.
Consumer Policy Commissioner Neven Mimica said: "Consumers and in particular children need better protection against unexpected costs from in-app purchases. National enforcement authorities and the European Commission are discussing with industry how to address this issue which not only causes financial harm to consumers but can also put at stake the credibility of this very promising market. Coming up with concrete solutions as soon as possible will be a win-win for all."
In full, here are the issues being raised in the meetings.
"Games advertised as "free" should not mislead consumers about the true costs involved;
Games should not contain direct exhortations to children to buy items in a game or to persuade an adult to buy items for them;
Consumers should be adequately informed about the payment arrangements and purchases should not be debited through default settings without consumers' explicit consent;
Traders should provide an email address so that consumers can contact them in case of queries or complaints."