Just five days after the new Apple iPhone 6 and iPhone 6 Plus are launched, the tech giant plans to roll out the next incarnation of its popular mobile operating system, iOS 8.
But it hasn't been that long since iOS 7 was released and that works just fine, so what's the incentive to upgrade to the latest version of the mobile operating system?
Here are the reasons why you might find it useful to upgrade to iOS 8 on your iPad or iPhone:
1. New Health Kit app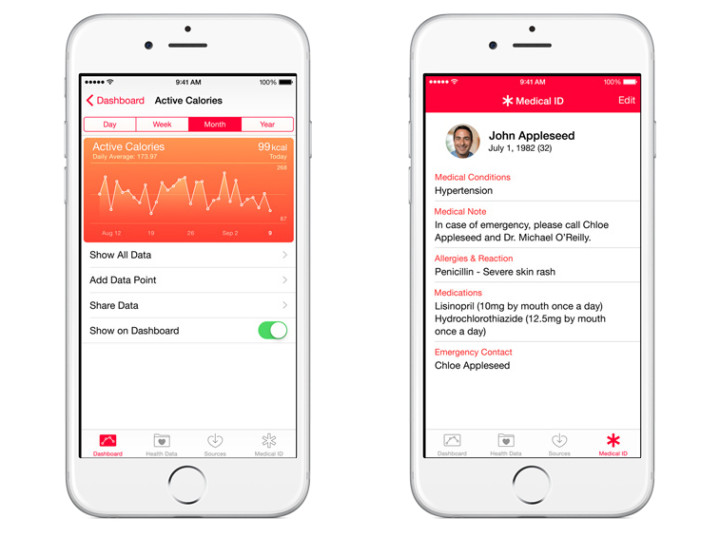 Yes, we know, it sounded pretty funny to us too when Phil Schiller, Apple's senior vice-president of worldwide marketing, started talking about the fact that you can know use the iPhone while going up stairs (you mean you couldn't before?), but what he was really trying to promote is the new Health Kit app.
Health Kit works in sync with several third-party health apps and enables users to track their cholesterol, heart rate, blood sugar and calories burned in one place, together with vital information about allergies, blood type and weight.
Besides helping users to track their own health day by day, the idea is for the iPhone to be able to create Medical ID, an emergency card with crucial health information available from the iPhone's lock screen (so you don't need to know the user's password) that can quickly be given to a doctor.
2. View email like on a Mac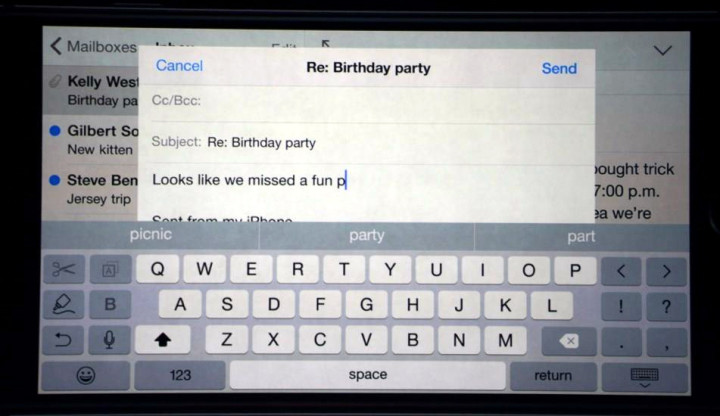 There's nothing particularly wrong with the current Mail app on the iPhone and it's quite intuitive, showing you a preview of messages, but wouldn't it be even cooler if you could flick between that version and the version you would see if you accessed your mail on a desktop iMac or MacBook?
Well, now you will be able to do so. But, of course, this feature will only be available on the iPhone 6 and is already a standard feature on the iPad. Nevertheless, whatever version of the iPhone you're on, the new Mail app has improved ease of use when flicking between different folders in your email better configuration for thread notifications.
3. Handoff between Apple devices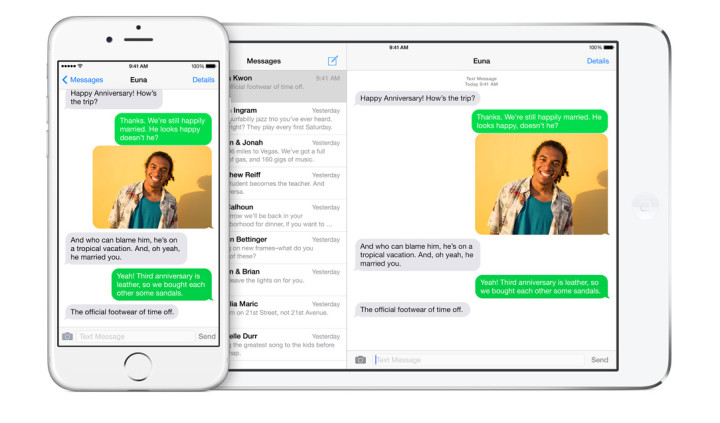 This is not much use to people who work on Windows PCs and then go mobile with iPads and iPhones, but for Apple fans, iOS 8 enables users to start typing an email on their MacBook and then walk off with their iPhone and continue composing the message with the new Handoff feature.
Users can also choose to pick up an iPhone phone call on their iPad or MacBook if all three devices are on the same wi-fi network, which can be very useful.
4. Siri could be a bit better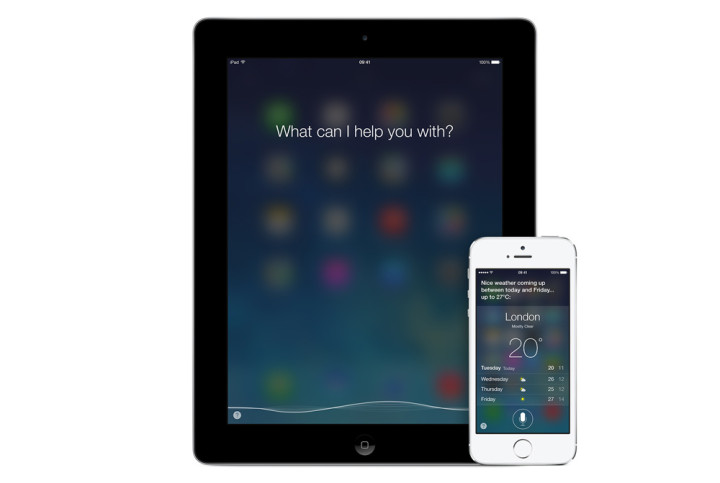 Considering Siri has so far been kind of naff as a voice recognition tool, unless you're just playing with it for fun to find Easter eggs, we're not entirely convinced this will change hugely, but iOS 8 isn't out yet, so who knows.
Apple says Siri will now respond to anything you say near the phone, so you don't have to activate the service, but this could lead to hilarious situations such as with the Xbox Kinect's always-on voice sensor (anyone remember the Xbox sign out trolling joke?).
You can also use Siri to purchase apps, music and other content from the iTunes Store, because tapping and swiping with your hands is clearly too much trouble.
5. Reply to messages in the notification area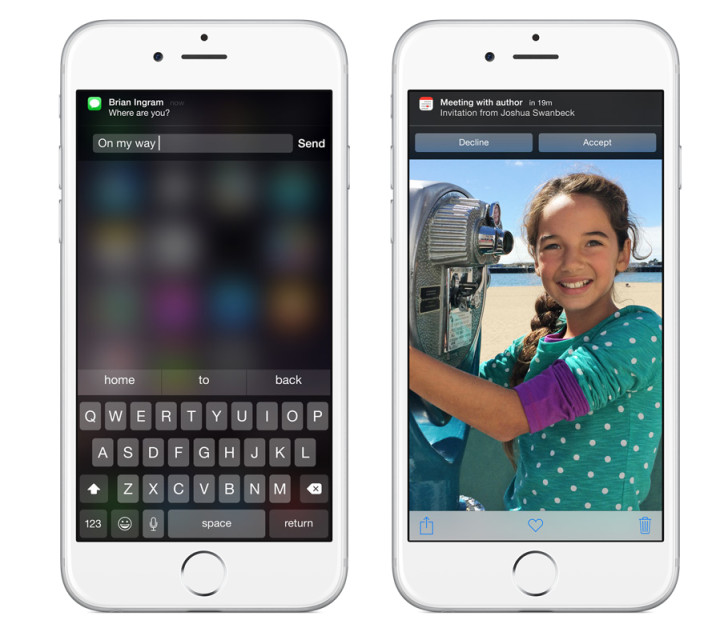 The new iOS 8 will allow you to reply to people's messages, including replying to SMS text messages or social media messages on Facebook or Twitter much faster than before.
Instead of having to click out of the app you are in to go and open Facebook, Twitter or the Messages app, users can now click on the notification at the top of the screen and a keyboard will appear allowing them to reply instantly.
6. Safari and easier mobile payments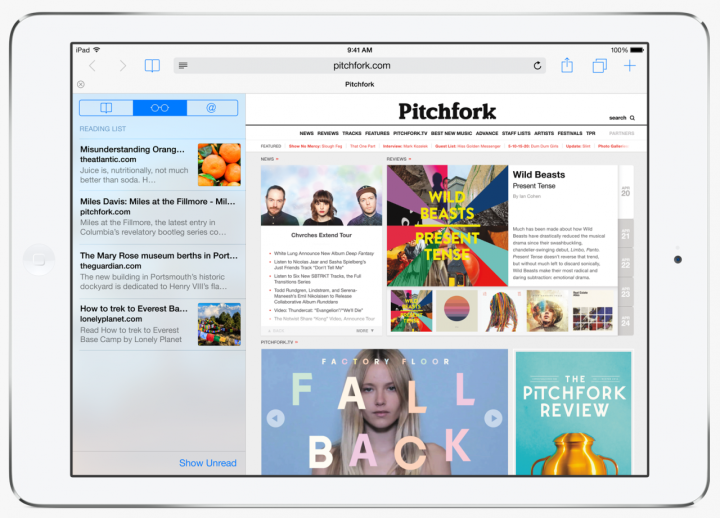 The Safari web browser on iOS 7 is not bad as it is but with the new OS, the Safari app has a streamlined appearance and will enable users to see open webpages and multiple tabs open from the same site in groups.
Also, you can now take a photo of your credit card with the camera app, and Safari is clever enough to decode the picture and enter your credit cards automatically on websites when you ask it to do so.
7. Change keyboards and smarter typing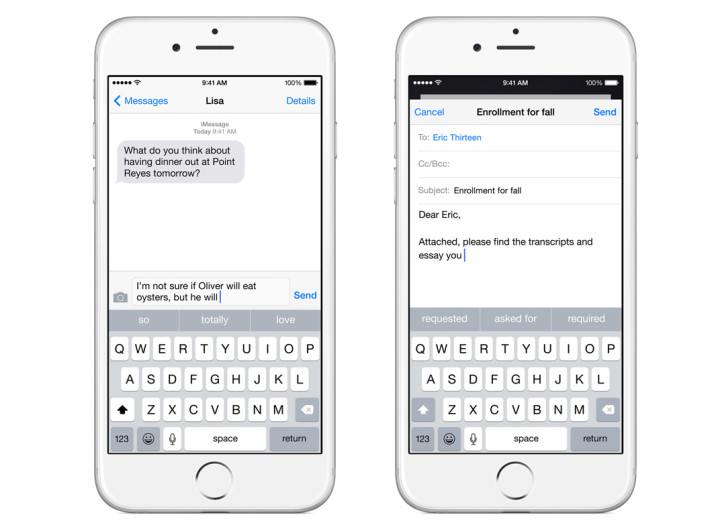 A new feature called QuickType has been added to improve the onscreen keyboard in iOS 8, so when you type a word, you will now be shown predictive text options and word suggestions for the words you most commonly type when replying to messages.
Also, if you would prefer to use a keyboard by a third party app, you can now.
8. Spotlight Search works more like Google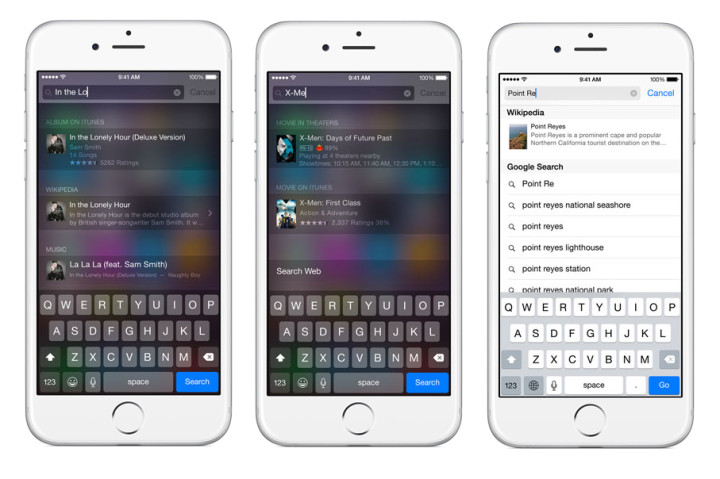 Rather than just telling you where something is on your phone, the new Spotlight Search will be able to give you information found on the web, the iTunes store, the Apple store and trending topics on social media - which could be a challenge to Google - while making the function much more useful than it is now.