The latest iteration of Apple's mobile operating system, iOS 7, which brings a new bright and colourful user interface along with several notable features, will be released this fall.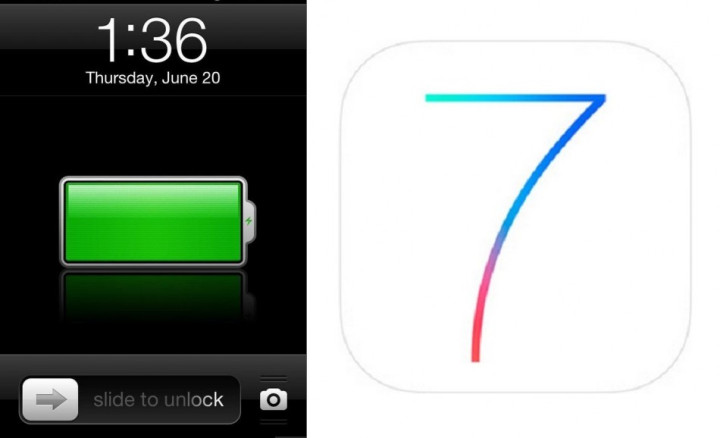 Prior to the official rollout, IBTimes UK brings its readers tips to enjoy extended the battery life on iOS 7. By a few settings optimisation, users will be able to minimise the power consumption as well as enjoy a longer battery life. Following are ten tips to increase the iOS 7 battery life.
1: One of the easiest ways to extend battery life is by dimming the screen brightness of the iDevice. Navigate to Settings>> Brightness & Wallpaper and drag the slider to left to manage the default brightness. Also, turning on the Auto-Brightness allows the screen to adjust its brightness depending on the lighting conditions. Go to Settings>> Brightness & Wallpaper and turn on the Auto-Brightness.
2: Turn off services such as Bluetooth, Wi-Fi and 3G/4G when not in use to save energy.
Settings>> Wi-Fi and from there set Wi-Fi to off
Settings>> Bluetooth and mode the slider to turn it off
Settings>> Cellular and set the Cellular Data to off.
3: Also, disable the push mail accounts when not in use. Head over to Settings>> Mail, Contacts, Calendars>> Fetch New Data and set Push to off. It should be noted that by doing so, the messages are sent to the respective push email accounts will now be received based on the global Fetch settings rather than as they arrive.
4: Minimise the use of applications that use location services such as Maps and use whenever required. Go to Settings>> Privacy>> Location Services to disable these services.
5: Try to fetch data manually, since the battery drains out quickly if the email or other data is fetched more frequently. To fetch data manually, click on Settings>> Mail, Contacts, Calendars>> Fetch New Data and then click Manually. Additionally, the fetch interval can be increased by navigating to Settings>> Mail, Contacts, Calendars>> Fetch New Data and tap Hourly.
6: Lock the iDevices when not in use. Press the Sleep/Wake button to lock the device. Besides, the Auto-Lock interval can be set by following this path; Settings>> General>> Auto-Lock and set the interval to a short period of time.
7: Use the Airplane Mode in low coverage areas as the device always tries to maintain a connection with the cellular network in such areas, which in turn uses more power. Turning on the Airplane Mode is likely to increase the battery life. Go to Settings and from there turn the Airplane Mode to on.
8: Movies, games and web browsing consume more power, therefore, limit the use of such battery-intensive apps.
9: It is advisable to go through at least one charge cycle per month, which is charging the battery to 100% and then completely running it down.
10: Always ensure that the device is running on the latest software from Apple.
Also read- iOS 7 beta 6: Install without registered UDID or developer account [TUTORIAL]
[Source: Apple]