Apple has just seeded the sixth beta version of iOS 7 to developers of iOS Developer Programme for download. The beta 6 comes after beta 5, which was released more than a week ago. Beta 6 is said to be the final beta version before Apple releases the iOS 7 golden master to developers.
The iOS 7 beta 6, with build number 11A4449d, weighs 13.5MB (for iPhone 5). Beta 6 is available as an Over-The-Air (OTA) update and also in the iOS Dev Center. The new beta includes an emergency fix for an issue with iTunes in the Cloud.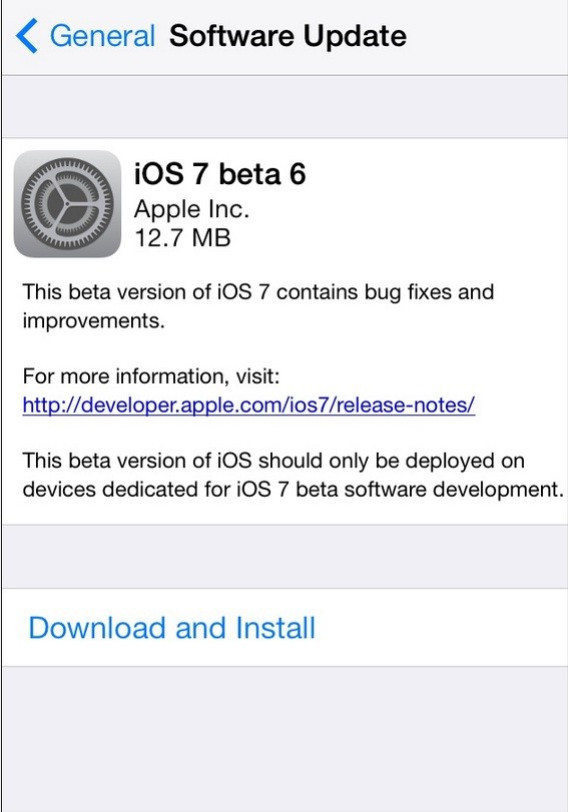 iOS 7 beat 6 changelog
This update addresses an issue with iTunes in the Cloud, where some purchases may download or play unexpected items. If you have any devices running previous versions of iOS 7 beta, you must:
1) Install iOS 7 beta 6
2) Install the ResetMusicAndVideosLibraries configuration profile
3) From Settings>> Music, tap the Reset Media Library button
4) Restart the device
Besides, beta 6 brings enhanced Safari, which seems snappier, and the boot-up time is now better, notes iPhone Hacks. There is no sound while unlocking the device which was removed in beta 6.
The iOS 7 beta 6 is available for iPhone 5, iPhone 4S, iPhone 4, iPad 4, iPad 3, iPad 2, iPad Mini and iPod Touch 5.
Not only registered developers, but also non-developers can experience the features of the latest beta version. Non-developers who have installed iOS 7 beta on their devices can now safely update to iOS 7 beta 6 without a registered developer UDID.
iOS users who have already installed iOS 7 beta or beta 5 and wish to install the latest iteration of iOS 7 beta may follow our step-by-step-guide below (Courtesy of Download iOS 7).
IBTimes UK reminds its readers that it will not be held liable for any damage to the device.
iOS 7 beta 6 download links [For non-developers]
Steps to install iOS 7 beta 6 without UDID or developer account
Step-1: Ensure that the iPhone/iPod/iPad is running on the latest version of firmware; iPhone users should download iOS 6.1.4 and iOS 6.1.3 for others
Step-2: Download iOS 7 beta 6 IPSW
Step-3: Connect the iDevice to the computer using USB cable
Step-4: Launch iTunes on the computer
Step-5: Press SHIFT on the keyboard (OPTION for Mac) and click Update simultaneously on iTunes
Step-6: Choose the correct IPSW- iOS 6.1.3 or iOS 6.1.4
Step-7: Let iTunes restore the device to the choosen firmware and set it up as a new device-not from the back up
Step-8: On the Home Screen, find Check for Updates
Step-9: Do not click, just highlight it and hold SHIFT or OPTION and click on Update again
Step-10: Select the iOS 7 beta 6 IPSW and iTunes will update the iDevice to the new firmware
Note: Non-developers may get an Activation Error message. There was a security flaw in iTunes, which means activation was being skipped. To fix the error, users can either downgrade to iOS 6.1.3 (or 6.1.4 for iPhone 5) or register with the Apple Developer Programme.
Provided all aforementioned instructions are followed strictly, your iPhone/iPad/iPod Touch should now be running on the iOS 7 beta 6.