We put Apple's smaller iPad side-by-side with the latest Amazont tablet, the 7in Kindle Fire HD, to help you decide which to buy.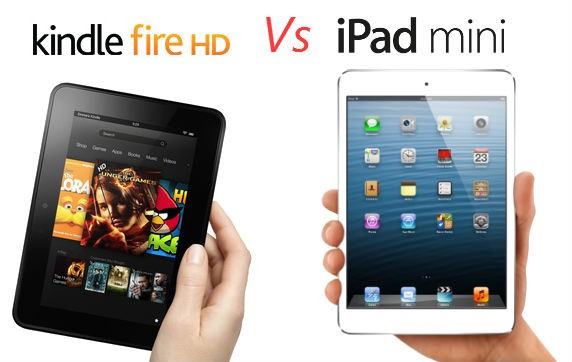 One month after Amazon's official announcement, the 7in version of the Kindle Fire HD tablet has arrived in the UK. The 16GB Kindle Fire HD, with a price tag of £159 and the 32GB model at £199, hits the shelves in the UK, just few days before when Apple will release its newly unveiled 7.9in iPad mini on 2 November.
While on price alone the Kindle Fire seems an obvious choice, but that is not the only consideration here and so we've compared both tablets in relation to their displays, dimensions, operating systems and performance to help you decide which is right for you.
iPad mini vs Kindle Fire HD: Display
Amazon's Kindle Fire HD features a 7in IPS LCD display with a resolution of 800 x 1,280 pixels giving it a pixel density of 216 pixels per inch (ppi). The HD display is covered with Gorilla glass to provide strength and reliability with Amazon claiming the display delivers "deep, detailed contrast and rich, natural colour."
Furthermore the HD display features a number of features to reduce glare when in direct sunlight (Advanced True Wide polarising filter and a custom laminated sensor) while improving colour saturation at any viewing angle.
Apple's iPad mini comes with a bigger display than the Kindle Fire HD, something it wanted to play up during its presentation earlier this week.
The 7.9in LED-backlit display (also using IPS technology) has a resolution 768 x 1024 pixels giving it a pixel density of 163ppi, significantly lower than the Kindle Fire.
Apple claims iPad mini's display delivers the same iPad experience in a design which has 35 percent more screen real estate than the 7in tablets on the market, and up to 67 percent larger in terms of web browsing (when in landscape mode at least).
iPad mini vs Kindle Fire HD: Dimensions
The 7in Kindle Fire HD measures 193 x 137mm, is 10.3mm thick and weighs 395g. Amazon claims that this Kindle Fire HD is thin and light enough to hold in one hand.
The iPad mini measures 200 x 134.7mm, is just 7.2mm thick and weighs just 304g - though the Wi-Fi + 3G/4G model is four grams heavier. The iPad mini is said to be 23 percent thinner and 54 percent lighter than the third generation iPad.
iPad mini vs Kindle Fire HD: Operating System
While the Kindle Fire HD does run a version of Android, it has been so heavily customised as to be all-but unrecognisable as Google's software. Amazon has used teh basic code of Android but on top of this has put its own skin and instead of buying content from Google Play, you will be buying your apps, games, books, films and music directly from Amazon.
This means the experience is not the same as other Android tablets, and there are a lot fewer apps available in Amazon's Appstore than in Google Play, but this is a content consumption device and Amazon is able to offer it at such a low price because it makes all its money back from content purchased on the device.
The iPad mini will run on iOS 6 which was announced at the WWDC conference earlier this year and was released to iPad, iPhone and iPod touch users globally on 19 September. iOS 6 is just a month old but rumours are already circulating Apple intending to release iOS 6.1 sometime after the Christmas holidays.
iPad mini vs Kindle Fire HD: Processor
The Kindle Fire HD is powered by Texas Instrument (TI) OMAP 4460 chip featuring a dual-core processor clocked at 1.2GHz. Amazon is using the TI chip for all its Kindle Fire models including the first generation Kindle Fire.
The very same A5 dual-core processor used in the iPad 2 is the powering for iPad mini. This dual-core A5 chip promises delivers responsive graphics and a "fast and fluid" experience while providing extended battery life.
The Kindle Fire HD features 1GB of RAM whereas Apple as usual, has not announced the amount of RAM shipped with its new tablet.
iPad mini vs Kindle Fire HD: Camera
The Kindle Fire HD features a front-facing HD camera with custom Skype app for video calling. The device does not have a rear-camera.
The iPad mini has a five megapixel iSight camera with auto-focus, face detection, geo-tagging, and tap-to-focus. This iSight camera can capture Full HD 1080p video. There is also a 1.2 megapixel FaceTime HD camera on the front which is capable of recording HD video. The iPad mini users can use the front-camera for video calling over Wi-Fi as well as 3G/4G.
iPad mini vs Kindle Fire HD: Connectivity
The 7in Kindle Fire HD offers dual-band and dual-antenna Wi-Fi (802.11 a/b/g/n) and Bluetooth. The tablet also features advanced wireless technology called MIMO technology (Multiple In/Multiple Out - a technology designed to combat problems with line of sight for wireless signals) to offer up to 40 percent faster speeds.
Amazon boasts that the Kindle Fire HD tablets are the first to market features dual-band support, dual antenna and MIMO.
The iPad mini features dual-band 802.11n Wi-Fi support for speeds up to 150 Mbps which is twice the Wi-Fi performance when compared to the previous iPads. The Wi-Fi + 3G/4G iPad mini model is said to be world-ready and will work with the UK's first 4G network which EE will launch on 30 October. The tablet also supports Bluetooth 4.0.
iPad mini vs Kindle Fire HD: Storage
The 7in Kindle Fire HD is available in two storage options; 16GB and 32GB. The 16GB model offers approximately 12.6GB user-accessible internal storage space whereas the 32GB version offers approximately 26.9GB. In addition Amazon is offering free cloud storage for all Amazon contents in both models.
The Wi-Fi and the Wi-Fi + 3G/4G iPad mini models are available in three storage options; 16GB, 32GB and 64GB. iCloud storage gives Apple customers 5GB of online backup for free.
Neither of the tablets support microSD card for additional storage.
iPad mini vs Kindle Fire HD: Battery
During its announcement, Amazon did not give any information on the battery capacity of Kindle Fire HD tablet nor does the product page of the device. However Amazon claims the battery survives for 11 hours of continuous use, including reading, surfing the web on Wi-Fi, watching video listening music. The company even notes that the battery life is expected to vary based on the device settings, usage and other factors such as browsing and downloading contents.
The iPad mini comes with a 16.3 watt-hour battery which is expected to deliver up to 10 hours of surfing on Wi-Fi, watching video and listening to music. The 16.3 watt-hour battery inside Wi-Fi + 3G/4G model is expected to last up to nine hours of surfing the web using cellular data network and 10 hours of browsing on Wi-Fi.
iPad mini vs Kindle Fire HD: Price
While all the above comparisons will be important to some, for the majority we expect the final deciding factor could be pricing. Overall the iPad Mini is significantly more expensive than the Kindle Fire HD with Apple hoping its classier design and better tablet apps ecosystem will attract enough users to stump up more cash.
iPad mini
Wi-Fi only/3G
16GB - £269/£369
32GB - £349/£449
64GB - £429/£529
Kindle Fire HD
Wi-Fi only
16GB - £159
32GB - £199