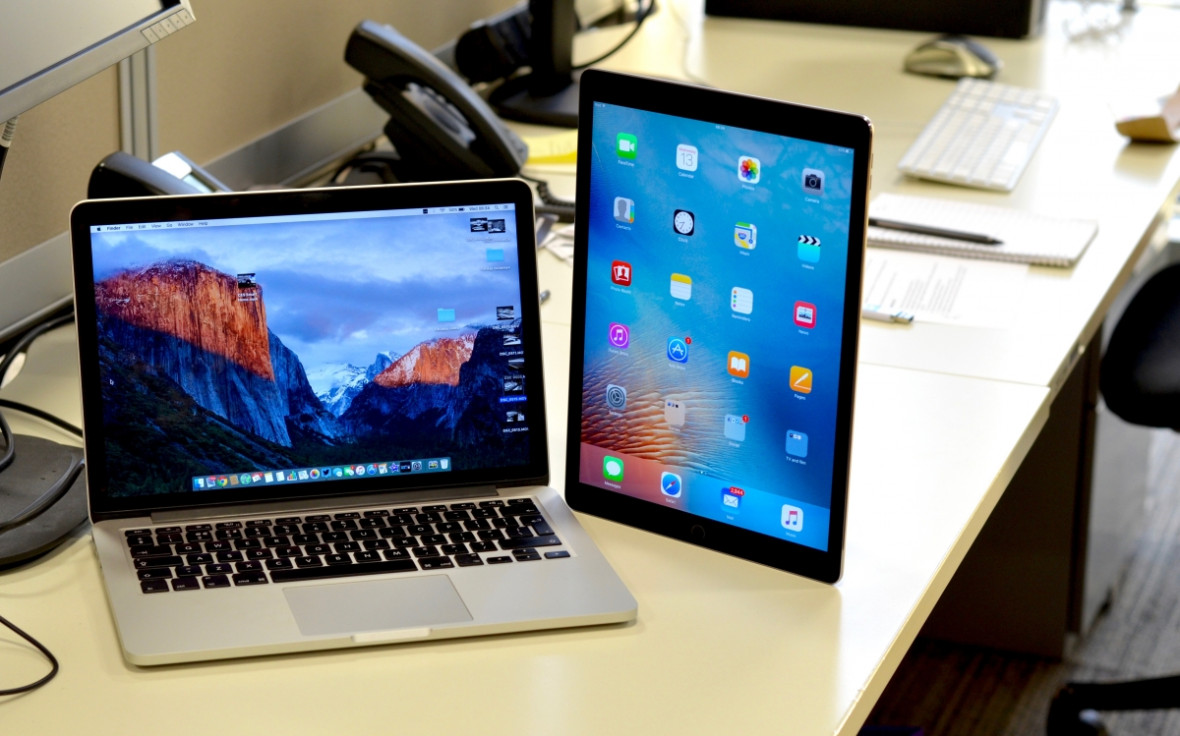 Sometimes the specific purpose of a product isn't obvious. That's fine, because a world in which products only exist to perform a certain task would be dull. The primary use of a phone or a car or a television is obvious, but some require a little more understanding.
Key Stats
12.2in screen with 2048 x 2732 resolution
Weighs 713g and is 6.9mm thick
Storage of 32 or 128GB
4GB RAM
10 hour battery life
Price: £679 to £899
This is my first thought with the iPad Pro. It's a gorgeous slab of aluminium and glass, which you want to pick up, hold, inspect and admire. Like almost all recent Apple products, it has a star quality and an allure that is difficult to explain. But what is it actually for?
Answering that question for the iPad Air and iPad mini is tough enough. Essentially, they are just big iPhones without the ability to make phone calls. But the App Store is what made them into the market leaders they are today; their larger screens let you see more and do more.
But what happens when you make the screen really, really big? The iPad Pro measures 12.2in from corner to corner, dwarfing the 9.7in Air and 7.9in mini. It is comically huge, a trait made more obvious by it having almost exactly the same iOS software as its stablemates and the iPhone. The icons are massive, the Settings app is massive, your iMessages are massive your... you get the idea.
The size makes some familiar apps immediately better. Netflix in bed and iPlayer on the train have never looked better, while browsing the web on the sofa is a joy. However, where pictures and video impress, Twitter looks weird with so much space either side of the news feed and Facebook just feels uncomfortably large. These are teething problems though, comparable to when you upgrade to a larger smartphone, and you soon get used to the vast screen.
There is very little to say about the Pro's design. It looks exactly the same as the rest of the iPad range, save for the addition of two speakers on the top edge, taking the total count up to four and giving this the best audio of any iPad to date. Sure, this isn't saying much, but watching Netflix without headphones is an enjoyable experience. At 713g and 6.9mm, the Pro is only 61g heavier than the iPad 3 and 2.5mm thinner, despite having a much larger screen.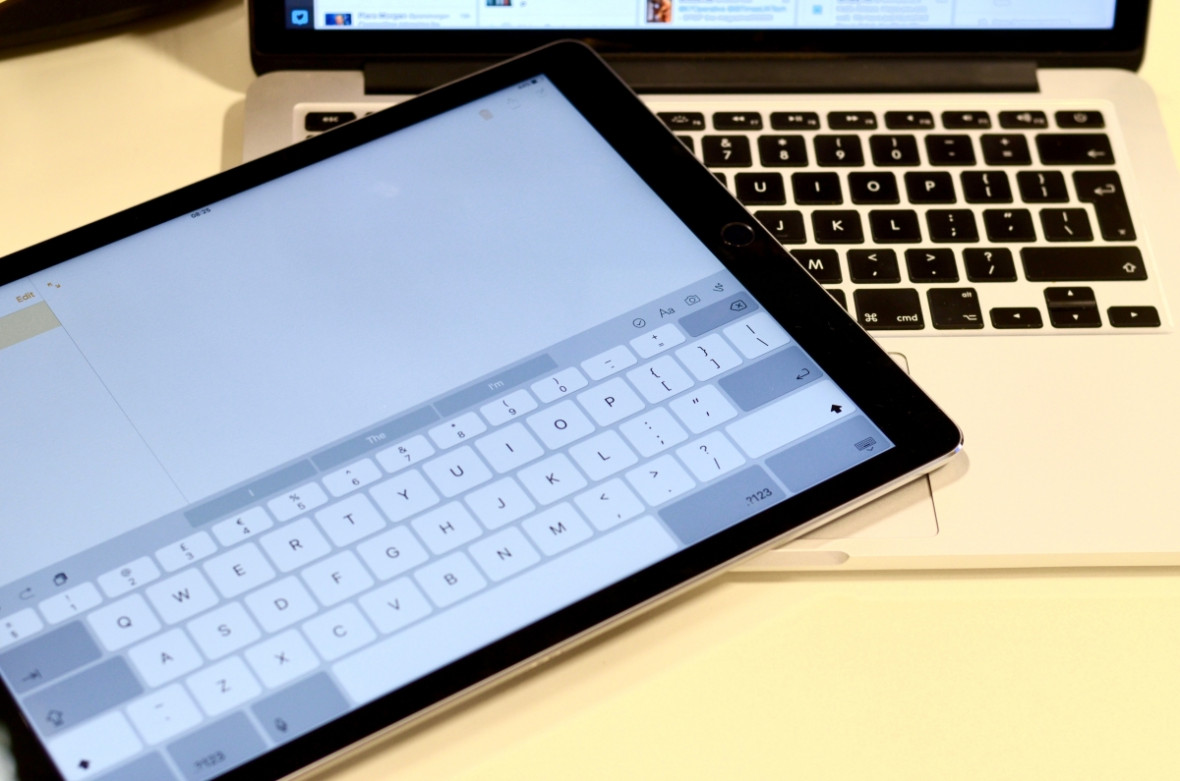 Software and performance
The iPad Pro runs iOS 9 and, as with on the Air and mini, two applications can be shown on screen at the same time. The Pro's 2732 x 2048 resolution means that two portrait, Air-sized apps can appear next to each other at their native resolution when the tablet is held in landscape. Otherwise, using the Pro looks and feels a lot like other iPads. It's bigger – and better as a result – but not a revelation and not as profound a step into a post-laptop future as the original iPad was. Would running Mac OS on the Pro be better? It's impossible to flirt with this idea and not see the benefits.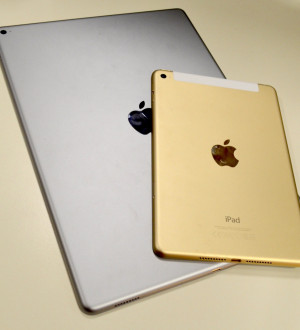 That said, some apps look much better on the bigger screen. Editing a video in iMovie feels a lot like it does on the Mac, and so too does GarageBand. Drawing apps also benefit from the extra space, but as I'm reviewing the iPad Pro on its own here, I have not used it with the £79 Apple Pencil stylus.
A question of cost
And that brings me to the crux of the matter. The iPad Pro on its own – especially this £679 review unit with a measly 32GB of storage and no 4G – is a much inferior product to the iPad Pro Apple wants to sell you. The 128GB model with 4G (plus the foldout keyboard cover and Pencil) costs £1,088, which sits it firmly in the MacBook Pro range. This is a huge amount of money and takes the iPad Pro well beyond the reach of regular iPad buyers looking for a bigger screen.
Apple has given the Pro a 2.26GHz dual-core processor with 4GB of RAM and promises it delivers double the performance of the iPad Air 2, letting it perform tasks such as editing 4K video without getting flustered. Sadly, the lack of an SD card slot or USB port means quickly editing together some GoPro footage or images taken on your camera isn't possible without buying adaptors.
Not for everyone
Make no mistake, the iPad Pro is a thoroughly gorgeous gadget. It is the perfect partner for a long-haul flight. But that "Pro" bit means this tablet is meant to be much more than a massive screen. The iOS App Store already has a number of applications that have been redesigned for the extra size, while I suspect many new ones will appear through 2016 to make great use of the screen and the Apple Pencil. I have no doubt many will turn the iPad Pro into a laptop replacement for some occasions but with iOS instead of Mac OS, I'm not sure if it can fully replace a laptop – especially for anyone who actually considers themselves a "pro".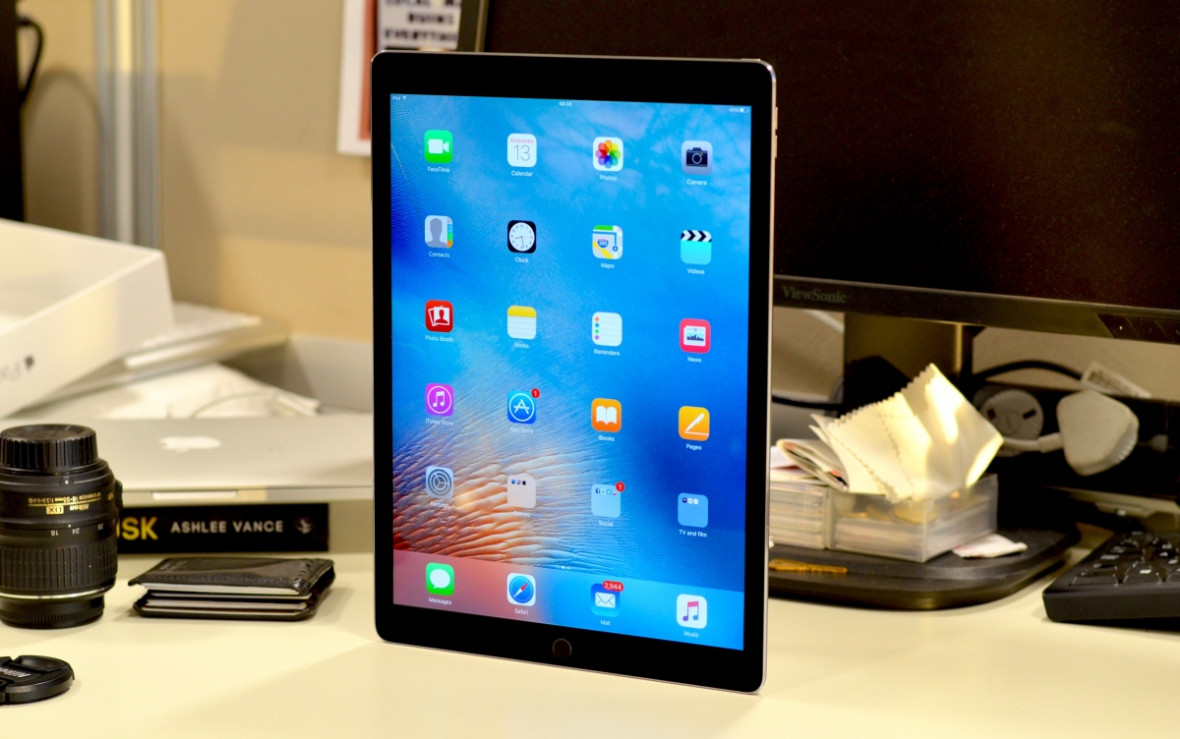 The iPad Pro used in this review was loaned to us by KRCS, an independent Apple retailer with stores based across the UK.
Our verdict
The iPad Pro is a truly wonderful thing to behold but it just isn\'t for me. The high price puts it out of reach of many and takes it into the luxury and professional gadget sectors. The former there is obvious, but the latter – aiming the Pro at professionals – will take several months and many new apps to make it feel like a product all of its own, and not just a new screen size option. I hope the Pro succeeds but with few genuine use cases right now, plus that massive price once you have the stylus and keyboard, it is going to be the kind of uphill battle Apple is no longer used to.
Scores
Screen: 10/10 - Excellent. The screen is big, bright and sharp
Design: 9/10 - Another high score for Apple\'s near-universally good design and build quality
Performance: 9/10 - Has all the performance you would ever need - it can even edit 4K video - but 32GB storage is just plain offensive
Software: 8/10 - iOS is great on smaller screens, but here it feels lacking, even with ability to run two apps at once
Value: 5/10 - Very expensive, especially considering the poor storage of the cheaper model and cost of keyboard and stylus