Our guide to all the rumours, news and speculation surrounding the Apple iPad Pro, which is expected to feature a larger screen and be priced above the iPad Air.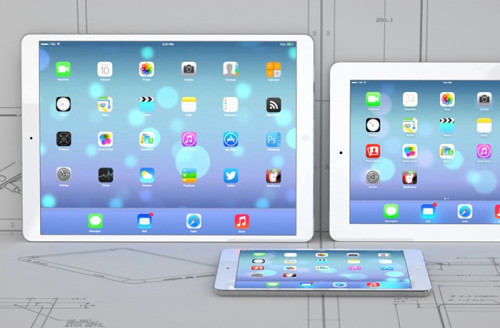 Expected Key Features:
12.9in screen with 4K resolution
Priced between iPad Air and MacBook Air
October 2014 release date
LAST UPDATED: 24 December
Introduction
As soon as Apple named its latest iPad the Air, it was immediately obvious a Pro model would soon join the lineup. Following in the footsteps of the company's MacBook lineup, a larger, more powerful and more expensive Pro model would fit neatly above the current Air and mini.
Add this logic to an increasing mass of rumours claiming Apple is working on tablets larger than the 9.7in iPad Air, and a Pro being released in 2014 seems a foregone conclusion.
Apple iPad Pro: Design
We're yet to see any leaked photos of the iPad Pro, but you'd be brave to bet against Apple adopting a similar style for the Pro as it has for the Air and mini. This means glass on the front, aluminium on the back, and a chrome chamfered edge around the sides.
Given the new Air mimics the mini's narrower screen bezels, we'd expect the Pro to get a similar treatment, but its extra size and a focus on work rather than play could negate the need for making portability the device's forte.
If portability isn't as crucial to the iPad Pro as it is to the two smaller models - and work is very much on the agenda - we wonder if Apple will give the larger tablet an integrated stand, similar to that of the Microsoft Surface 2. Then, the Pro could be seen as Apple's entry-level work machine filling the gap between tablet and computer.
Apple iPad Pro: Screen [UPDATED]
Stepping away from the realms of pure speculation, various sources familiar with the company's supply chain claim Apple is experimenting with 12.9in displays for use in a tablet.
Speaking to Chinese website Pad News, the unnamed insiders claim Apple is working on prototypes with 2K and 4K screen resolutions; while the former seems unlikely given the iPad Air's resolution of 2048 x 1536, a 4K or Ultra HD iPad makes sense, as it would take Apple ahead of high-resolution rivals like the Kindle Fire HDX.
Apple's tablet for professionals could have a resolution as high as 4096 x 3072, double that of the iPad Air and producing a pixel density of 397 pixels per inch, much higher than the Air's 264ppi.
The news tallies with reports from the Wall Street Journal, which said in July that Apple is working on a new tablet measuring "slightly less than 13 inches diagonally."
This was followed in September by reports that Apple manufacturing partner Quanta Computer was helping to create a 12in iPad; the company has previously worked with Apple on its iPod range and the MacBook Air.
The iPad Pro's screen will no doubt be its defining feature, and offering a 4K Ultra HD resolution would be the PR boost Apple needs, having not updated the regular iPad's screen for almost two years.
UPDATE: On 23 December, Chinese publication DigiTimes also stated Apple is developing a 12.9in iPad Pro, which it believes the company will aim at the North American educational market.
Apple iPad Pro: Processor
A complete unknown for now, the processor Apple chooses will likely depend on the iPad Pro's operating system - will it get iOS, or will Apple bet big and bring OS X to the professional tablet?
iOS has always felt worse on the iPad than on the iPhone, and adding an extra three inches of screen space will start to make the operating system feel incredibly (and unnecessarily) spread out. Apple's earliest tablet prototypes, created before the iPhone was even considered, envisioned a touch-optimised version of Mac OS X running on a MacBook-sized tablet - a return to such a device must surely be on the minds of Apple staff.
By bringing OS X to the iPad, Apple would be firing a direct shot at Microsoft and its Surface 2, which runs the widely disliked Windows 8 RT.
Expect to see 3GB or even 4GB of RAM, and storage options somewhere between 64GB and 256GB, with a 4G option for £100 more.
Apple iPad Pro: Price
The iPad Air starts at £399, while the cheapest MacBook Air (Apple's 'budget' laptop) comes in at £849 - there's a huge gap here for a new tablet, and Apple's continuous merging of iOS and OS X points neatly towards the software it could run.
Expect prices to range from £500 to £1,000, but again this is purely speculative for now, based on Apple's current offerings.
Apple iPad Pro: Release Date [UPDATED]
An announcement to coincide with the Mac's 30th birthday in late January would be superb timing, but at less than two months away this seems unlikely given the lack of leaks thus far.
Apple and other technology companies test and develop prototypes which never see the light of day, so news that devices with 12.9in screens are floating around Apple's factories doesn't mean a launch is imminent - but we fully expect an addition to the iPad family sometime in 2014, a claim backed up by industry sources speaking to the Korea Times in November.
UPDATE: Sources of DigiTimes claim the larger iPad will go on sale in October, 2014, and its performance is "expected to be a major factor as the tablet is being considered as a substitute of the 11-inch MacBook Air."
Read More: