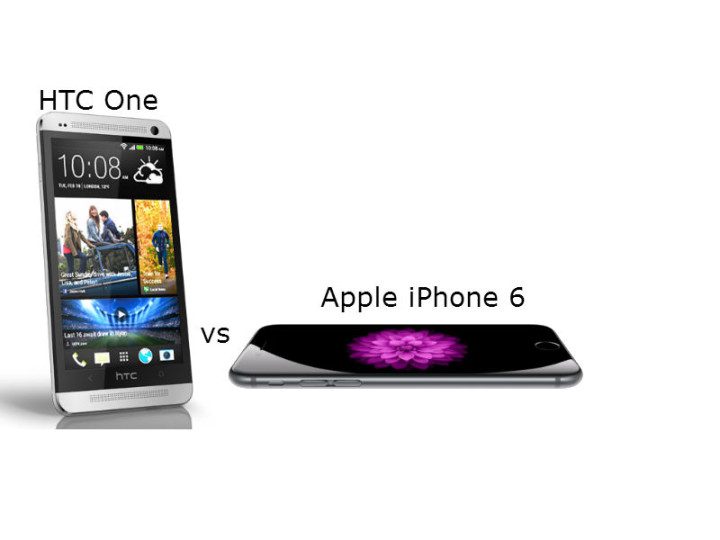 The iPhone 6, which was launched on 9 September amidst fanfare, is certainly a smartphone to look out for, and also preferably purchase. The iPhone 6 comes in two screen sizes - 4.7in and 5.5in. Both of these models compete against a number of flagship smartphones from other brands.
These flagship smartphones predominantly have similar hardware and pricing to that of the iPhone 6. Most notable among these devices is the HTC One which was launched in 2013.
Let's see how the iPhone 6 and HTC One stack up against each other.
iPhone 6 vs HTC One: Screen
With measurements sorted, let's look at the screen size and resolution. At 4.7in, 1334 x 750 resolution and 326 pixels per inch (ppi) density, the iPhone 6 screen is larger and sharper than last year's iPhone 5S model.
With an equivalent 4.7in screen, but 1080 x 1920 resolution at 469ppi, the HTC One screen is arguably better (at least on paper) than the iPhone 6.
And then there is the iPhone's new "ion-strengthened" screen, promising durability and reduction in the scourge of screen cracks that always seem to happen just before insurance expires.
The HTC One is enclosed within Corning's Gorilla Glass 2 which adds an element of screen protection to the display.
Hardware:
Apple's iPhone 6 is driven by the A8 processor (1GB RAM) which is comparatively more powerful than the previous-generation A7 processors that featured in older iPhone 5S smartphones.
On the other hand, HTC One is driven by a quad-core Qualcomm Snapdragon 600 processor clocked at 1.7GHz, with 2GB RAM.
The quad-core processor in HTC One, coupled with its 2GB RAM, offers an intuitive environment for users to play certain high-end games within their smartphones. However, the iPhone 6 shouldn't prove a slouch in the gaming department.
A key new feature of the iPhone 6 is Near Field Communication, which introduces the concept of 'mobile payments'. Users will be able to link their iPhones with their credit cards and simply swipe to buy.
Camera
Apple's iPhone 6 has the better camera, with an 8 megapixel (MP) primary camera in comparison to the 4MP primary camera in the HTC One.
The iPhone 6 does not offer Optical Image Stabilization (OIS) which is offered by the HTC One. So there's that.
Software
Here's a big one for Apple - the iPhone 6 can use the iOS 8 unveiled at WWDC in June.
With its HealthKit and HomeKit platforms, third-party keyboards, improved maps, interactive notifications, widgets and family sharing, the fancy new software should hopefully compensate for the miniscule RAM.
HTC One operates on Android 4.3 Jelly Bean, upgradeable to Android 4.4.3 KitKat. HTC One features the Sense 5 which provides an intuitive User-Interface over the now legacy Android 4.3 Jelly Bean operating platform.
HTC One offers users just two home screen panels; one of them is the 'Blinkfeed' page, and the other a traditional Android screen.
Release date and price
The iPhone 6 starts at $199 for the 16GB model in the United States, on a two-year carrier contract; an unlocked iPhone 6 costs approximately $650 in the country. Prices of Apple's iPhone 6 in the United Kingdom start from £539 for the 16GB variant, with pre-ordering to begin from 12 September.
As you well know, HTC One has been on the market for the past year, costing £400 (for a SIM-free device) in the UK, and $499 (unlocked variant) in the US.