Apple unveiled the iPhone 7 and iPhone 7 Plus on 7 September along with the Apple Watch 2 and some major software upgrades for the Apple ecosystem. The announcement comes at a time when Samsung, Apple's closest rival, is battling a recall crisis with its recently released and most coveted phone to date, the Galaxy Note 7.
Despite the recall many analysts who reviewed the Galaxy Note 7 pegged is as one of the best phones of 2016 and probably the best Android phone for the year. It is often unfair to compare the iPhone to an Android flagship but it is an important choice consumers have to make to know where to invest their money.
One way for smartphone enthusiasts to make this call is by comparing the technical specifications of these phones and find out what feature is most preferred by them. IBTimes UK brings you the full specs sheet comparison between the iPhone 7, iPhone 7 Plus and the Galaxy Note 7.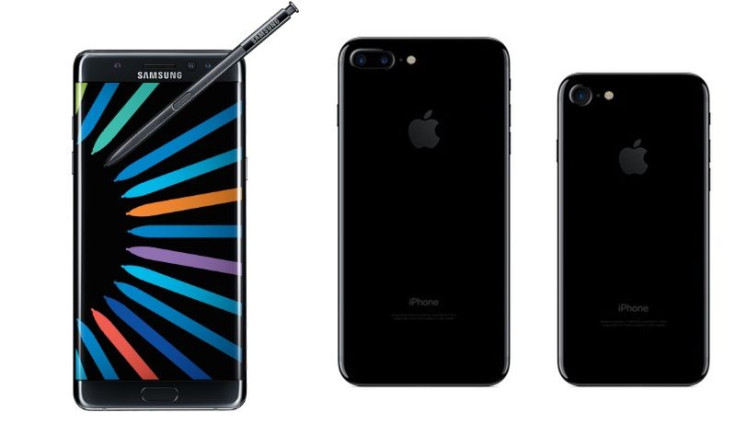 | | | | |
| --- | --- | --- | --- |
| Specifications | iPhone 7 | iPhone 7 Plus | Galaxy Note 7 |
| Screen Size | 4.7-inch | 5.5-inch | 5.7-inch |
| Display Resolution | 750 x 1334 pixels | 1,920x1,080 pixels | 2,560x1,440 pixels |
| Pixel Density | 326ppi | 408ppi | 518ppi |
| Dimensions | 5.44 x 2.64 x 0.28 in | 6.2x3.1x0.29 | 6x2.9x0.3 in |
| Weight | 138g | 188 g | 169g |
| Processor | A10 | A10 | Qualcomm Snapdragon 820/Exynos 8890 (depending on region) |
| Internal Storage | 32GB/128GB/256GB | 32GB/128GB/256GB | 64GB |
| Expandable storage | None | None | 200GB |
| RAM | 2GB | TBA | 4GB |
| OS | iOS 10 | iOS 10 | Android 6.0.1 Marshmallow |
| Battery | 14 hours talk time (3G) | 21 hours talk time, 16 hours standby, 13 hours LTE | 3,500mAh (non-removable) |
| Fingerprint Sensor | Yes | Yes | Yes |
| Connector | Lightning | Lightning | USB-C |
| Rear Camera | 12-megapixel | 12-megapixel (telephoto), 12-megapixel (wide) | 12-megapixel |
| Front Camera | 7- megapixel | 7- megapixel | 5- megapixel |
| Video resolution | 4K | 4K | 4K |
| Special features | Water resistant, wireless AirPods (£159 extra) | Dual rear cameras, water resistant, wireless AirPods (£159 extra) | S Pen stylus, water-resistant, wireless charging |
| Price | £599 for 32GB, £699 for 128GB, £799 for 256GB | £719 for 32GB, £819 for 128GB, £919 for 256GB | £700 |