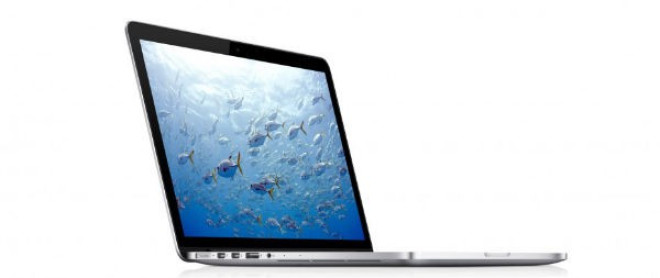 Apple is expected to launch its next line of MacBook Pros during the third quarter this year. There are expectations that, this year, the product will receive its first major redesign since 2012. Below is everything that we know about the 2014 MacBook Pros so far.
---
Processing
---
As Apple typically uses the latest Intel processors in its MacBook Pro range, there is an expectation that the 2014 MacBook Pro line-up will come with Intel's fifth generation Core i processors, codenamed Broadwell.
The new processors promise to be 30% more efficient that the current generation of Intel chips, known as Haswell, while also giving faster performance.
However, Intel CEO Brian Krzanich said that Intel's next-generation Broadwell processors will likely only be available for the Christmas shopping period meaning Apple might resort to slightly-faster Haswell chips in its MacBook Pros and use the Broadwell chips in future models.
---
Display
---
According to noted Apple analyst Ming-Chi Kuo of KGI Securities, Apple is working on a brand new MacBook Pro that will feature a 12in screen, harking back to the much-loved 12in Powerbook which was discontinued in 2006 when Apple introduced the MacBook.
With the MacBook Pro line-up already featuring Retina displays, Apple is unlikely to upgrade these and will focus more on producing laptops in the range in different sizes.
---
Design
---
Kuo believes that the next MacBook Pro, apart from having a 12in Retina display, will be thinner and lighter than a MacBook Air thanks to a new clamshell structure. Apparently it's going to "redefine laptop computing" just like the MacBook Air did.
Kuo hasn't given any details of what this new structure will be, but considering just how thin and light the current MacBook Air is, this would be a remarkable engineering feat by Apple. However with Intel promising that Broadwell chips will allow for even the manufacture of thinner devices, it isn't completely surprising.
---
Buttonless Trackpad Design
---
Back in January this year, Apple was awarded a patent for a "touchpad that utilises force sensors and acuator feedback." Instead of buttons, the design utilises an array of sensors and an actuator to emulate the function and tactile feedback of the current trackpad which can be seen in the company's current MacBooks.
---
Release Date
---
In recent years, Apple has created annual launch patterns for its most important products and has stuck with them. The company launched its latest MacBook Pros during October in both 2013 and 2012.
This means there is a good chance that Apple will follow this pattern and launch its next MacBook Pro during October 2014.