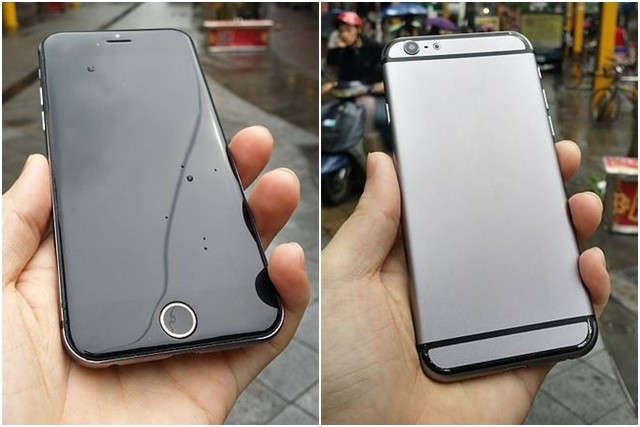 The upcoming iPhone 6 will be a marked departure from the smartphones that Apple has made over the last few years. Apart from breaking many of its own rules and design concepts, the company will also be adding some special components and materials to the smartphone. Here is a compilation of everything we know about the handset so far.
---
Larger Form Factor
While Steve Jobs swore against making smartphones with large displays that weren't easy to hold, it looks like his successor, Tim Cook, has other ideas. For a long time now, reports and leaks have indicated that the iPhone 6 will use "larger" displays.
The iPhone 6 is expected to come in a 4.7in variant and a larger 5.5in variant, which will be a major contrast to all of the company's smartphones in the past. It appears as though Apple is finally willing to give in to the market's hunger for larger smartphone displays.
---
Sapphire Crystal Displays
Previously, Apple had used sapphire crystal in iPhone elements like the camera lens and the home button of the iPhone 5s. However, this time, the company will ditch the Corning Gorilla Glass seen on its older iPhones and use sapphire crystal for the iPhone 6's display.
For this, Apple has partnered with GT Advanced, a company that owns advanced technology to manufacture thin sheets of sapphire at a low cost. This will allow Apple to ramp up sapphire production and produce large quantities of sapphire at a much lower cost.
---
Display Resolution
Reports have most consistently pointed at two variants: one with a 4.7 in display and another with a 5.5in display. Notable analyst Ming-Chi Kuo is predicting a 1334 x 750 pixel resoluiton screen for the 4.7in iPhone 6 - giving it a pixel density of 326 pixels per inch (ppi). Kuo adds that should Apple produce a 5.5in iPhone 6, it will have a resolution of 1920 x 1080 pixles giving it a pixel density of 401ppi.
In contrast, according to a 9to5Mac report, which sources information from inside Apple, the company might use a pixel-tripled display of 1704 x 960 resolution, allowing it to retain the same 16:9 ratio of the iPhone 5/5s/5c. This is a possibility, since Apple currently uses a pixel doubling technique to achieve its Retina display.
This approach would allow all iOS software and App Store apps to function normally on the iPhone 6 without much additional work or modifications by developers. Until now, Apple has been careful about introducing new resolutions in order to minimise device fragmentation for app developers.
---
Chipset
Apple's iPhone 6 will reportedly house a 20-nanometer A8 chip made by TSMC. Apart from being smaller, it will also be more energy efficient. Since the A7 chip on the iPhone 5s offered a 31% improvement over the A6 chip in the iPhone 5, we expect similar leaps in performance from the A8.
The A8 chip is rumoured to include both a quad-core 64 bit processor and quad-core graphics, and will contain only 1GB of RAM, just like the A7. The iPhone 6 might also use the Series 6XT PowerVR GPUs which offer a 50% benchmark performance increase when compared to previous generation cores.
---
Camera
Apple's iPhone 6 might feature the same 8 megapixel sensor found in the iPhone 5s and the iPhone 5c. However, there will definitely be camera improvements. Expect an increase in pixel size, a larger aperture, improved dual-LED flash and numerous software enhancements. Apart from this, Apple is expected to add either Optical Image Stabilisation or even Electronic Image Stabilisation, so that a slimmer camera body can be used.
---
iOS 8
Apple usually releases major updates to iOS during iPhone launches. Owing to this, there is a very strong chance that the iPhone 6 will feature nothing short of iOS 8, which is expected to feature iWatch connectivity and a plethora of health-based features.
---
Release Date
Apple is expected to release the 4.7in iPhone 6 around September of 2014, while the 5.5in version will make its debut ahead of the holiday season or early 2015.
---