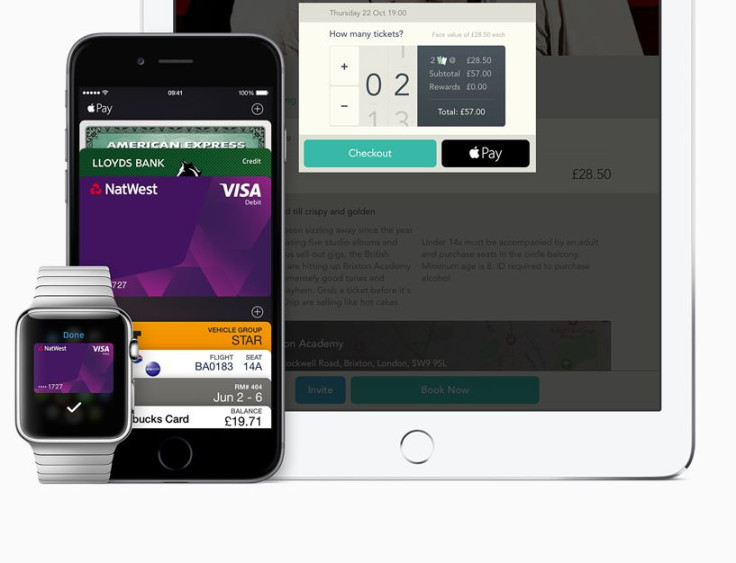 Apple's mobile payment system has gained support from two more banks in the UK – Tesco Bank and TSB. So if you have an iPhone 6/6s or Apple Watch, you are ready to get started with the service.
To use Apple Pay with Tesco Bank or TSB, launch the Wallet app on your iPhone. Choose "Add Credit Card" next to Apple Pay at the top and then scan the front of the card or manually enter the 16-digit card number.
Alternatively, if you have an Apple Watch, open the Watch app on your iPhone, tap Wallet and Pay, and select the "Add Credit Card" option under Cards on your watch. Once you scan your card and confirm the necessary details, you are ready to start shopping.
Tesco Bank notes that for using Apple Pay, you will need a Tesco credit card featuring MasterCard. Those with Visa and business credit cards are not currently supported.
Meanwhile, TSB has a good offer for its customers. If you are using Apple Pay with TSB's Classic Plus or credit cards, you can get 5% cashback on the first £100 of purchases made through Apple Pay each month till December 2016.
So far, most of the major banks and credit card issuers such as American Express, Bank of Scotland, First Direct, Halifax, HSBC, Lloyds, M&S Bank, MBNA, Nationwide Building Society, NatWest, Royal Bank of Scotland, Santander and Ulster Bank support Apple Pay. Barclays has promised to make the payment service available early in 2016.
Along with the support for additional banks in the UK, Apple rolled out Apple Pay in Canada but for customers of America Express only. Apple confirmed that the service will be launched in Australia later this week.
For those in the US, Apple has updated its official Apple Pay support site listing more than 90 additional banks, credit unions and financial institutions. Following is the list of new Apple Pay participating issuers in the US.
Acme Federal Credit Union
Alpine Bank
Alpine Credit Union
Altier Credit Union
American 1 Credit Union
American Trust and Savings Bank
Ashland Credit Union
Augusta Metro Federal Credit Union
Avidia Bank
Bank Independent
Bank of New Hampshire
Bay Area Credit Union
Broadway National Bank
Calumet Bank
Camden National Bank
CapCom Credit Union
Century Bank & Trust
Citizens Bank of Edmond
Citizens Bank of Washington County
CoastHills Credit Union
Commercial Banking Company
Community Bank NA
Decatur Earthmover Credit Union
EverBank
F&M Bank
Farmers State Bank
First Atlantic Federal Credit Union
First Citizens Bank
First Command Bank
First Commerce Credit Union
First Florida Integrity Bank
First National Bank & Trust Co.
First National Bank of Oklahoma
First Priority Bank
Florida Credit Union
Great Lakes Credit Union
H&R Block
Hawaii State Federal Credit Union
Heartland Bank & Trust Company
Homeland Credit Union
Idaho Independent Bank
International Finance Bank
Iroquois Federal
Johnson City Bank
Kane County Teachers Credit Union
Kekaha Federal Credit Union
Kinetic Credit Union
Klerberg Bank
Lake City Bank
LaTerre Federal Credit Union
Leyden Credit Union
Marblehead Bank
Marshall Community Credit Union
MECU
Members First Community Credit Union
Members First Credit Union of New Hampshire
Metro Employees Credit Union
MidSouth Bank NA
Montgomery Bank NA
MountainOne Bank
NB&T
Nebo Credit Union
Neighbors Federal Credit Union
NewDominion Bank
Northeast Credit Union
Northwest Federal Credit Union
Oak Valley Community
OAS Staff Federal Credit Union
Oklahoma Central Credit Union
Oklahoma Employees Credit Union
OnPoint Community Credit Union
OUR Credit Union
PCM Credit Union
Peoples Bank (AR)
Peoples State Bank
Railroad & Industrial Federal Credit Union
RIA Federal Credit Union
River Works Credit Union
Rocky Mountain Credit Union
Sb1 Federal Credit Union
Seacoast Bank
SECNY Federal Credit Union
Service 1st Federal Credit Union
Sikorsky Credit Union
Southbridge Savings Bank
Southwest 66 Credit Union
State Bank of Southern Utah
SunWest Educational Credit Union
Texas Bay Credit Union
Tinker Federal Credit Union
Tonawanda Valley Federal Credit Union
TransWest Credit Union
Winslow Community Federal Credit Union
Woodlands Bank
Zeal Credit Union