Global smartphone shipments have doubled since last year, as the market records its highest annual growth rate in five years.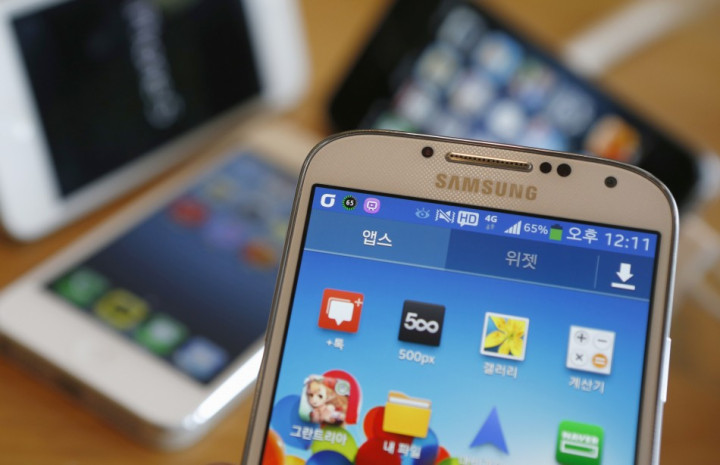 According to data published by research firm International Data Corporation (IDC), smartphone manufacturers shipped a total of 237.5 million devices in the second quarter of 2013, up 52.2% on the same time last year
But despite the growth, Apple and Samsung both lost smartphone market share as low- and mid-range manufacturers grew in popularity, fragmenting the market.
Samsung saw its share of the smartphone market fall from 32.2% to 30.4%, while Apple saw a decline from 16.6% to 13.1%, although both manufacturers experienced healthy growth in the number of devices they shipped, up 44% and 20% respectively.
Both Apple and Samsung reported their latest financial results this week, with the iPhone-maker beating Wall Street estimates with strong phone sales, while Samsung narrowly missed analyst expectations despite strong smartphone sales.
Dominance
Samsung's 72.4 million shipments are more than double that of Apple and highlighting its dominance of the smartphone market, Samsung's shipments in the second quarter of 2012 are more than that of Apple and the next three manufacturers combined.
While Apple and Samsung saw market share reduction, low- and mid-range manufacturers LG, Lenovo and ZTE all saw improvements on last year. LG's share of the market grew from 3.7% in the second quarter last year to 5.1% now, thanks in the main to widespread popularity of its Google Nexus 4.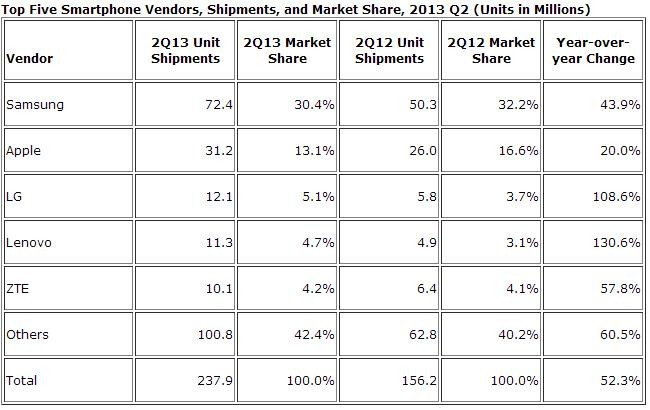 Although not documented in the IDC's report due to not appearing in the top five, budget manufacturers Alcatel and Huawei also had a strong quarter, experiencing "high double- and triple-digit growth rates" for Android shipments as interest from China and India took hold.
Vendors outside of the top five saw their combined share of the smartphone market increase from 42.2% last year to 44.8% now.
"The smartphone market is still a rising tide that's lifting many ships," said Kevin Restivo, senior research analyst for IDC's phone shipment tracker. "Though Samsung and Apple are the dominant players, the market is as fragmented as ever. There is ample opportunity for smartphone vendors with differentiated offerings."
Total phone shipments
As for shipments of all mobile phones (smartphones and feature phones combined), the market grew 6% to 432.1 million global shipments. Samsung remains the world's largest mobile phone maker, shipping 113.4 million devices in the quarter and capturing 26.2% of the market.
Second place Nokia continued to slide, with total shipments down 27% to 61.1 million, while Apple took third place with 31.2 million, following by LG in fourth and ZTE in fifth.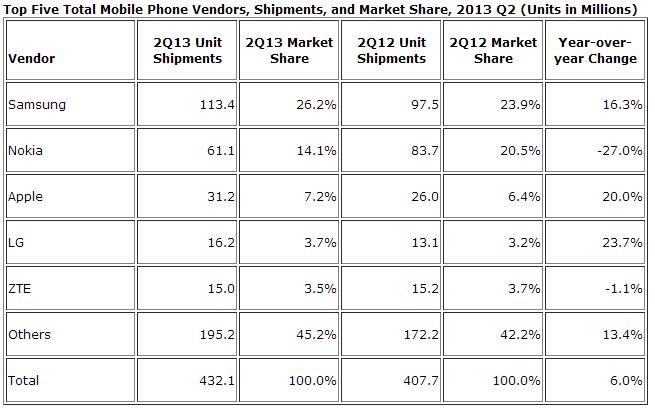 IDC research manager Ramon Llama said: "Market opportunities exist at all levels...While Samsung and Apple accounted for significant share of the overall market, they were not the only vendors active in the high end of the market, and recent device introductions and upcoming launches signal more vendors targeting this space.
Addressing the budget end of the market, Llama added: "The opposite end of the spectrum is just as, if not more, interesting. Lower-priced smartphones continue to gain traction, but the key for vendors will be to keep prices low while still offering premium devices and services.
"We fully expect to see large-screen smartphones and other flagship-devices establish a presence within the lower-prices smartphone segment as well."