The price of Apple's share are heading towards an all-time high ahead of the imminent announcement of larger iPhones and the iWatch.
On Tuesday the price of Apple's shares passed the $100 mark for the first time in two years, as the company's market capitalisation heads towards $600 billion.
In September 2012, just before Apple launched its iPhone 5, the company's stock passed the $700 mark for the first (and only) time.
By April, 2013 that stock price had dropped below $550 as the company was seem by many to be stagnating, having failed to introduce any new products since the iPad in 2010.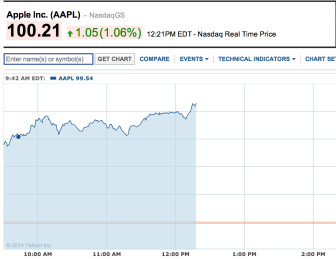 Now, with the company set to launch two new larger iPhone 6 models in a few weeks time, along with the much anticipated iWatch later in the year, analysts and investors are showing renewed interest in the company.
Last month Apple announced a 7-for-1 stock split, meaning that September 2012's $702 peak has been recalculated at just over $100 with some pitching it at $100.30, while Bloomberg has it at $100.72.
Whatever the actual mark, Apple's stock price is set to surpass the 2012 peak any day now, with the price climbing strongly since April of this year when it was hovering around $75.
At the time of publication the price of Apple's stock was $100.22.
80 million iPhone 6 sales
Earlier on Tuesday both Morgan Stanley and RBC gave the stock a further boost with positive outlooks for the company.
Morgan Stanley gave investors eight reasons why Apple's share are set to go big, including recent high profile appointments, an increase in spending in R&D, splurging on acquisitions including the high profile purchase of Beats and a steady gross margin.
RBC analyst Amit Daryanani believes the iPhone 6 could be even bigger than anyone imagines.
"Most supply chain data is pointing towards Apple gearing up to ramp 70-80 million iPhone 6 units across the two form factors (4.7in/5.5in)," says Daryanani. "This is a notable uptick from last year when the supply chain ramped 50-60 million units."