Apple has won its first ever patent dispute against Motorola Mobility as a German court ruled the lawsuit in favour of the US corporate giant. The judgment marks Apple's supremacy over its Android rivals with autonomy over the Slide to Unlock feature of smartphones.
Motorola has implemented an alternate way of using the unlocking feature with a circle icon instead of the sliding arrow-mark conspicuous in Apple devices. The company opines that the new method would not infringe on Apple patents and hence would not affect the sales of its upcoming products including Xoom tablet.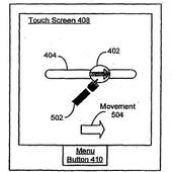 "Today's ruling in the patent litigation brought by Apple in Munich, Germany, concerns a software feature related to phone unlocking in select Motorola devices sold in Germany. Motorola has implemented a new design for the feature. Therefore, we expect no impact on current supply or future sales," a Motorola spokesman told the media.
Apple has declined to comment on the court ruling. Once the Motorola Mobility acquisition is completed by Google, the patent wars will become three-dimensional as Samsung is already at loggerheads with Apple in the smartphone patents' battle.
Motorola had briefly won an injunction against the California company earlier this month which concerned a patent dispute with the iPad and iPhone. However, its triumph was shortlived as Apple appealed successfully to get the ban lifted.
The patent in question - EP1964022, addresses the method of unlocking a smartphone - by simply swiping a finger across the screen. Latest reports suggest that Motorola will contest the court ruling to get the ban lifted, as the injunction does not involve other Android handsets in the market.